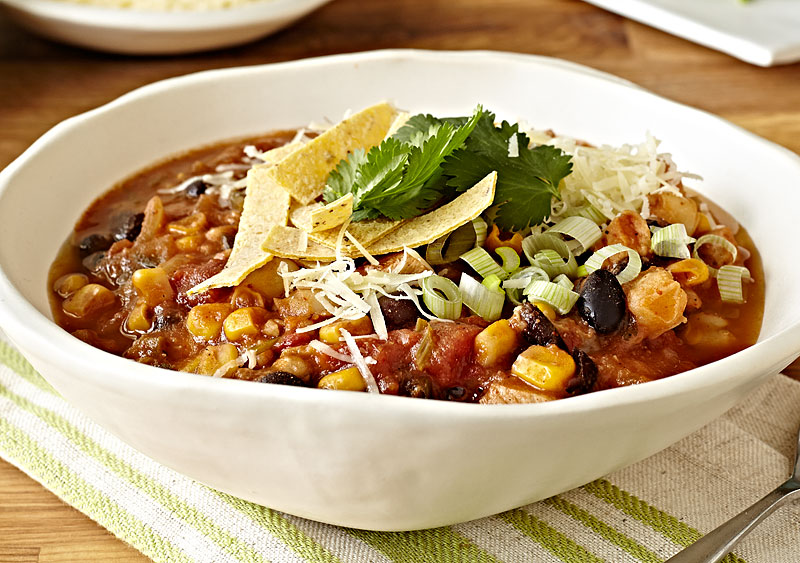 This week I had an incredible craving for a rich and hearty tortilla soup that was still healthy and nutrient dense. A big batch of soup is so awesome because it provides leftovers for quick lunches and dinners for the rest of the week. This recipe makes for A LOT of easy, quick and healthy meals for when I end up "down the rabbit hole" of work and lose track of time until my stomach is furiously angry. We all do it, this is the cure for that mean hunger! Love it. This particular tortilla soup recipe uses baked corn tortillas and fresh crisp veggies to deliver a sublime mexican soup experience with just the right amount of heat. It's a thicker tortilla soup, more like a stew, and it is so delicious. Be sure to adjust the hot peppers to your personal tastes;)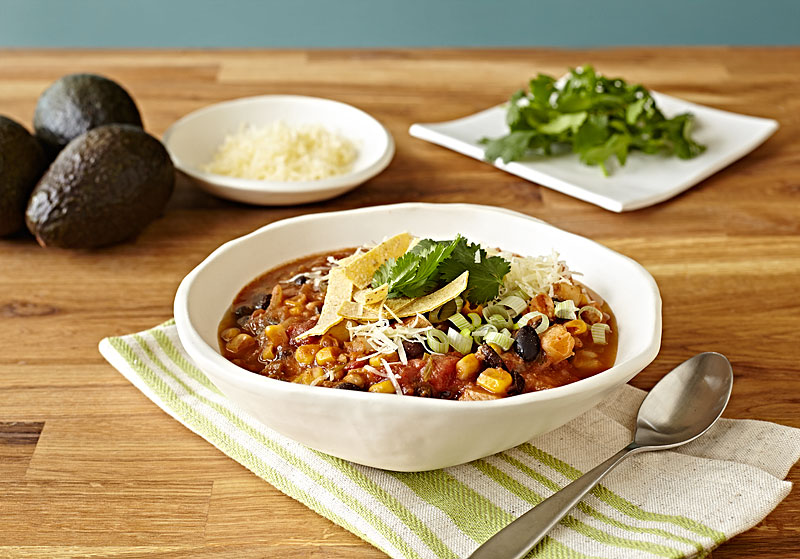 Healthy and Delicious Chicken Tortilla Soup
This recipe makes a hug amount of flavorful, nutritious chicken tortilla soup. Freeze some for later and you'll be glad you did;)
Recipe type:
Entrée, Soup
Cuisine:
Gluten-Free, Vegetarian
Ingredients
4 corn tortillas OR  coarsely crushed corn tortilla chips
2 Tablespoons olive oil
1 onion, chopped
1 Tablespoon garlic, smashed
4 teaspoons chili powder
2 Tablespoons cumin
2 Tablespoons paprika
1+ Tablespoon chipotle purée, optional
1 (28 ounce) can diced or crushed tomatoes
2 quarts chicken stock
1-1/2 cups ( 1 can) fresh sweet corn kernals
1 cup whole white hominy (half a large can)
1 cup white hominy pureed in food processor or blender, can use some of the chicken stock to facilitate blending
3 anaheim chiles AND/OR 1-2 small jalapeños, seeded and finely diced
1 (15 ounce) can black beans, rinsed and drained
salt and pepper
½ cup fresh cilantro, chopped (reserve ¼ cup for garnish)
2 chicken breast, cooked and diced OR 1 rotisserie chicken ripped and shredded
4 green onions, chopped
grated white cheddar cheese
avocado, sliced
Instructions
Preheat oven to 400 degrees. Cut corn tortillas into strips and bake at 400 degrees for 2 minutes until crunchy.
Heat olive oil in a dutch oven over medium heat. Sauté onion and garlic in the oil for a few minutes until fragrant and softened. Add chili powder, cumin, paprika, tomatoes and chicken stock. Bring to a boil and simmer for 15 minutes.
Add corn, whole hominy, pureed hominy, chiles (add incrementally to reach desired spiciness), black beans, ¼ cup of the cilantro, and chicken. Simmer for 20+ minutes until soup thickens to desired consistency.
Salt and pepper to taste.
Ladle soup into bowl and top with cheese, tortilla strips, green onions, cilantro and avocado.
ENJOY!