A big pot of chili makes for some of the most useful leftovers anyone could ask for. I have to be careful not to eat beef chili leftovers for every meal. I poach eggs in chili for a big, fat, hearty lunch! This is an extra awesome way to enjoy chili using my Cornbread Waffle recipe. I make these waffles gluten-free but you can use regular flour as well. They have amazing texture and flavor and compliment chili like no cornbread I've ever tried! Not to mention you can freeze extra waffles and throw them in the toaster for last minute meals. Pretty great, no?
This chili is an easy, no-frills beauty. There's a time and a place for fancy chilis, but for my go-to recipe I like to keep it simple. I like to incrementally add spices because I find that the spice level and flavor of my chili powder and cumin can vary GREATLY between varieties. This is especially true for chili powder. To give you an example, I used 3 teaspoons of my previous variety of chili powder in this recipe but the chili powder I have now I use 1/2-1 teaspoon. Big difference! You can always add more if you take it slow! In light of that, the recipe below lists the smallest amounts of spice I use for my most potent spices. Try it and add more based on your spices and tastes.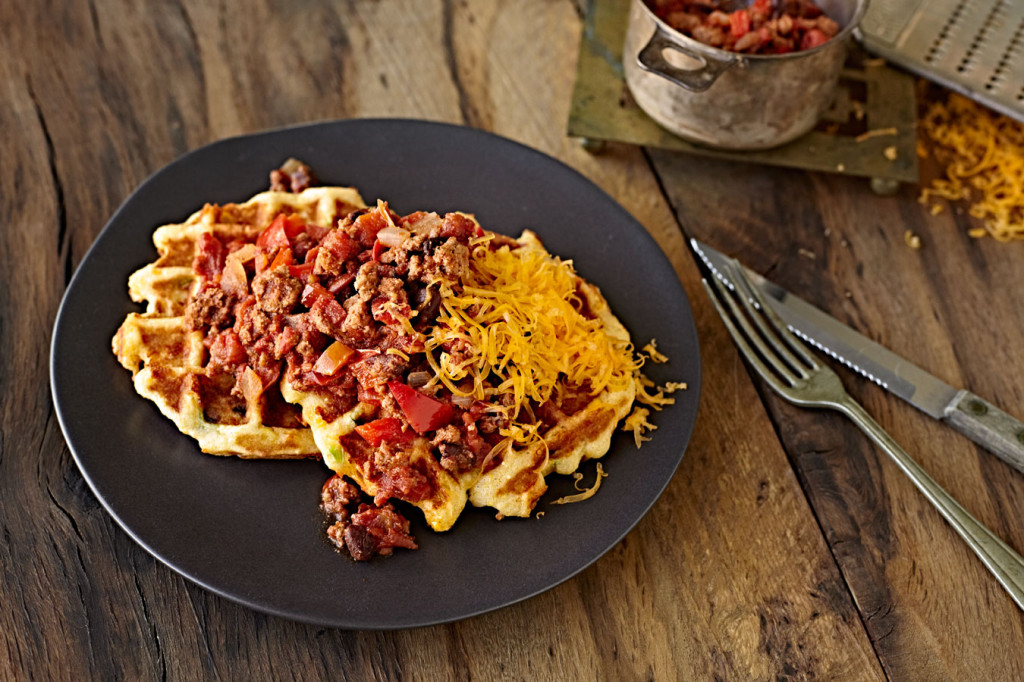 Easy Gluten-Free Beef Chili with Cornbread Waffles
A crispy spin on beef chili with cornbread!
Ingredients
2 pounds ground beef
1 onion, chopped
1 teaspoon smashed garlic or 3 cloves minced garlic
olive oil
4 can fire roasted tomatoes
3 red bell peppers, chopped
1 can black beans, drained and rinsed
½ teaspoon chili powder (add more incrementally to achieve desired level of heat)
3 teaspoon cumin (may also add more incrementally)
1 teaspoon smoked paprika
few shakes onion powder (optional)
few shakes garlic powder (optional)
salt and pepper
sour cream (optional)
cheddar, shredded
Cornbread Waffles, toasted if frozen
Instructions
In a large pot, heat olive oil over medium heat and sauté onion and garlic until fragrant. Add beef, breaking the large chunks up with a spoon, and cook until browned.
Add the tomatoes, black beans and spices. Bring to a simmer and let cook for at least an hour but preferably longer. A long, slow simmer allows the flavors to meld and the meat to become more tender.
Top toasted cornbread waffles with a large spoonful of chili, cheddar and a dollop sour cream. Serve and ENJOY!!