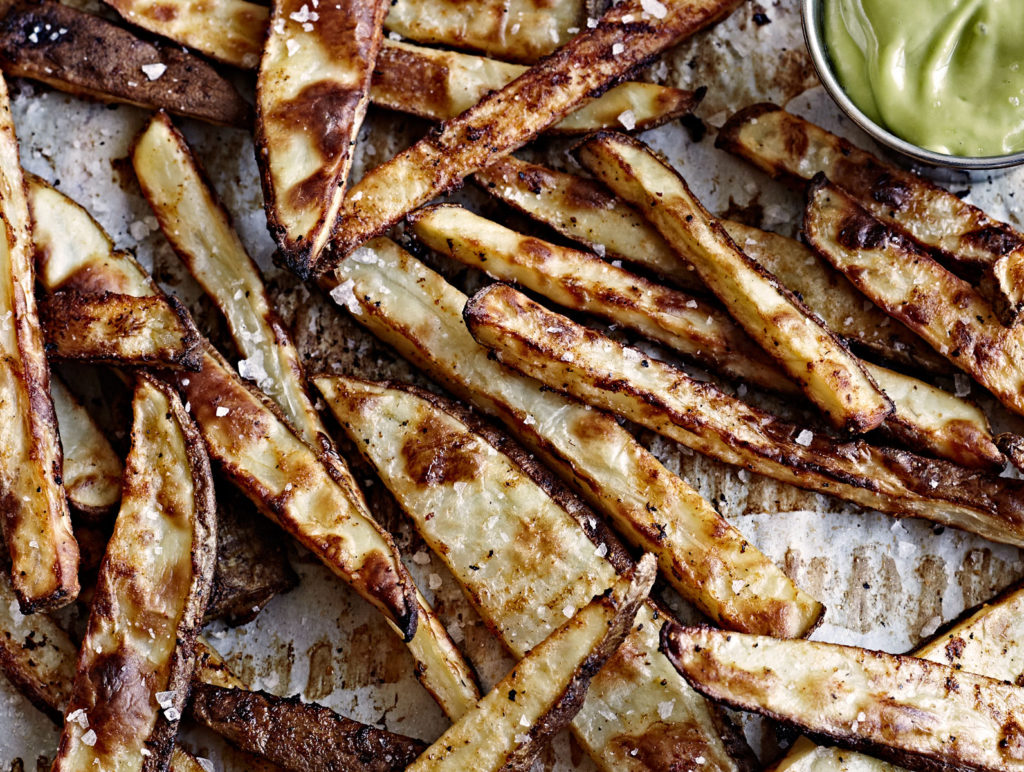 So I've been a bit absent from the blog lately because I've been super busy redesigning this bad boy. I've been working like crazy redesigning and adding functionality to this blog to improve your experience! You can now search in a search bar, visually browse by category, and easily print any recipe with the click of a button. This blog is just little ol' me so these changes take time and lots of woman-hours on my part! I hope you enjoy the changes I've been so excited to share!! I'd love to know your thoughts!
On to the food!!!
Oven-baked fries are one of life's great cheats. As long as they're eaten fresh an hot, they are crisp and tender just like their deep fried cousins. Don't get me wrong, there's a time and a place for deep fried deliciousness, it's just not Monday night when it's easier to chop a potato myself than leave the house AGAIN after a long day. The oh-so-brilliant Molly Quinn Bricker concocted this crazy delicious tangy avocado sauce that we have officially decided to put on allll the things! Fish, chicken, crackers, corn chips, really anything and everything. It's a cinch to make, creamy like an aoli but without the mayo and eggs and with soooo much flavor. Give it a go! Gosh the food photographer in me can't get enough of the flaky salt against the crisp, blistered skin. Sigh…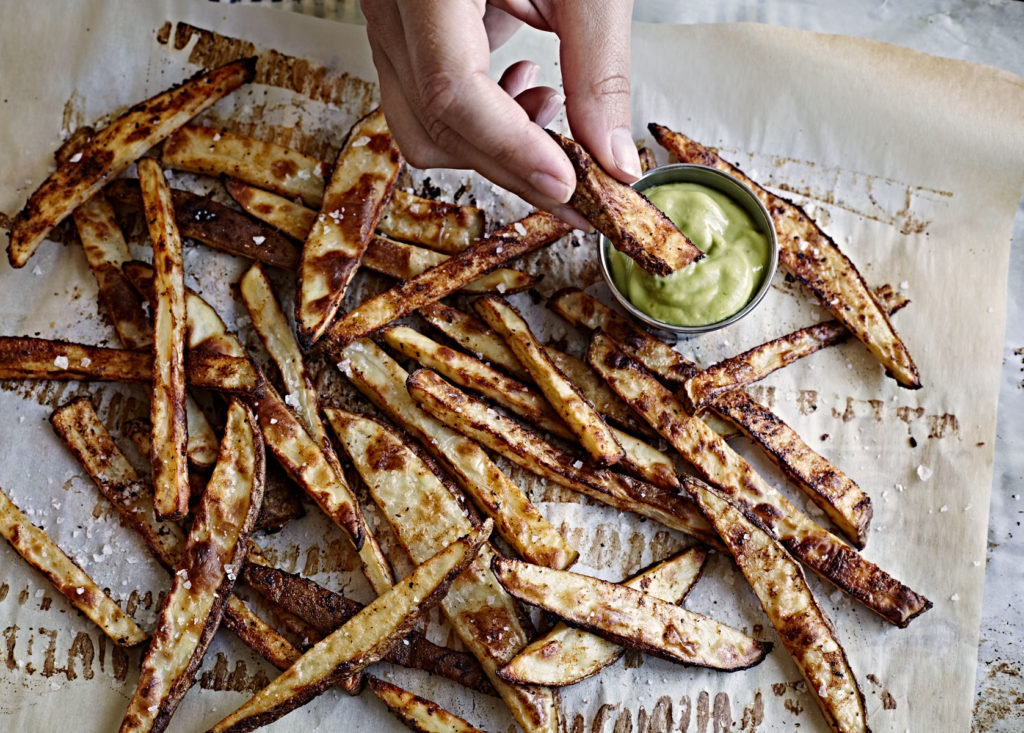 Oven-Baked Fries with Tangy Vegan Avocado "Aoli"
Crazy crispy and healthy oven-baked fries with a tangy and delicious avocado vegan aoili for dipping! Can't beat that!
Recipe type:
Sides, Snacks, Appetizer
Cuisine:
Gluten-Free, Vegan, Vegetarian
Ingredients
Crispy Oven Fries
4 medium potatoes, scrubbed
1 Tablespoon arrowroot powder or cornstarch
1 tablespoon olive oil
2 teaspoons flaky salt like maldon
sprinkle of seasoning like Old Bay
Tangy Vegan Avocado "Aoli"
1 Avocado
Juice of 3-4 limes
¼ c. oil
2 tsp. toasted sesame oil
⅓ c. fresh cilantro and chives mixed
½ of 1 jalapeno (as many seeds as you want for spiciness)
Instructions
Preheat oven to 450 degrees.
Cut each potato into sticks as pictured.
Throw sliced potatoes in a large prep bowl, sprinkle with arrowroot/cornstarch and rub fries with your fingers to coat them in the powder. Drizzle with the oil and toss to coat.
Spread evenly onto a parchment lined baking dish. Sprinkle with Old Bay or similar seasoning.
Bake at 400° for 40-45 minutes or until tender, turning once.
Sprinkle generously with flaky sea salt.
Combine all "aoli" ingredients in a blender until smooth.
Serve immediately and ENJOY!!!