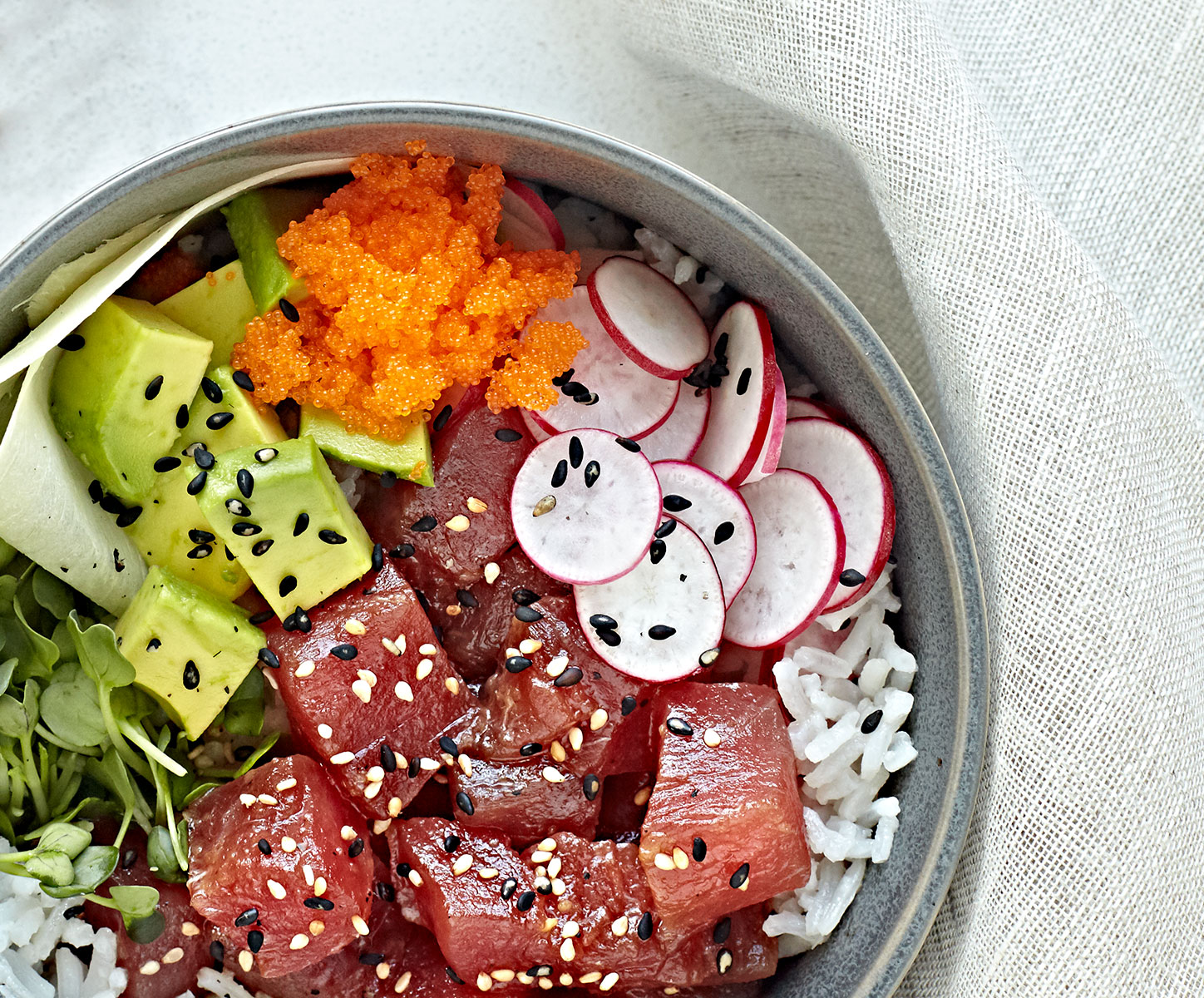 Who doesn't love a good poke bowl? Fresh sushi, warm rice and any and all toppings you could dream up! Back in the day, when poke was a treat you could only get on a Hawaiian island, I used to crave poke and mourn it's absence when we'd (begrudgingly) leave Kauai. Now you can find a poke joint as easily as a thai restaurant in Los Angeles. That said, it is still tough to find GOOD poke, so here we are! This recipe is a great base to customize to suit your tastes. I'm partial to ahi tuna myself, but you can use any sushi grade fish you like including salmon, ahi, and yellowtail.
To source sushi grade fish, find a local fishmonger at your farmers' market or get yourself to an asian market. Asian markets always have super fresh sushi grade fish!
You can use any old rice you want, but I absolutely LOVE this coconut jasmine rice combo. Believe me, it's a killer flavor combination with the citrus-y ponzu sauced ahi tuna. YUM!!
So cut up some toppings, toss some fresh sushi and invite your friends to a healthy and impressive customizable meal. Enjoy a little taste of paradise in your own backyard;)
Mahalo and aloha!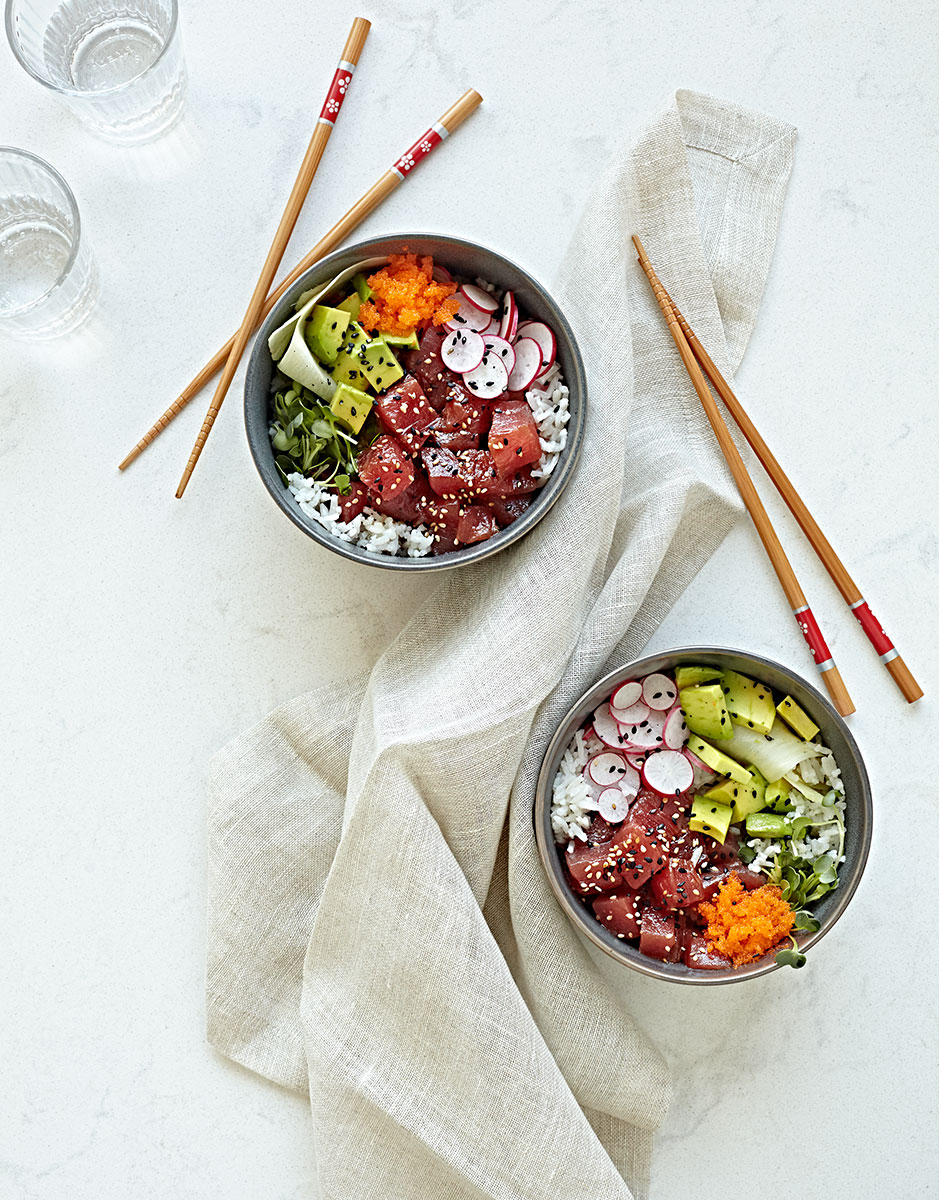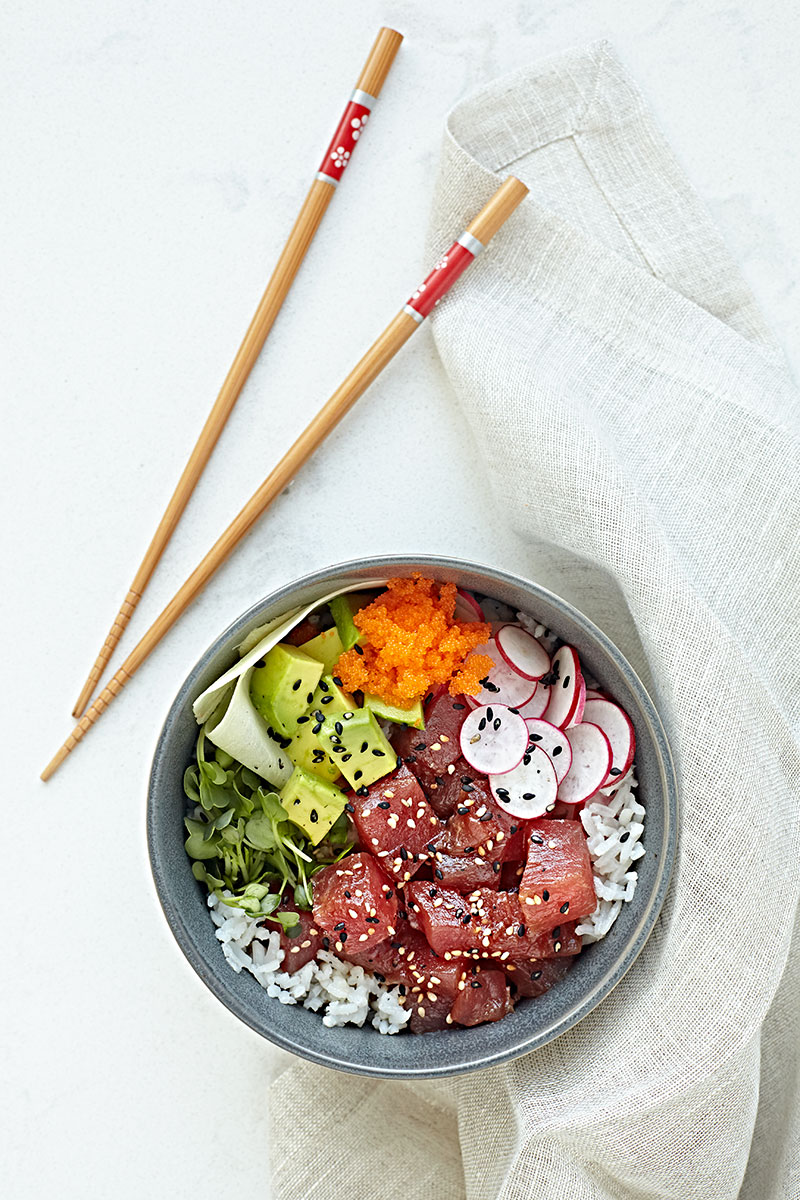 Ahi Tuna Poke Bowls Coconut Rice and all the Fixins'
A totally killer, freshly flavored ahi tuna poke bowl with coconut rice all the toppings you can dream up!
Recipe type:
Entree, Sides
Cuisine:
Seafood, Healthy, Gluten-free, Instant Pot
Ingredients
POKE INGREDIENTS
½ pound Sushi-grade ahi tuna (or yellowtail or salmon)
1 Tablespoon Ponzu Sauce, or more to taste
1 teaspoon Sesame Oil
Fresh Ginger, thinly sliced
Radishes, thinly sliced
Avocado, cubed
Masago
Micro Greens or Sprouts
Sesame seeds
Flaky sea salt, like Maldon, to taste
Coconut Rice - *recipe below
Delicious toppings not pictured
Scallions
Edamame, shelled
Cucumber, thinly sliced
Seaweed Salad
Wasabi
Quail eggs, fried or soft boiled
Mango, chopped
Shiso or Mint leaves
Dried Seaweed
COCONUT BASMATI RICE
1½ cups jasmine rice, rinsed well
1 can full fat coconut milk
1 Tablespoon sugar (optional)
½ teaspoon fine sea salt
Instructions
POKE BOWL
Chop fresh sushi into chunks and toss with Ponzu sauce and sesame oil. Cover and marinate in the fridge for a few hours.
Make coconut rice (recipe below) and assemble your bowl starting with the rice as a base and adding all of your toppings as well as the fish around the bowl on top of the rice. Sprinkle with flaky sea salt. Dig in and smile:)
COCONUT RICE
Combine all rice ingredients and stir. Bring to a boil, stir well, then reduce to a simmer and cook covered for 25 minutes. Fluff then let the rice rest, covered, for another 10 minutes.
Combine all rice ingredients into instant pot, stir and make sure all rice is submerged. Seal lid and vent. Select "rice" setting on instant pot and walk away! Allow natural pressure release for 5 minutes. Fluff with fork.
If your pressure cooker doesn't have a rice setting, cook on medium pressure for 12 minutes with a natural pressure release. Open the vent carefully then open the pot once the red pressure button falls. Fluff and serve!