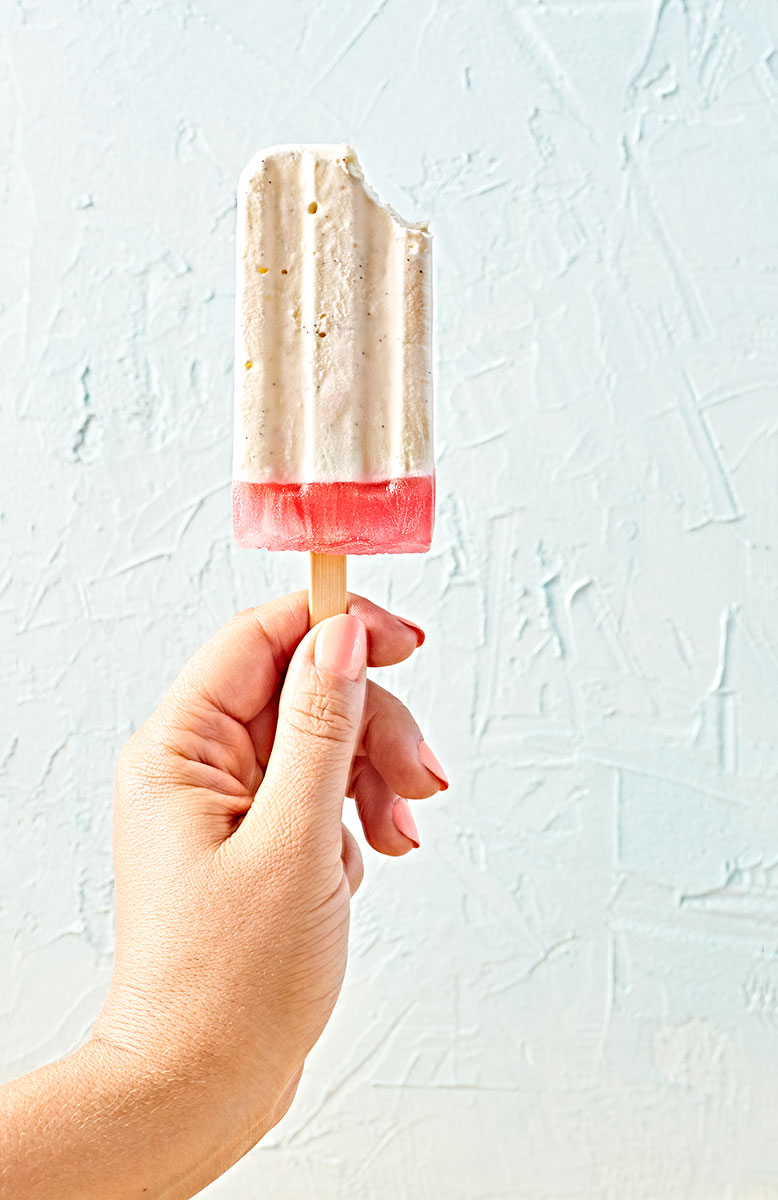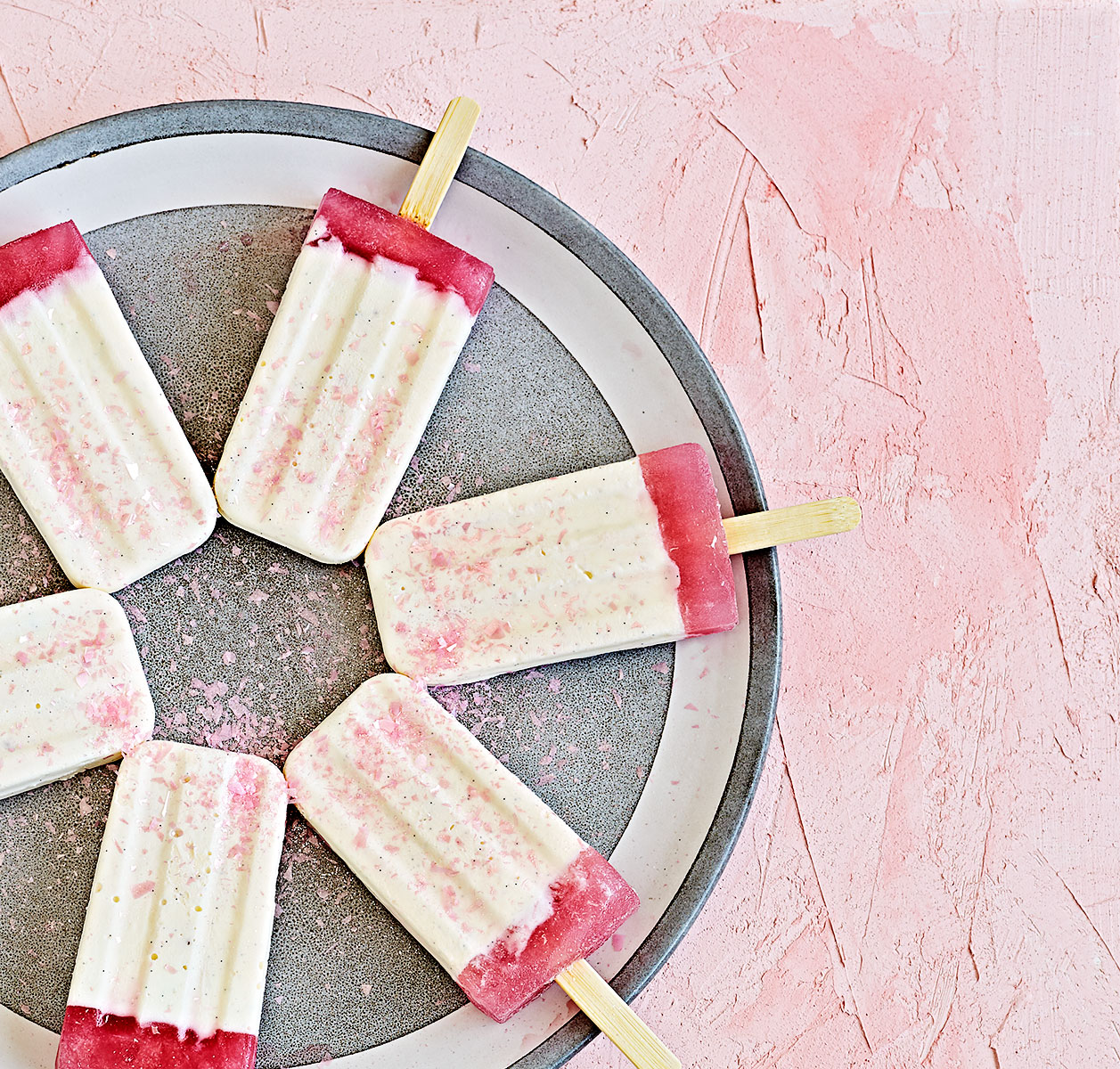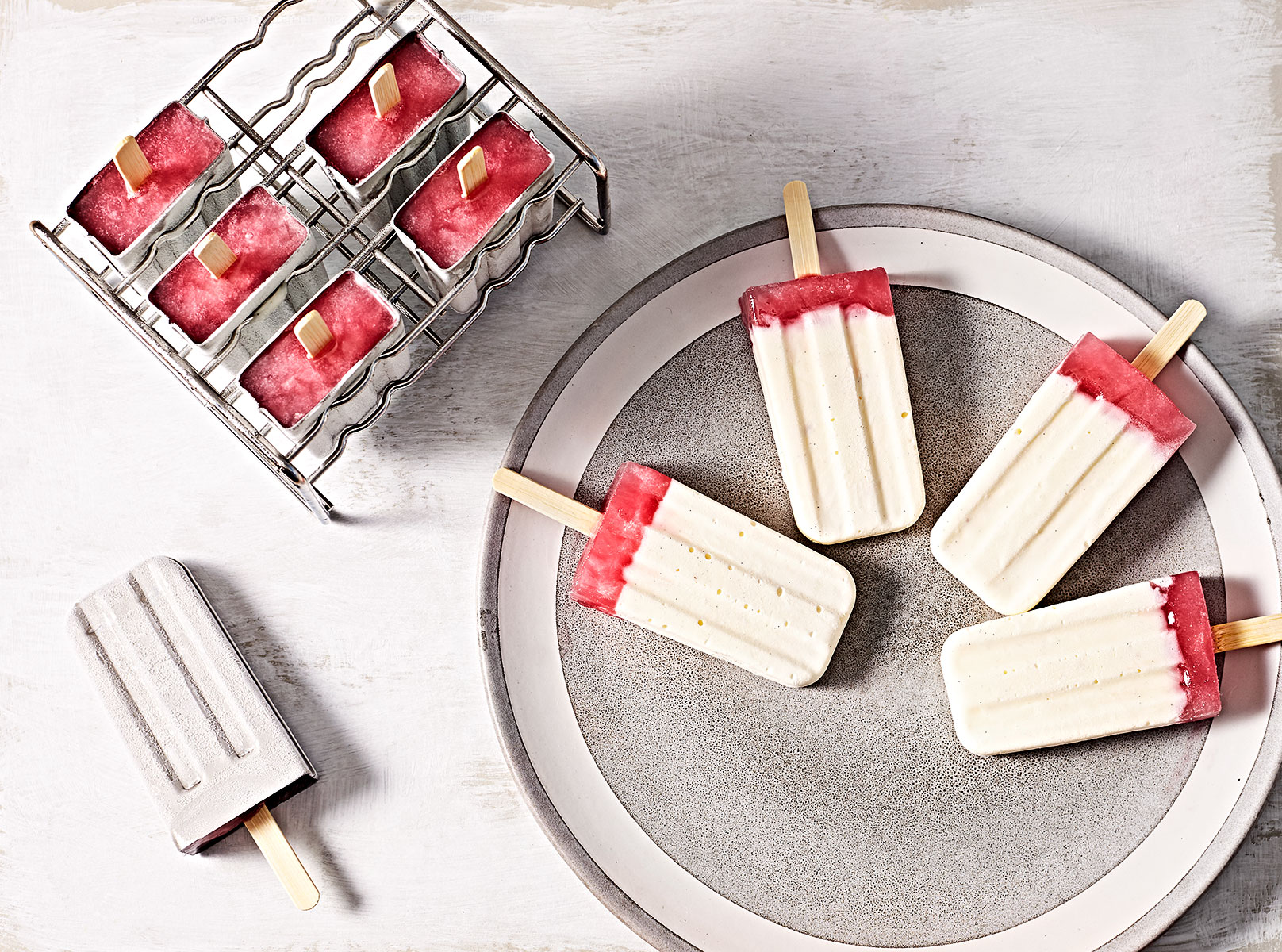 It's HOT. Like crazy hot! We're approaching an exclusively frozen diet over here! Anyway, today I have these incredible decadent, tangy and creamy ice pops for you. The kids have absolutely FLIPPED over this recipe. My 3-year-old told me with the utmost seriousness that these are the best popsicles she has EVER had. Folks, that's a tall order because we make and consume a bonkers amount of ice pops over here! The sour cream mixture gives this pop a cheesecake-like flavor and texture and the icy rhubarb is a great way to finish off this creamy treat.
You could also mix the rhubarb syrup into the cream mixture itself if you want to consolidate the 2 layers into one and make this recipe even simpler.  Easy and awesome!
I love the classic retro shape of these ice pop molds. I'd been looking for them for ages so expect more ice pop recipes coming your way now that I've found them!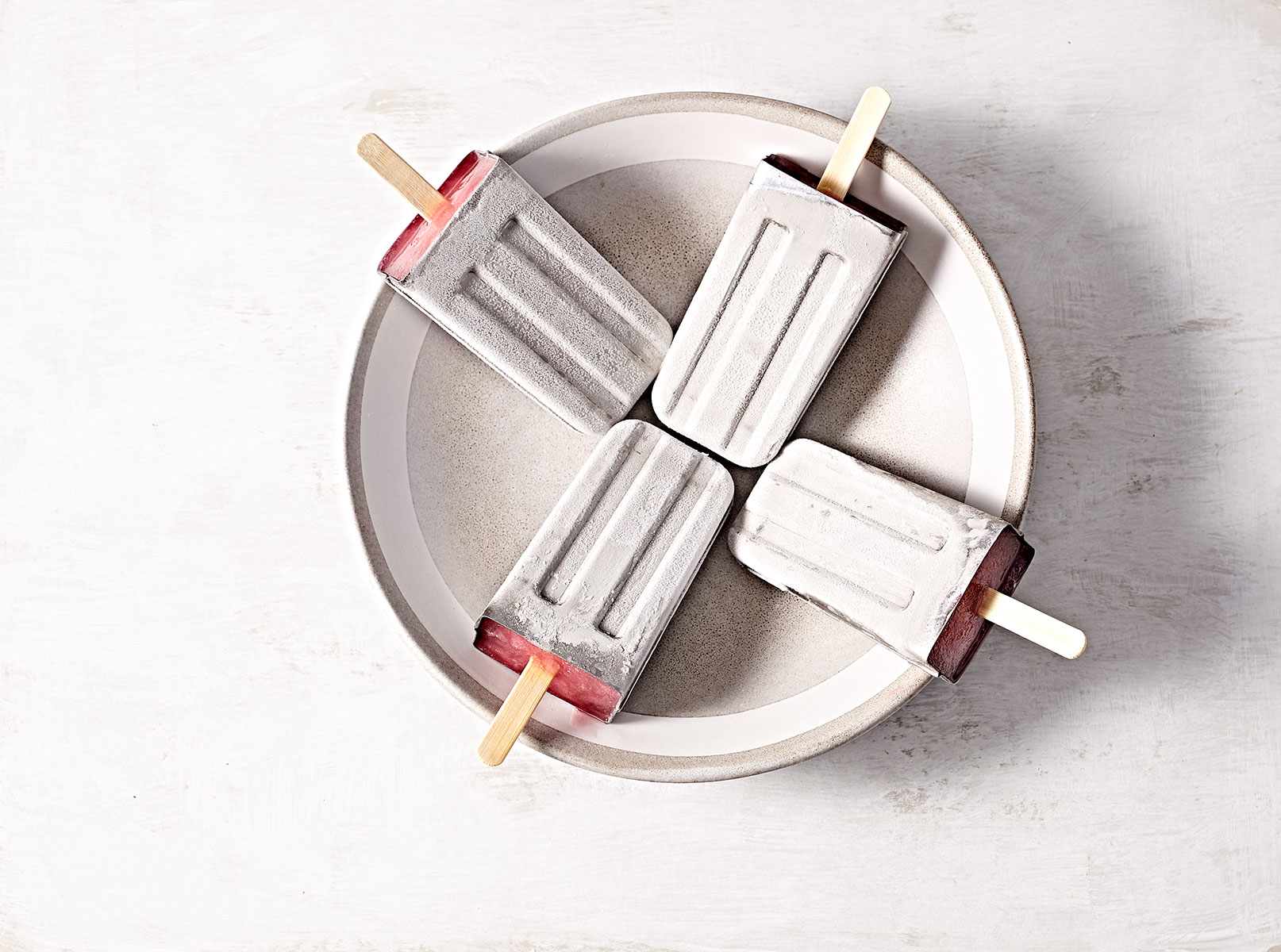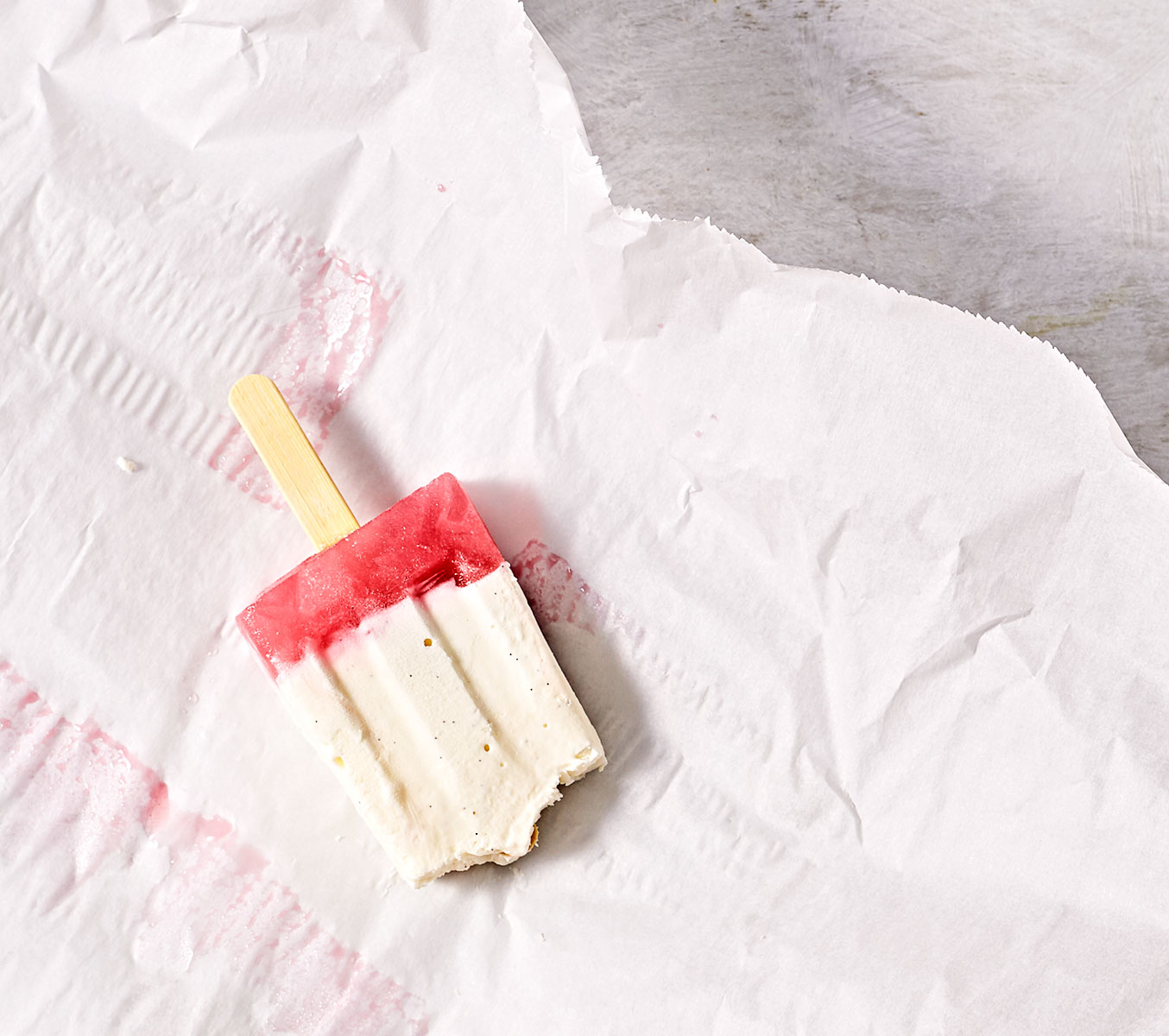 Tangy Cheesecake (sour cream!) Rhubarb Popsicles
These ice pops are the creamiest frozen delight you could ask for! They are creamy, tangy, tart and sweet, everything a popsicle could hope to be! Enjoy these cheesecake ice pops!
Recipe type:
Dessert, Snack
Cuisine:
Gluten-Free, Vegetarian
Ingredients
16 ounces (1 tub) sour cream
7½ ounces (1 tub) crème fraiche
¾ cup heavy cream
¾ cup powdered sugar
scraped seeds of one vanilla bean OR ½ teaspoon vanilla extract
3 Tablespoons freshly squeezed lemon juice (~ juice of 1 lemon)
½ cup rhubarb syrup
½ cup water
edible glitter for flair;)
Instructions
In a large bowl, whisk together sour cream crème fraiche, ¾ cup heavy cream. powdered sugar, vanilla bean and lemon juice in a bowl. Fill the popsicle ice mold ¾ with the cream mixture, insert popsicle sticks and freeze for about 30 minutes.
Mix the rhubarb syrup with the water and pour over the frozen cream mixture. Freeze for at least 3 hours or overnight.
To remove the pops from the molds, very quickly dip them in a glass or room temperature water. They'll thaw fast so a quick dip will do!
ENJOY!!!