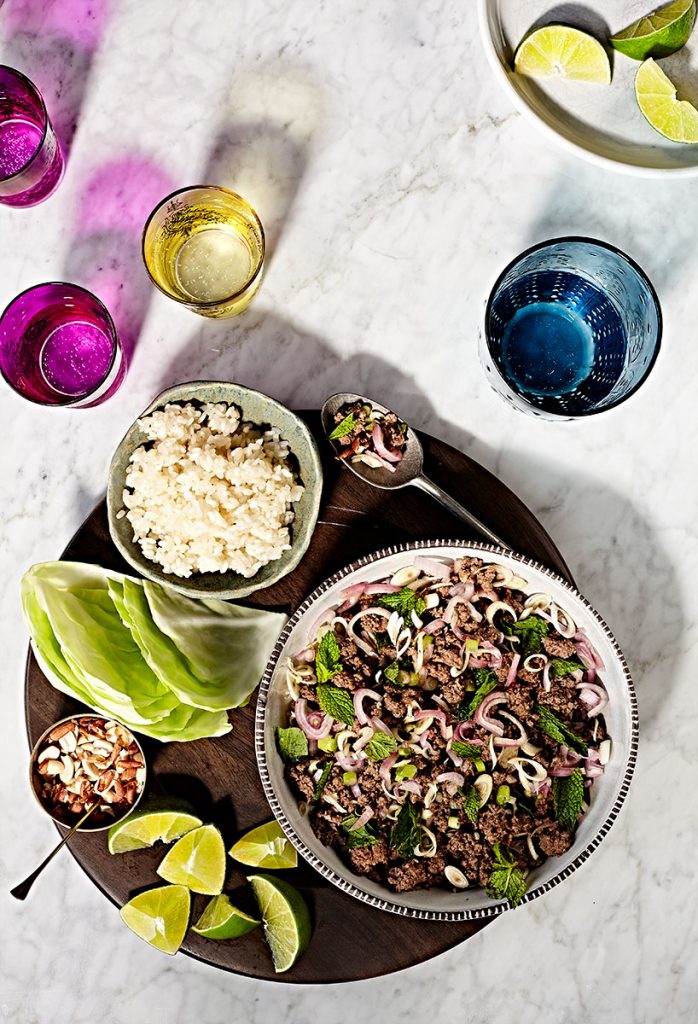 Larb is brilliant thai street food and a traditional lao dish. This beef larb is the perfect balance of umami, sour, spice and minty freshness. It blends crunchy, juicy and fresh textures perfectly. Each and every bite sings! Even better? It cooks up in no time in one pan so there's very little clean-up!
I like to serve larb with crunchy green cabbage cups and the most delicious instant pot coconut sticky rice. Sticky rice is usually a somewhat intensive to make, but my instant pot version is a total breeze! If you don't have an instant pot,  you can make my jasmine coconut rice on the stove!
Of course you can load up the cabbage cups and have at it, or you can simply shred the cabbage and throw it all in a bowl as a crunchy, crazy yum beef salad! You do you;)
This, my friends, is the perfect full-flavored weeknight meal. My three-year-old asked for it 3 nights in a row! Incredible!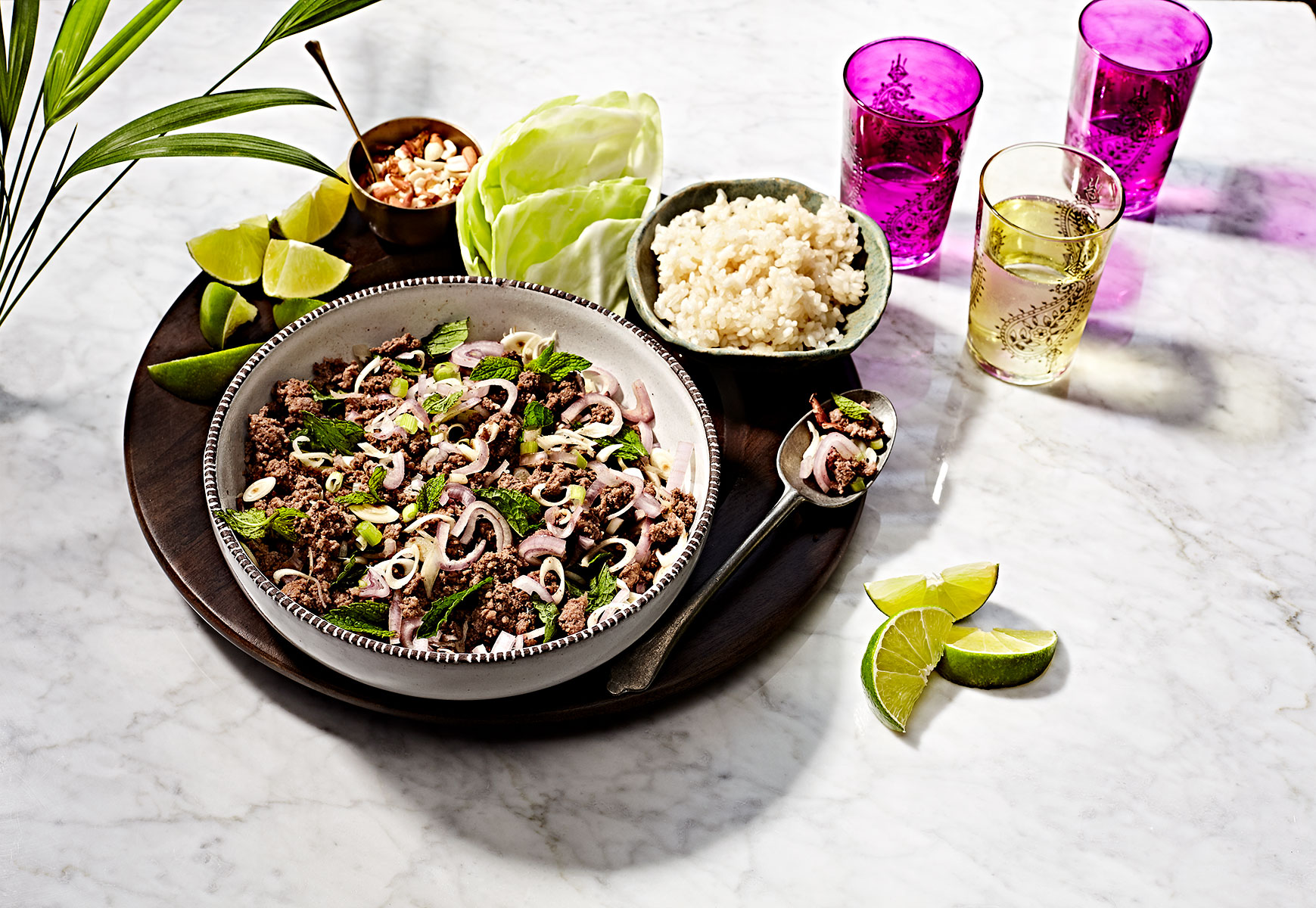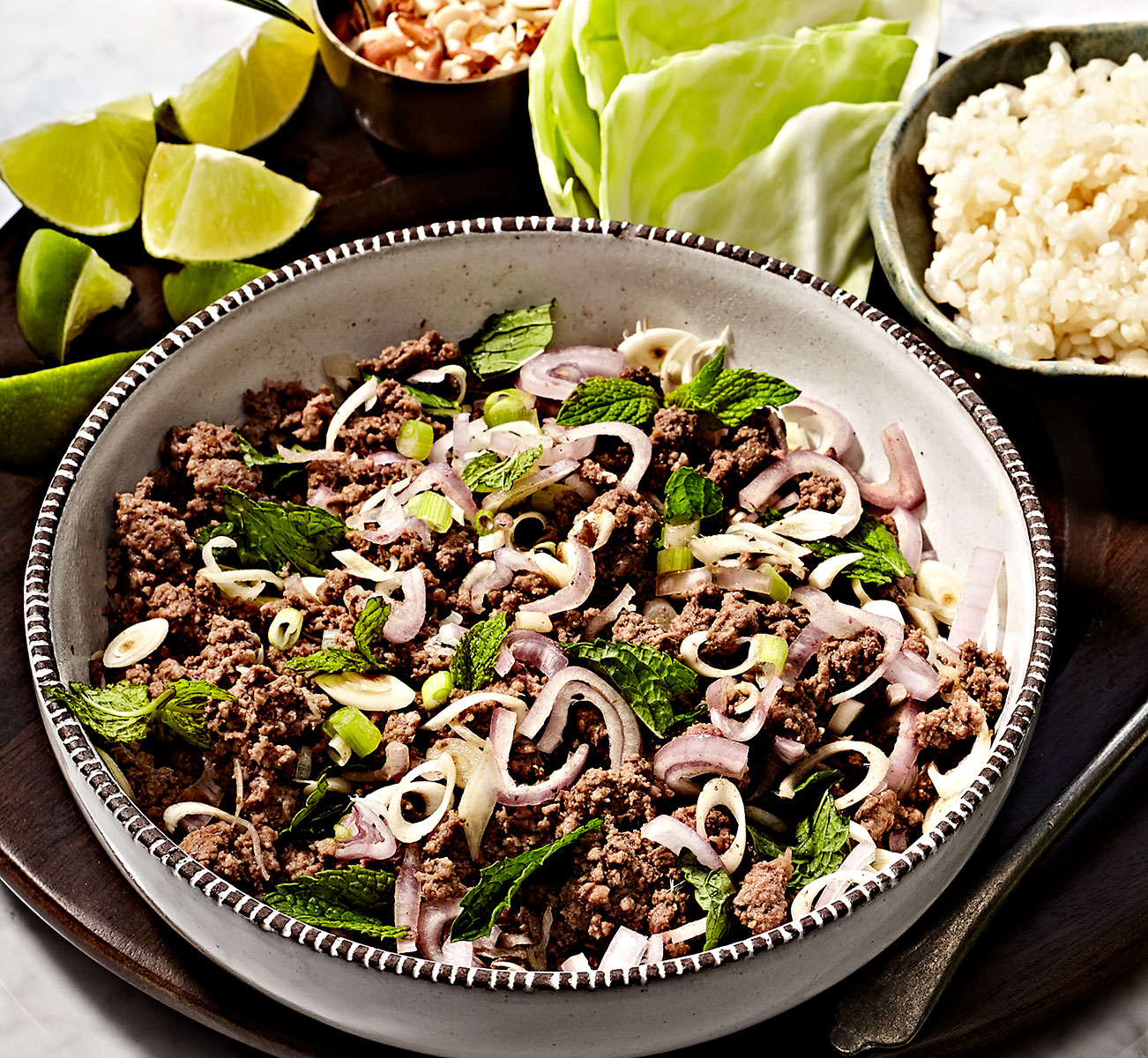 Instant Pot Coconut Sticky Rice
This coconut sticky rice has got it all! It is crazy delicious with the perfect amount of chew from the short grains. Even better, it cooks up with no fuss whatsoever in the instant pot! It took a fair amount of trial and error, but I finally have this perfect recipe for ya'll!
Cuisine:
Gluten-Free, Thai, Lao,
Ingredients
2 cups glutinous (sticky) rice
1 (13.5 ounces/ 2 cups) full-fat coconut milk
⅓ cup cold tap water
1 Tablespoon sugar
½ teaspoon salt
Instructions
Place the steamer rack in your instant pot/pressure cooker and add 2 cups of cold tap water in the bottom.
In a stainless steel bowl that will fit within your instant pot, stir all ingredients together making sure all the rice is submerged and place bowl in the pot on the steamer rack.
Seal the instant pot and seal the vent.
Cook on high pressure for 34 minutes then natural pressure release for 15 minutes.
Once red pressure button has fallen, open pressure cooker carefully, remove bowl and fluff the rice with a fork.
ENJOY!!!
Thai Beef Larb Salad with Instant Pot Coconut Sticky Rice
This thai beef larb is a crazy flavorful weeknight dinner full of texture and is oh-so-satisfying. It's a super quick dinner that truly has it all!
Recipe type:
Main, Dinner
Cuisine:
Gluten-Free, Thai, Lao
Ingredients
coconut sticky rice, for serving (recipe above, make this first)
½ cup raw skin-on peanuts
Sesame oil, for stir frying
4 garlic cloves, smashed
2 teaspoons minced peeled fresh ginger
1 pound ground beef
fine sea salt
1 large shallot, thinly sliced into rings
5 green onions, thinly sliced
1 lemongrass stalk, bottom third only, outer layer removed, thinly sliced
1 Tablespoon asian fish sauce
2 Tablespoons fresh lime juice
1 cup torn mint leaves
½ cup chopped cilantro
head of green cabbage cut into quarters and leaves separated
lime wedges, for serving
Instructions
Preheat oven or toaster oven to 350 degrees. Toast raw peanuts for a few minutes until fragrant and golden. Use the back of a spoon to crush toasted peanuts and set aside.
Heat a large skillet over medium heat, swirl a couple tablespoons of oil in the heated pan. Add garlic and ginger and sauté until until lightly browned.
Add ground beef and sprinkle with sea salt. Chop, smash and stir the meat to break up clumps. Sauté until just cooked being careful not to overcook it.
Remove from heat and stir in shallots, green onions, lemongrass, fish sauce and lime juice.
Allow the meat to cool a bit more, then stir in the mint and cilantro.
Serve with coconut sticky rice, toasted peanuts, cabbage leaf cups and extra lime wedges.