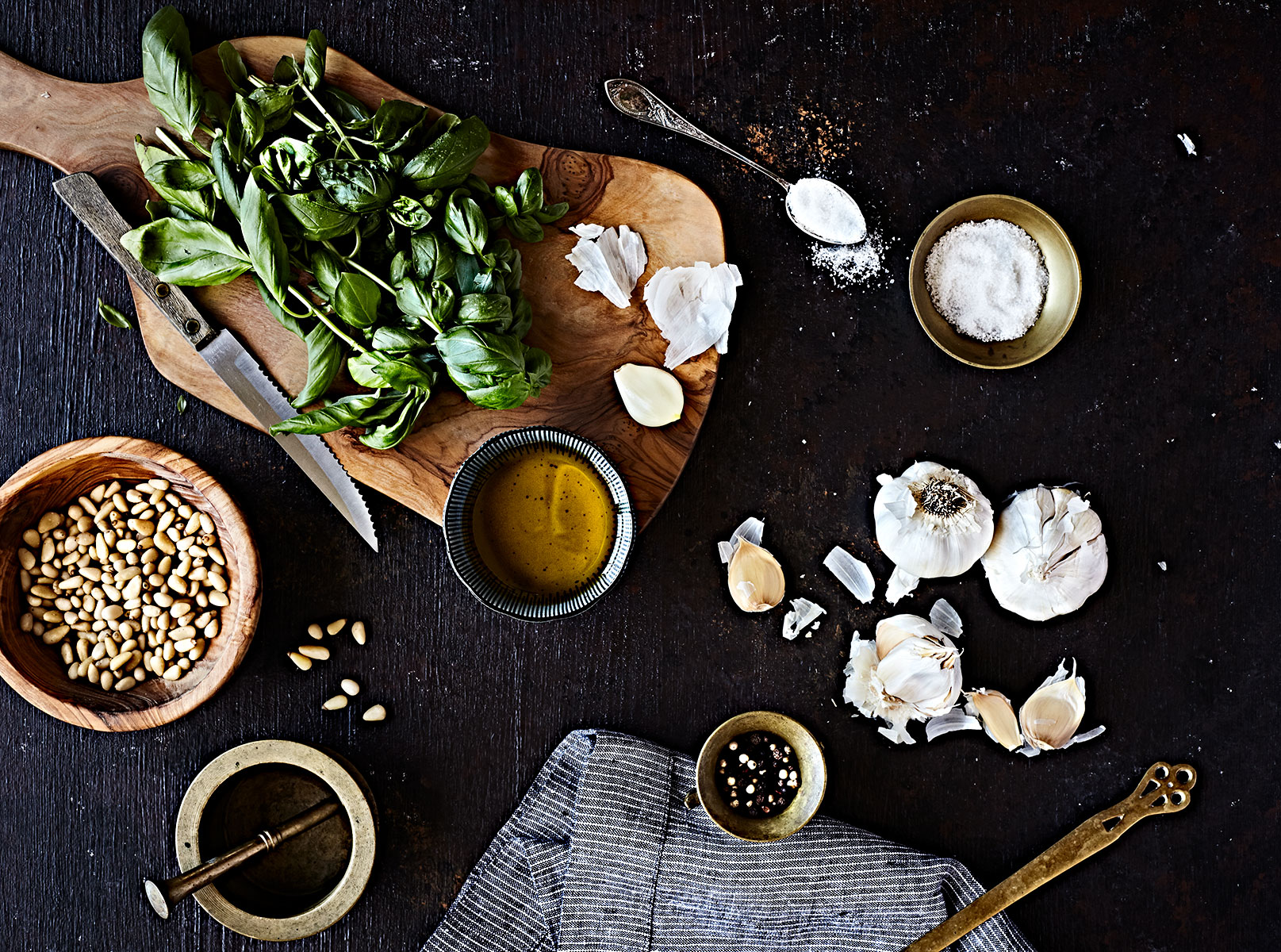 You guys! 2019 has had it's way with me so far. Seriously, I had several adult fevers (wtf? I blame the "pit of germs" that is preschool), so many birthdays and all the fun January business owner tasks to contend with. Well guess what February?! I'm taking the damn reigns, starting with this sugar addiction I've been sporting since Halloween (again, I'm going to blame the four-year-old. shhhh don't tell her). I started Whole30 to kick the sugar habit so I have plenty of cheese-less pesto in my fridge these days. I make this recipe and swap nutritional yeast for the parmigiano. Still a flavor bomb!
We always have homemade pesto in the fridge at our house. In fact just this morning I made sandwich roll-ups for my daughter's school lunch with a thick layer of pesto. She loves it so much she always asks for a spoonful of straight pesto whenever I'm cooking with it (or whenever she catches sight of it in the fridge HA!).
@gretchenbstyling and I had a little too much fun styling this beautiful basil pesto ingredient shot so I just had to share it! I use this basil pesto on almost everything from sandwiches to my gluten-free gnocchi with pesto and roasted broccoli. Keeping this pesto on hand makes a quick weeknight dinner just minutes away!
Also, another 2019 goal of mine is to grow this blog! I want to keep posting recipes and beautiful images of (mostly) healthy, whole, and delicious foods. What would you all like to see here? I'll also be starting a newsletter subscription to keep ya'll up to date on new recipes and posts and basically anything awesome. More to come! In the meantime, grab a spoonful of this pesto;)

The Best Basil Pesto
This super quick and delicious basil pesto makes last minute weeknight dinners a breeze!
Cuisine:
Gluten-Free, Vegan
Ingredients
2+ cups fresh basil, roughly chopped
½ cup pine nuts OR ¼ cup pecans + ¼ cup pine nuts
¼ cup parmigiano reggiano
⅓+ cup extra virgin olive oil, or enough to reach desired consistency
1 clove garlic
½ teaspoons salt
Instructions
Blitz all ingredients in blender until smooth. Keep adding olive oil until desired consistency is reached. Jar and refrigerate. This keeps well in the fridge.