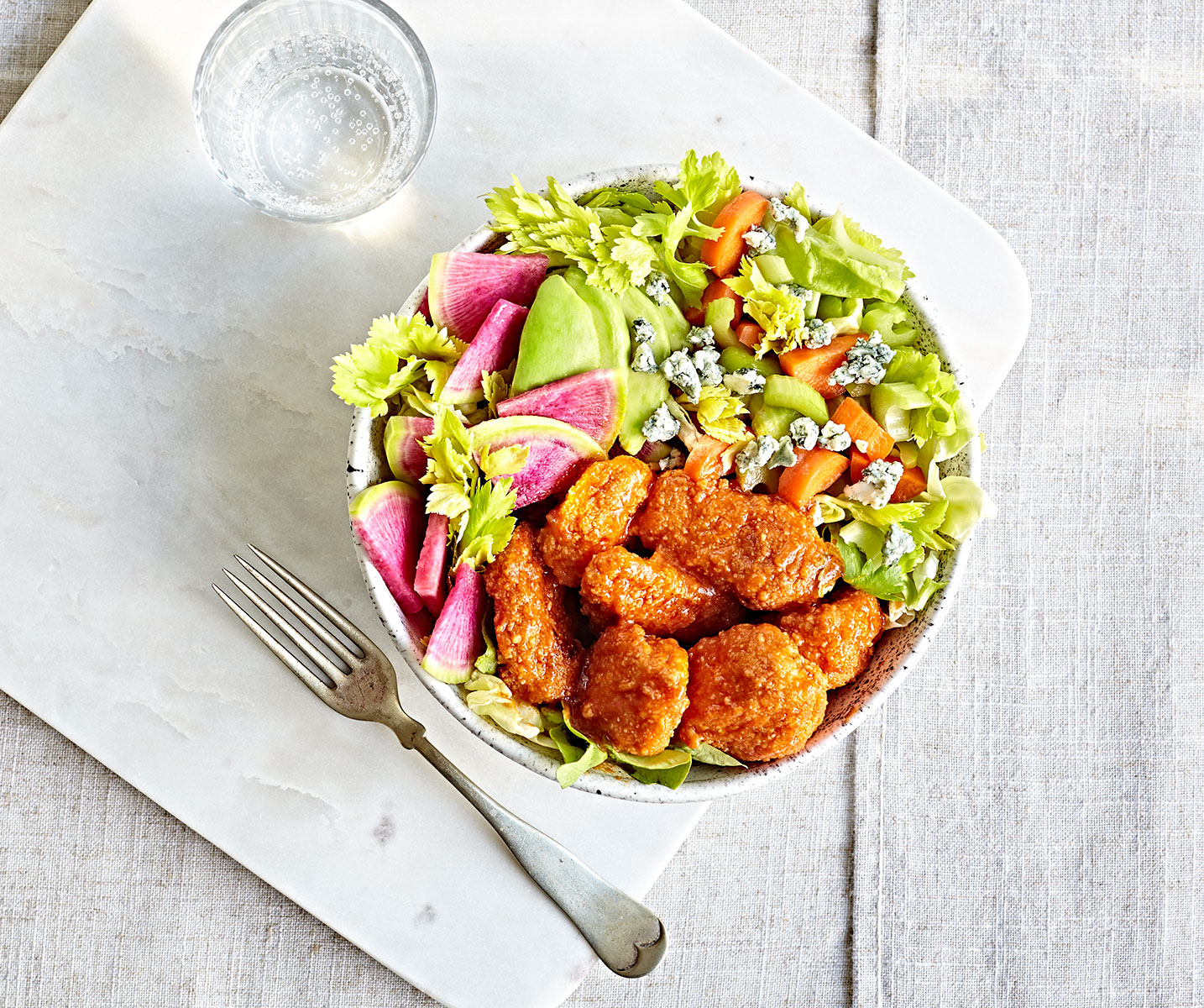 My husband generally specializes in the buffalo chicken salads in my family. One day when my daughter Penelope was barely 3, she slammed the kitchen table with her fist, grunted loudly and declared "Bam, this is SO good!" while eating some random dinner I had made her. Obviously, I died laughing because THAT was awesome then asked her where she got that from. "You mommy! You do it whenever daddy makes his buffalo chicken salads!". HAHAHAHAHAAAA I literally had no idea I did that but totally noticed next time when I slammed my fist on the table and groaned. They are such cool little mirrors!
Anyway, this recipe is a fist-slamming "Bam!" of a meal for sure. I could eat this each and every day! Crispy gluten-free baked chicken tenders, crunchy fresh veggies, and whatever dressing your heart desires (I love stinky blue cheese but I'm alone on that in this house!).
Make this easy meal and see why you'll slam your fist in excitement too;) Note that wee little hand reaching in. I die!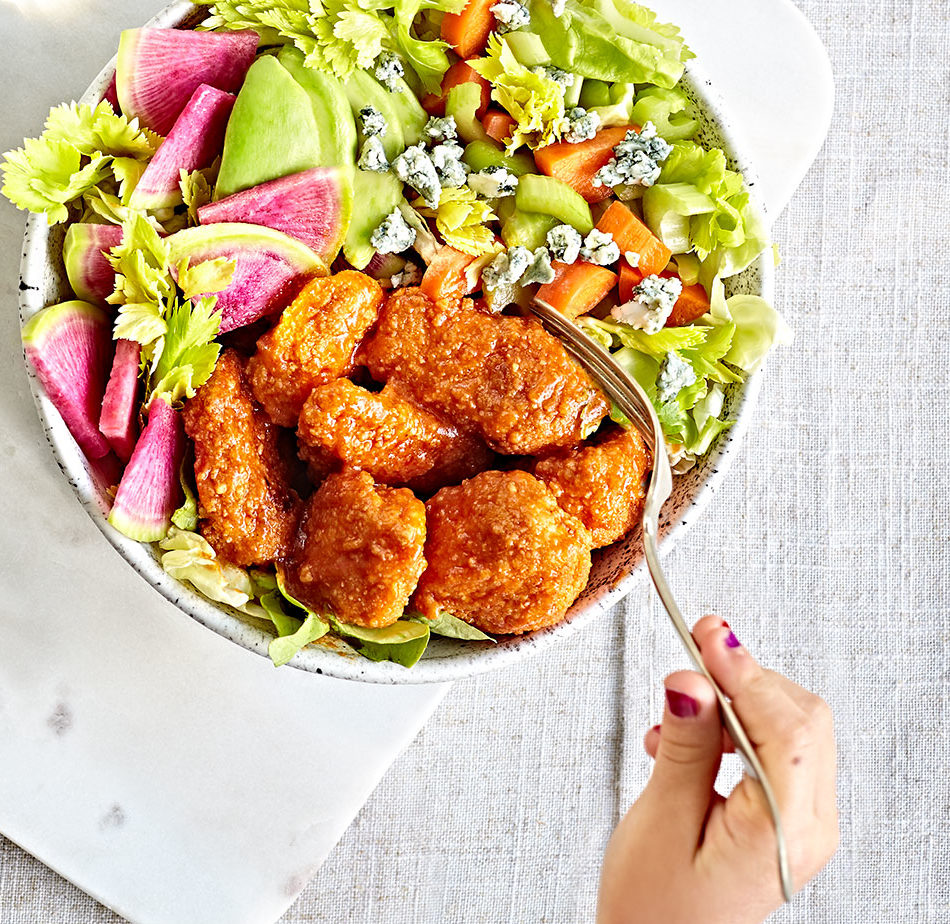 Gluten-Free Baked Buffalo Chicken Salad with lots of Crunch
Crispy baked gluten-free buffalo chicken tenders shine in this crunch veggie salad. This recipe has got it all!
Recipe type:
Dinner, Lunch, Entree
Ingredients
CHICKEN
2 boneless, skinless chicken breasts, cut into 1-inch chunks
1 teaspoon sea salt
¼ teaspoon black pepper
1 cup all-purpose gluten free flour
2 large eggs, beaten
1½ cups gluten free panko breadcrumbs
BUFFALO SAUCE
½ cup Frank's Red Hot
3 Tablspoons butter or ghee
½ teaspoon garlic powder
sea salt, to taste
freshly ground pepper, to taste
CRUNCHY SALAD
2 watermelon radishes, halved then thinly sliced
1 avocado, pitted and sliced
butter lettuce or romaine, torn
2 carrots, chopped
2 stalks celery, chopped
blue cheese crumbles
salad dressing of your choice
Instructions
CHICKEN
Preheat the oven to 450°F. Line a large rimmed baking sheet with parchment and grease with non-stick cooking spray.
Add the GF flour, salt, and pepper to a gallon size ziploc bag followed by the chicken. Shake the bag until the chicken is evenly coated.
Add the eggs to a shallow bowl. Add the panko breadcrumbs to a second shallow bowl. Carefully remove each piece of chicken from the bag, shake off any excess flour, and dip it into the eggs first then the breadcrumbs. Repeat this process with all chicken pieces.
Place coated chicken on the prepared baking sheet in a single layer and bake the for 20 to 25 minutes, flipping once halfway through, until golden brown and fully cooked. While the chicken bakes, prepare the sauce.
BUFFALO SAUCE
Combine all ingredients in a small sauce pan. Heat over low heat until melted. Whisk thoroughly to combine.
SALAD
Divide salad veggies among two salad bowls.
In a large bowl, toss fully baked chicken tenders in the sauce until coated.
Divide chicken among each bowl, top with blue cheese and your choice of dressing.
ENJOY!!