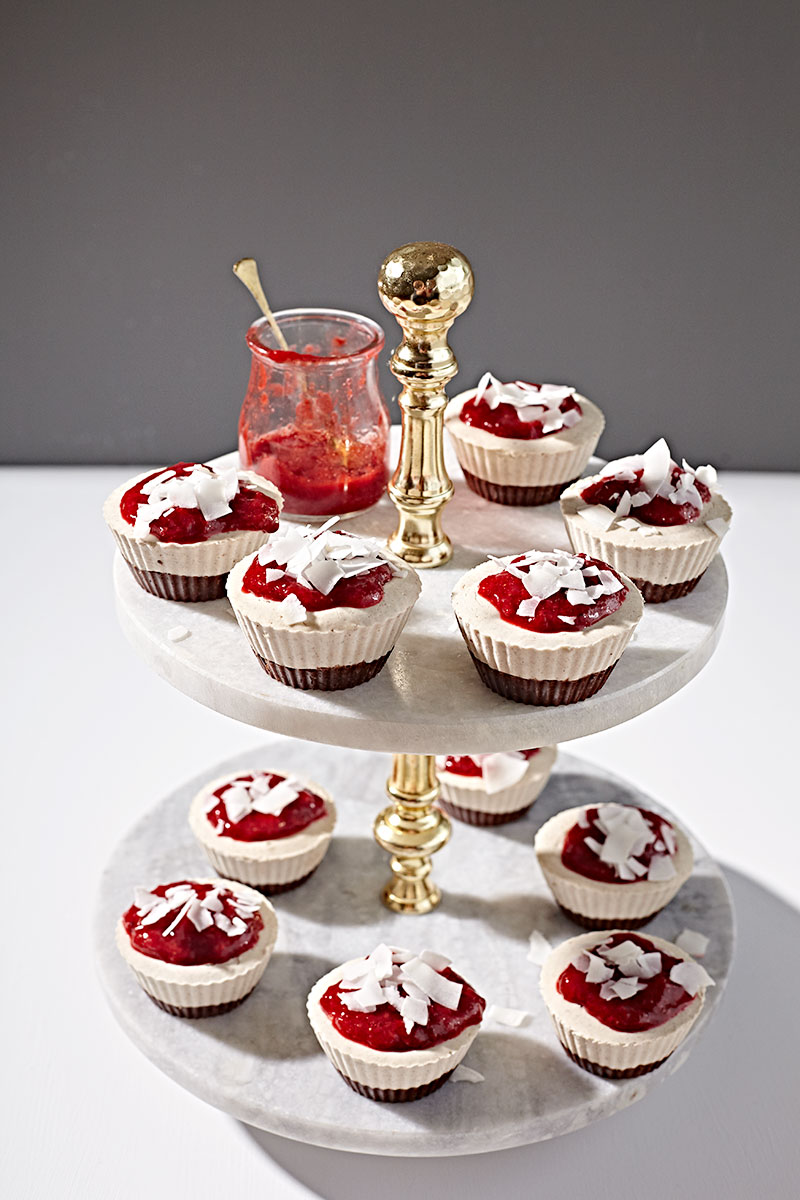 I know, I know. There aren't supposed to be any desserts on Whole30, even if all the ingredients are compliant. Well, I'm using my Whole30 time to develop new recipes I can use to satisfy my cravings when I return to normal/ non-Whole30 life. Doesn't that seem like a great use of time;)
These mini cheesecakes are a rich and creamy vegan dream. They are coconut and cashew based with a crust that's to die for! No added sweetener here! I use soaked dates to sweeten these beauties and a tart strawberry topping to balance the creaminess. I also love them topped with just citrus segments. Anything sweet and tart plays perfectly with these beauties. It's pretty fantastic! So healthy you can make it breakfast!
Give them a try and tell me what you think! What other kinds of desserts would you like to see healthier versions of?
Gluten-Free Dairy-Free "Cheesecake" with "Almond Joy" Crust (Whole30, Keto)
Let me introduce you to your new best friend. Conscious-eater, meet my mini "cheesecake". Have a beautiful life together you two;)
Cuisine:
Gluten-Free, Dairy-Free, Vegan, Whole30, Keto
Ingredients
"Almond Joy" CRUST
⅓ cup coconut butter
¼ cup almond butter
2 Tablespoon cacao powder
⅛ teaspoon sea salt
½ cup unsweetened shredded coconut
¼ cup toasted whole almonds
5 dates, pitted and chopped
1 Tablespoon liquid coconut oil (melted if solid)
"Cheesecake" FILLING
¼ cup coconut butter
⅓ coconut oil, melted
1½ cups raw cashews (*quick soaked in boiled water for 2 hours)
6 dates, pitted and soaked with cashews
½ cup freshly squeezed lemon juice
1 can coconut cream, no additives
1 teaspoon ground vanilla bean or extract
Tart Strawberry TOPPING (optional)
1½ cups whole frozen strawberries
¼ cup lemon juice
1 teaspoon ground vanilla bean or extract
Instructions
"Almond Joy" CRUST
Process all ingredients in a food processor, scraping down the sides if necessary, until it starts to form a ball.
Line a muffin pan with liners (I like these reusable silicone ones).
Divide dough into 12 balls and press flat into each muffin well. I use the bottom of a measuring cup or small glass to compress the dough. Set aside.
"Cheesecake" FILLING
Blend all ingredients in a high powered blender until smooth and perfectly creamy.
Fill muffin liners almost to the top with "cheesecake" filling.
Freeze them in the pan for at least 4 hours or preferably overnight.
Tart Strawberry TOPPING
Add all ingredients to a saucepan. Heat covered over low heat until berries thaw.
Using the back of a spoon, smash the berries against the side of the pan. Simmer gently uncovered until liquid reduces sufficiently. Let cool completely.
Remove frozen cheesecakes from muffin liners. Top with strawberry topping.
Eat frozen (so good!) or refrigerate and enjoy anytime you like!
ENJOY!!!