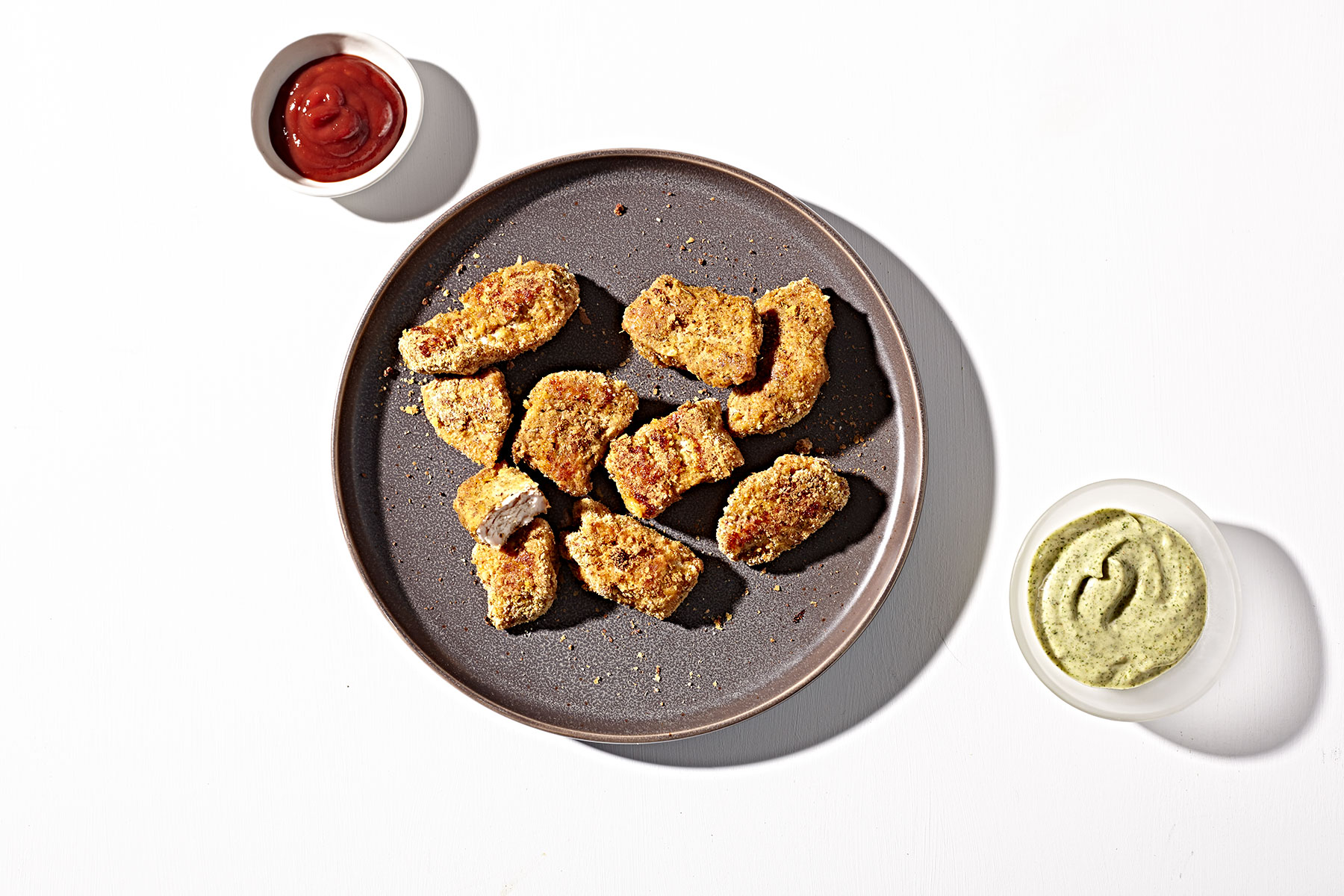 I'm on the Whole30 train these days, and it's been pretty great. Life with a four-year-old has made the sugar and cheese situation in my house a bit out of control. I swear she comes home from preschool with a sack of candy once a week in the name of someone's birthday party or literally any holiday they can think of. Ufff! I started Whole30 to hit a reset button on my eating habits and it's working.
I generally feed my kiddo healthy food, but now that I'm doing Whole30 many of her regular foods have taken a healthier turn as well. How's that for a wonderful, unintended side-effect?! These grain-free, baked chicken nuggets are one of those foods. They are crisp and juicy and so so good dunked in my egg-free Whole30 ranch dressing!
Look at that little hand snagging a nugget while I shoot. I think maybe she needs to be my resident hand model (the one painted fingernail is killing me)! Ha!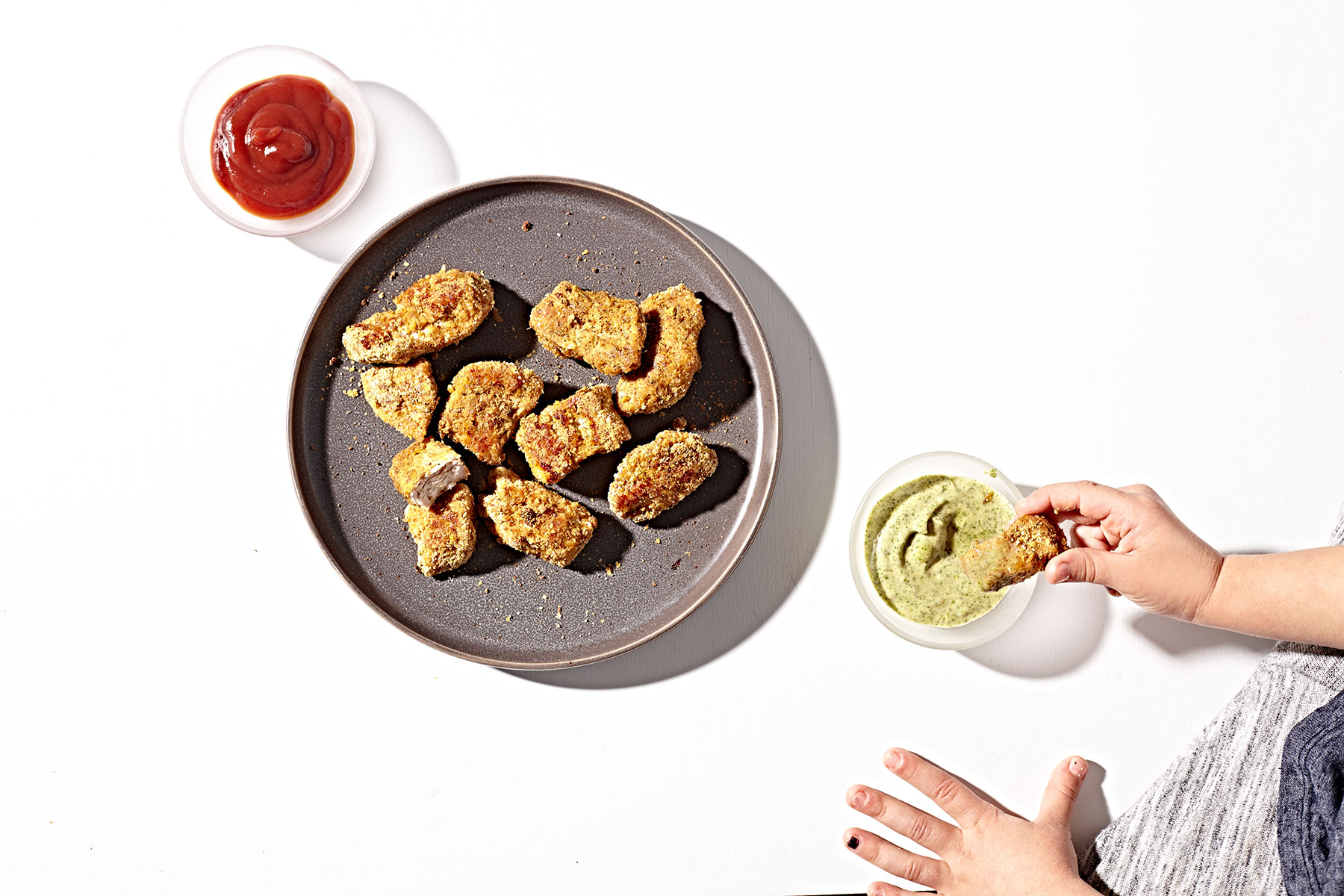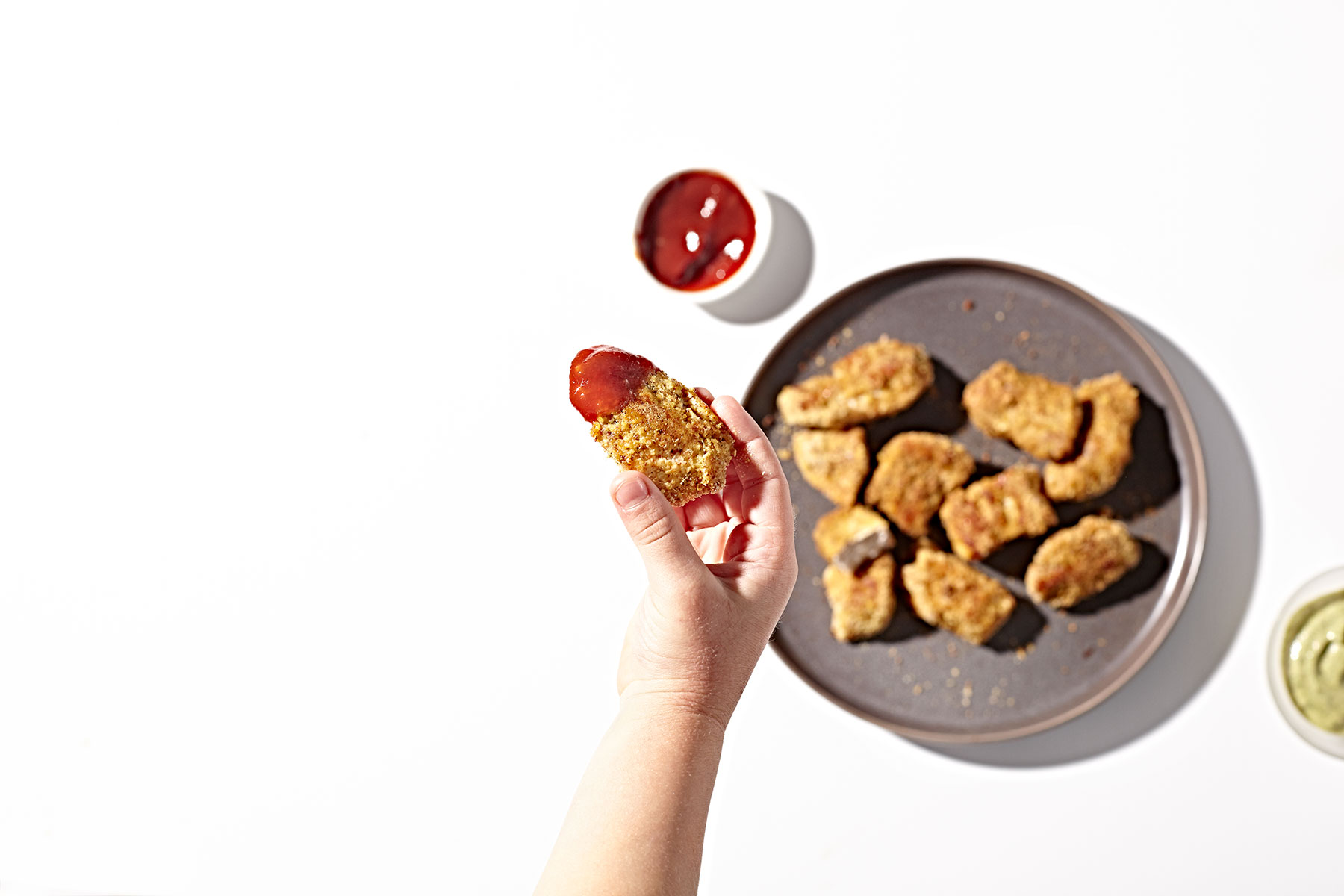 Grain-Free Baked Chicken Nuggets
Can't beat these grain-free baked chicken nuggets to satisfy that nugget craving and the healthiest of ways. Who says you have to sacrifice flavor for health?! Feed these to your toughest critics and see what they say;)
Recipe type:
Entree, Dinner, Lunch
Cuisine:
Grain-Free, Gluten-Free, Whole30, Paleo
Ingredients
2 pounds chicken breasts, cut into 1-inch chunks
2 large eggs, beaten
¾ cup almond meal
½ cup nutritional yeast
1 teaspoon paprika
1 teaspoon sea salt
1 teaspoon garlic powder
1 teaspoon onion powder
½ teaspoon ground mustard
Instructions
Preheat oven to 400 degrees F.
Line a rimmed baking sheet with parchment and spray with cooking oil.
Beat eggs in a shallow bowl.
Combine and stir together all dry ingredients in a larger shallow bowl.
In batches, coat chicken chunks in egg, shake off excess then toss in dry ingredients. Try to coat them evenly. Place on lined baking sheet taking care not to crowd them so they get crisp.
Bake for 15-20 minutes.
Egg-Free Ranch Dressing (Whole30, Paleo)
I love a good dump ranch, but with a kiddo in my house I'm wary of using raw eggs. In light of that, I made this egg-free dump ranch. So much flavor with none of the worry! Win-win!
Recipe type:
Dressing, Condiment
Cuisine:
Gluten-Free, Whole30, Dairy-Free, Paleo
Ingredients
1 cup coconut cream (preferably without any added gums)
½ cup extra light oil (like avocado oil or extra light olive oil), plus more to thin if needed
4 teaspoons lemon juice
1 teaspoon white vinegar
½ teaspoon ground mustard
½ teaspoon onion powder
½ teaspoon dried thyme
1 teaspoon Garlic powder
1 teaspoon sea salt
2 Tablespoon dried parsley
¼ teaspoon ground pepper
few shakes paprika
¼ cup fresh dill, chopped
Instructions
Add all ingredients to a large mason jar sightly wider than your immersion blender.
Starting at the bottom of jar, blend the dressing until the bottom is fully blended. Then slowly blend up the jar then up and down until everything is emulsified.
Add more oil to thin dressing if needed.
Store in jar in the fridge. Remove from fridge to let liquify before use.
ENJOY!!!