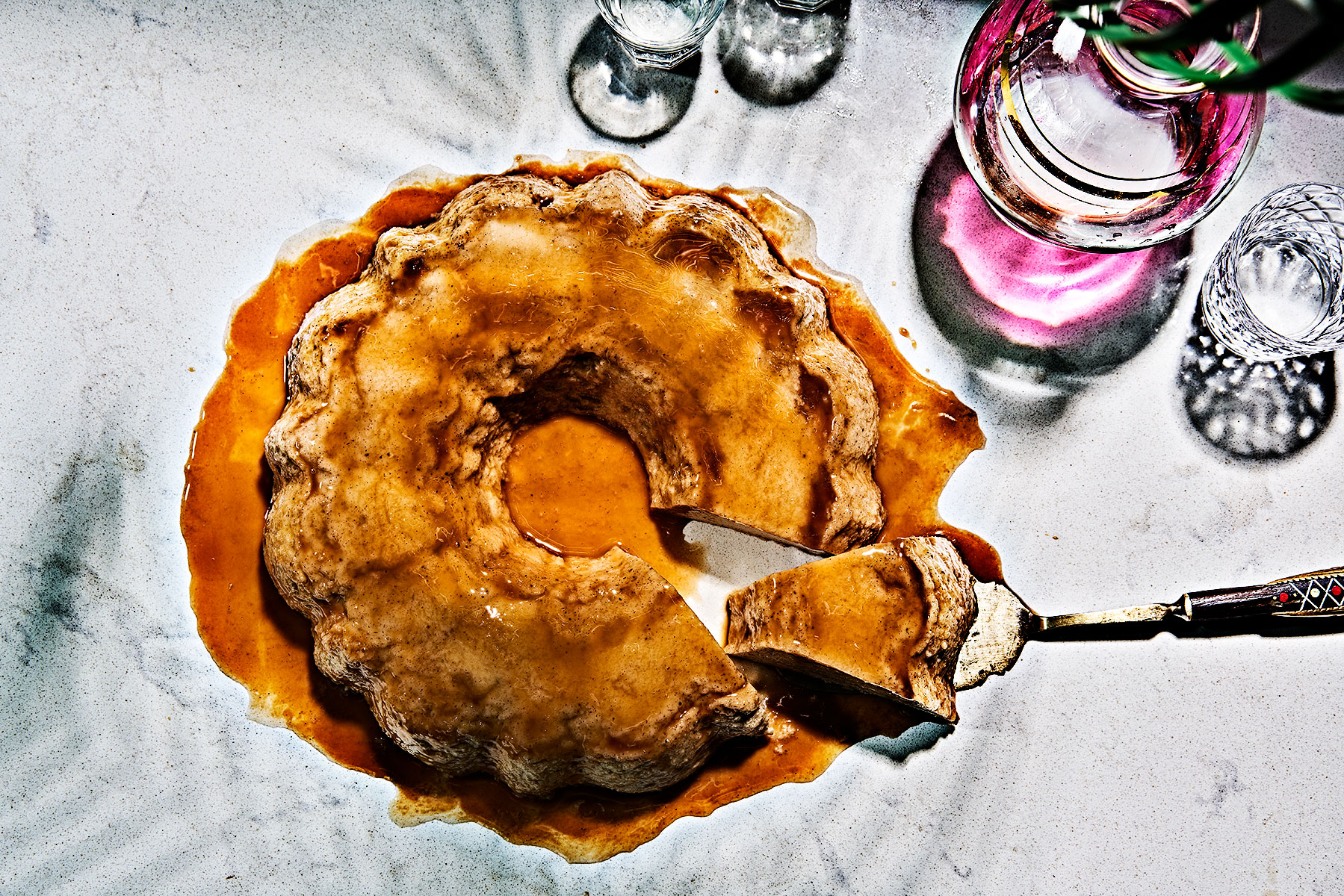 I'm such a huge sucker for a creamy custard-style dessert. It is my ultimate indulgence and there's nothing quite like it. I also have a fairly obvious love affair with all things coconut, so it seemed only natural to marry my two dessert loves! This coconut flan is rich, dense, and oh-so-creamy. The nuance of coconut sings among flavors of caramel and cinnamon. I like to make it in a bundt pan because I love the way the caramel spills over the sides but pools in small spots around the edges on top. It's a freaking delight, I tell you! I've served this flan to people who don't like flan and people who don't like coconut. I kid you not when I say that EVERYONE goes back for seconds.
If you're reeeeally not into coconut, check out my easy dulce de leche flan recipe.
Oh and did I mention it's crazy easy and you whip it up in a blender?! If you've ever felt intimidated by custard recipes, this little darling is for you! Yeah and it's ridiculously gorgeous. What's not to love?!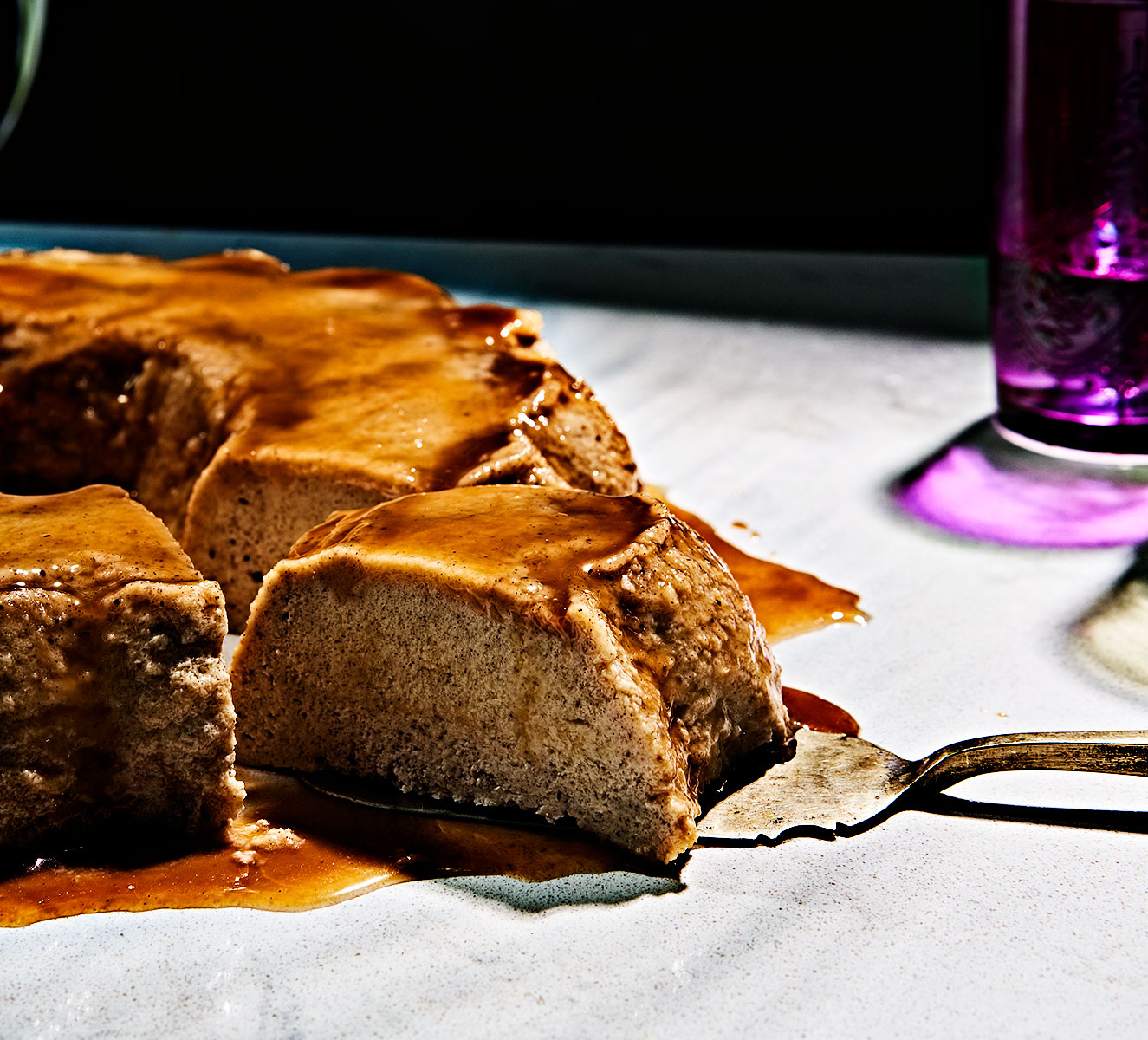 Decadent Coconut Cream Flan (Flan de Coco)
An incredible, rich coconut flan recipe that whips up in the blender. No fuss, all flavor! This flan de coco is a real crowd-pleaser;)
Author:
Crystal Cartier of The Eclectic Kitchen
Cuisine:
Gluten-Free, Hispanic, Mexican, Vegetarian
Ingredients
Flan de Coco
5 large eggs plus 1 yolk
1- 12 ounce can sweetened condensed milk
1- 12 ounce can evaporated milk
1- 8 ounce package cream cheese, softened (optional but adds to the creaminess!)
1- 15 ounce can coconut cream
2 teaspoons cinnamon
½ teaspoon ground vanilla bean OR 1 teaspoon vanilla extract
Generous pinch salt
Caramel
Instructions
Preheat your oven to 350 degrees.
Use a cake pan for the flan that will fit into another pan with water filled halfway up the side of the flan pan (as a water bath). I use a bundt pan fitted into a large dutch oven for the water bath.
Heat sugar in a pan over medium heat. Swirling (don't stir) as it melts until the color browns to a caramel shade.
Remove from heat and quickly pour into the flan pan, tilting as you pour to evenly coat the pan. The caramel will harden quickly so move fast.
To make the flan custard, blend all flan ingredients in a high powered blender for a few minutes until perfectly smooth. If necessary, strain mixture through a fine mesh sieve.
Pour flan mixture into the flan pan over the caramel.
Place filled flan pan into a larger oven-safe pan. Pour hot water into the larger pan around until it goes halfway up the side of the flan pan.
Cover flan pan with foil and bake 80-90 minutes until the edges of the custard are set but the middle still wiggles slightly.
Let cool then keep covered and refrigerate overnight.
When you're ready to serve, run a thin knife around the edge of the pan to help the flan release. Place a large, rimmed plate over the pan, then carefully invert it so that the flan slides out onto the plate.
Let the caramel run over the sides and serve it like the flan boss you are!