Instant Pot Spiral Ham with Spiced Dry Rub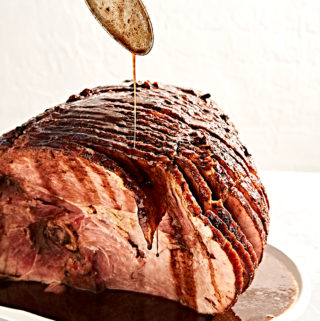 Recipe type:
Entree, Holiday
Cuisine:
Gluten-Free, Instant Pot
1 cup water
1 bone-in spiral ham (up to ~8 pounds for an 8 quart pressure cooker, ~6 pounds for a 6 quart)
1 cup coconut or brown sugar
2 teaspoons cinnamon
2 teaspoons pumpkin spice
1 teaspoon ground mustard
1 teaspoon onion powder
½ teaspoon ground ginger
freshly ground black pepper
Pour 1 cup water into Instant Pot (or you WILL get a burn notice from the dripping sugars).
Insert the steamer trivet that came with your instant pot into the pot.
Place ham, cut side down on trivet. If any part of the ham won't fit, trim it off.
Mix together all of the dry ingredients (sugar, cinnamon, spice, mustard, onion, ginger, pepper) in a small bowl.
Rub the ham all the way around covering it completely with the rub. Cover and seal the Instant Pot, closing the pressure valve. Cook at HIGH pressure for 2 minutes per pound (16 minutes for an 8 pound ham).
Let pressure naturally release for 10 minutes, then release any remaining pressure. Carefully pull trivet with ham from pot. Place on carving board and let rest for 10 minutes.
Stir the glaze remaining in the pot. Set pot to SAUTE and allow glaze to reduce for a few minutes. Press CANCEL. Stir and pour glaze into a pyrex or gravy boat.
Carve ham and serve with the glaze.