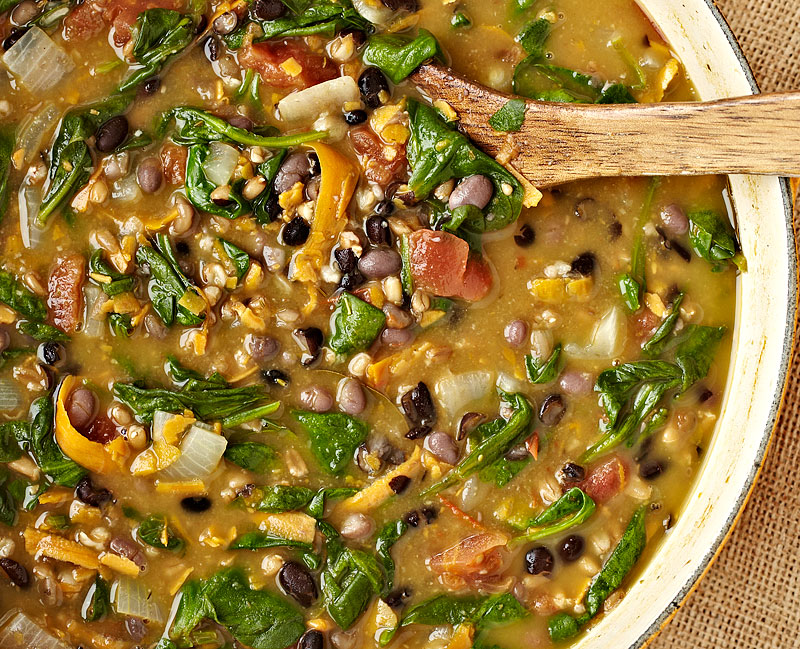 We've never been big bean eaters in our house. Neither of us were ever vegetarians and never got much into bean culture but this recipe is the one bean dish that makes its way to our table fairly regularly. It's a very healthy go-to meal that freezes well for later. A great way to get a warming and hearty dose of veggies, this soup is surprisingly rich and satisfying given it's vegetarian status. The texture variation between the starchy beans, chewy spelt berries, crunchy veggies and buttery avocado give this soup a delightful bite.  I use dried beans and power soak them (described below) to remove most of the phytates and complex bean sugars that cause beans to be the "musical fruit" and contribute to "bubble guts", the immature way to say gastrointestinal issues. So make sure you never skip this part of the process, you're guts will thank you for it;)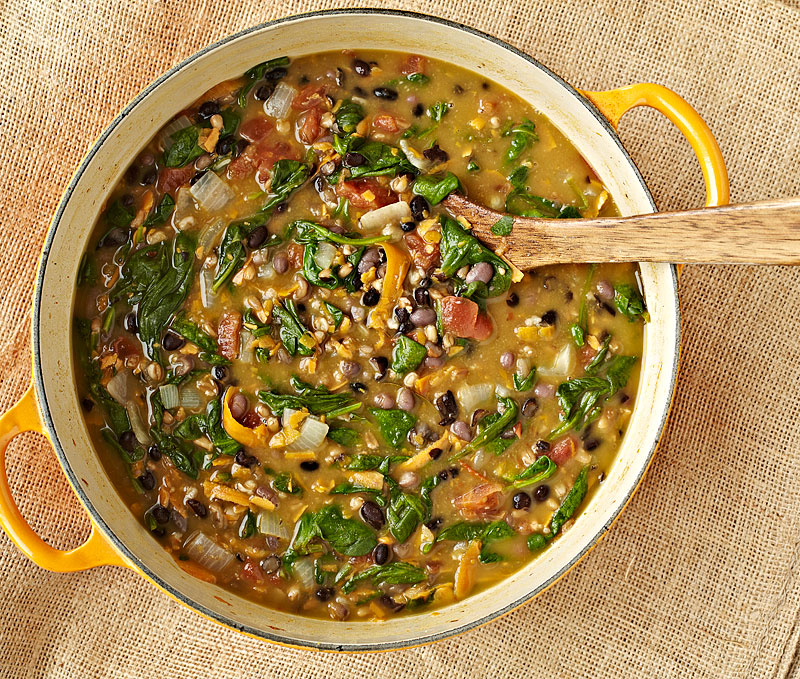 Hearty Vegetable Bean and Barley Soup
A hearty, go-to recipe I make several times a month. The beans and rice give a hearty feel to this vegetarian soup.
Recipe type:
Entrée, Side, Appetizer
Cuisine:
Gluten-Free, Vegan
Ingredients
2-3/4 cups (19 oz) dried black bean and navy bean mix
2 quarts chicken or vegetable stock
2 tablespoons smashed garlic
½ teaspoon crushed red pepper
½+ teaspoon dried rosemary
2 tablespoons dried thyme
2 bay leaves
1 onion, chopped
2 sweet potatoes, sliced into ribbons with a vegetable peeler
1 pound ripe tomatoes, chopped
1 cup barley OR wild rice for gluten-free
10 cups fresh baby spinach leaves (you can also use kale instead or in addition)
1 bell pepper, chopped
salt and pepper
extra virgin olive oil
hard aged cheese (goat or parmesan)- optional
ripe avocado
Instructions
Rinse beans thoroughly, boil in plenty of water for 2 minutes, let soak in the hot water for 2+ hours, then cook at a simmer for 2 hours or until done.
Rinse barley/spelt, bring to a boil in plenty of water, reduce heat and simmer for 30 or so minutes until tender.
Heat olive oil in a large dutch oven and saute onion and sweet potato for a few minutes until fragrant and a bit tender. Remove from pot and reserve.
Put red pepper flakes and rosemary in a tea ball or cheesecloth. Bring stock, garlic and all herbs (including thyme and bay leaves) to boil then simmer for 15 minutes. Remove tea ball.
Mash 1 cup of cooked beans. Add mashed and rest of cooked beans and vegetables (except for the spinach) to the pot. Bring to a boil then simmer 15 minutes, adding water if needed.
Stir in spinach until wilted and add bell pepper. I do this now because I like the fresh crunch of the mostly uncooked bell pepper.
Top with shaved aged cheese and sliced avocado.
ENJOY!!!