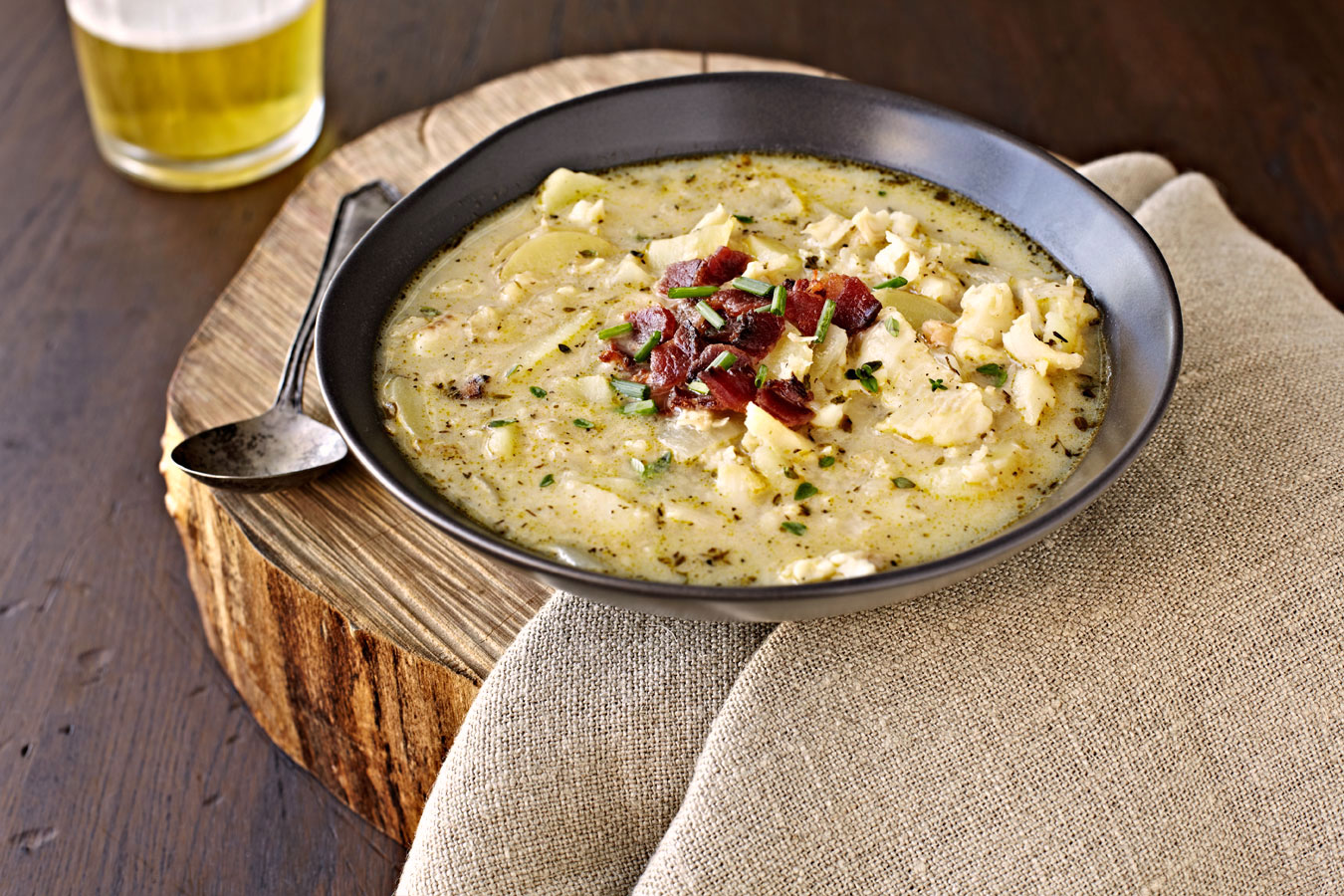 Soup is awesome. Period. I fancy myself a diplomatic and tolerant gal, but the simple truth is that soups, stews and chowders are irrefutably fantastic foods. Nearly each and every time I cook, no matter the time of day, I have to fight the urge to make a soup. I'm aware I have soup issues, but I simply don't care. Today we're giving in to those carnal soup urges and let it all happen. I recently went back east to celebrate my little sister's wedding. It. Was. Fantastic. Fall in New England is a beauty I often forget about since I only tend to see it in the frozen, yucky winter. My SoCal soul never did care much for winter. That said, as the weather cools I get a mean hankering for some legit New England chowder. I need the real deal salty, fishy, slightly creamy kind of chowder, not the clumpy, gloopy, flavorless imitations that can be found, well, almost everywhere. This is a FLOUR-LESS chowder recipe that uses the starch from the potatoes as a mild thickener instead of relying on flour or (gasp!) cornstarch to give the soup body. Let's hear it for gluten-free goodness!
The other great thing about this recipe is that you can really mix it up using different seafood combinations. I like to use a half cod, half flakier fish (dover sole etc.) as well as tiny shrimp, some clams, and sometimes even some lobster when I'm feeling frisky! This makes for a wonderful array of textures and flavors. Mmmmmmm. This time I used milk, but sometimes I use cream depending on my desired "health factor" at the moment. Both work quite well, though the cream makes for a richer soup broth.
Tastes like home to me!!!  I hope you love this as much as I do. So curl up with a bowl of soul food, a pup (or two or three;) and a good movie and enjoy!
p.s: Speaking of my sister's wedding, the wood round in this photograph was one of many made for her centerpieces and cake stand, several of which I shipped here from the east coast (yeah, that was a heavy box!). The skilled Zack Frank cut the rounds with precision and my clever mother stripped and oiled them, yup, craftiness definitely runs in my family!

Gluten-Free New England Seafood Chowder: The Real Deal!
A fully loaded, crazy flavorful gluten-free New England seafood chowder!
Recipe type:
Entree, Appetizer, Soup
Ingredients
6 strips high quality bacon OR 4 ounces salt pork, diced fairly small
2 onions
2 Tablespoons dried thyme
2 dried bay leaves
1-1/2 pounds Dutch gold baby or new potatoes, scrubbed and sliced into ¼" slices
1 quart fish or chicken stock
1 bottle clam juice
2 Tablespoons fresh thyme leaves
1-1/2 pounds cod
1-1/2 pounds flakey fish like dover sole
1 can tiny shrimp
2 cans chopped clams
sea salt and fresh pepper
1-1/2 cups top cream whole milk or cream (for a richer broth)
finely chopped chives for garnish
Instructions
Heat a large dutch oven or stock pot over low heat then add bacon/salt pork. After it has rendered a healthy bit of fat, turn up the heat a bit and cook until crispy. Remove pork with a slotted spoon and reserve on a paper towel lined plate.
Add onions, thyme and bay leaf to the rendered fat and saute, stirring occasionally, until translucent, about 10 minutes.
Add potatoes, stock and clam juice to cover potatoes and bring to a boil. Cook vigorously for about 10 minutes until potatoes have softened but are still a bit firm. If the stock isn't thick enough, smash a few potatoes against the side of the pot to release their starches.
Season aggressively with salt and pepper. Once you add the fish you don't want to have to stir too much so over season just a bit in anticipation of the milk. Stir in fresh thyme.
Reduce heat to low and add the fish. Cook for about 5 minutes or so then remove from heat and let sit for 10 minutes, it will continue cooking.
Gently stir in milk. Divide among bowls and top each bowl with diced chives and the reserved crispy bacon.
Serve and ENJOY!!