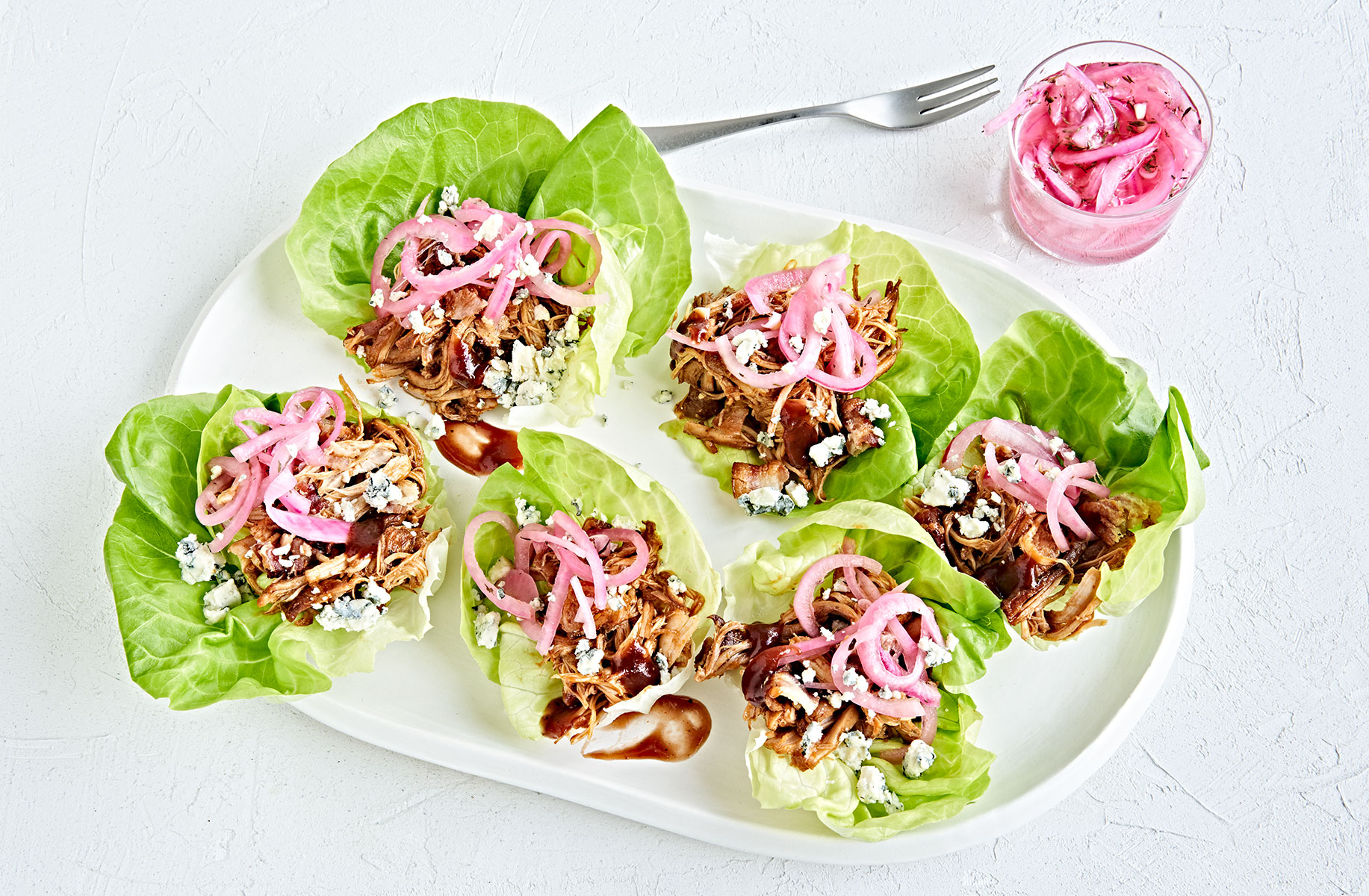 Are these not the Barbie dream house of lettuce cups?! I'm dying! They are so beautiful with just the right amount of richness balanced by the perfect amounts of acid and crunch. Maybe they're more of a dream boat that a dream house. Hmmm…. Anyway, these pulled chicken lettuce cups are a beautiful meal and come together effortless and quickly with chicken cooked in my Instant Pot! The pickled red onions add delicious sweet zing and fantastic crunch. Because these are lettuce cups, they are easily customizable for the different tastes of family members. Partner dislike stinky cheese?! No problem! Kid have a vendetta against onions?! Yeah ok kid, no problem! In collaboration with Skylar The Food Artist, we bring you your go-to weeknight crowd pleaser!
This pulled chicken and the pickled onions are so versatile you can really use them however you like. Maybe make sliders or top a big crunchy salad with them. You do you;)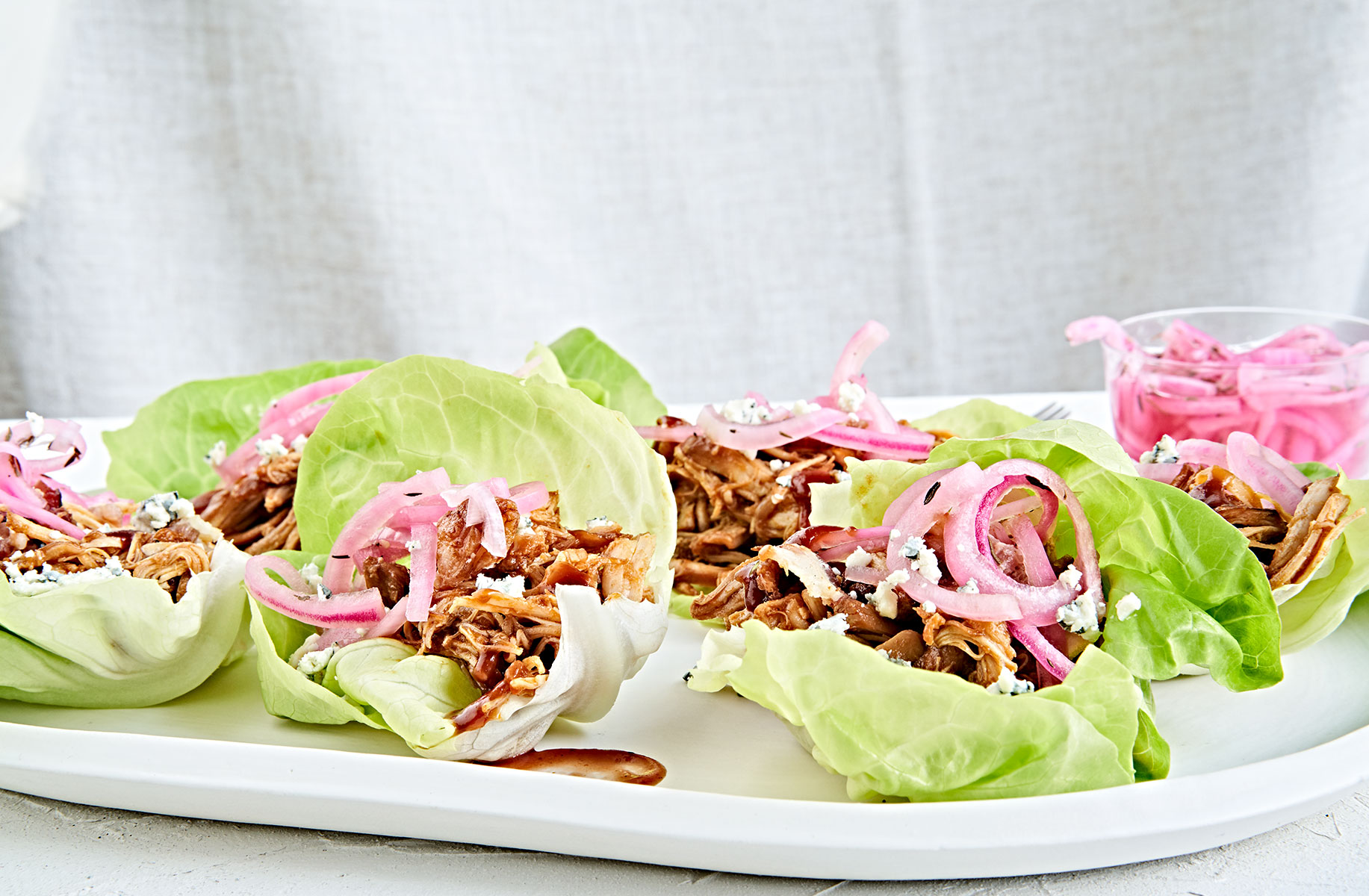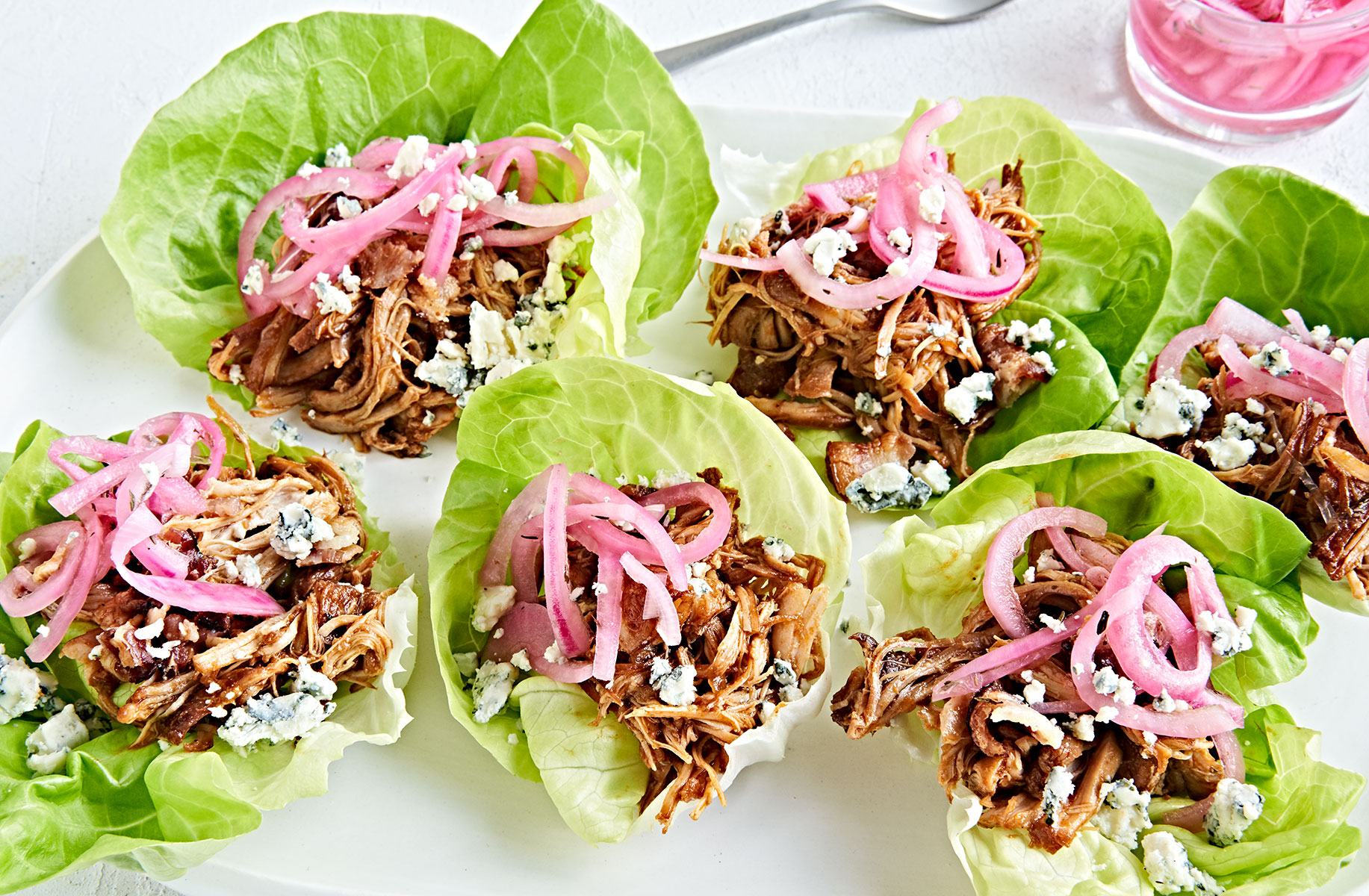 Instant Pot Pulled Chicken Lettuce Cups with Pickled Onions - (Gluten-Free, Paleo)
This go-to weeknight pulled chicken recipe cooks up in a flash with the help of the
Instant Pot
!
Author:
Skylar Edberg with The Eclectic Kitchen
Recipe type:
Dinner, Entree, Appetizer
Cuisine:
Gluten-Free, Paleo
Ingredients
1 tablespoon garlic powder
2 tablespoons onion powder
1 tablespoon sweet red paprika
2 teaspoons kosher salt
1 teaspoon black pepper
3 pounds boneless, skinless chicken thighs, trimmed
2 tablespoons olive oil, divided
1 medium onion, halved and sliced into ¼ inch strips
2 garlic cloves, minced
2 tablespoon tomato paste
½ cup broth of choice
1 cup bbq sauce
pickled red onions
blue cheese, optional topping
bacon crumbles, optional topping
Instructions
In a small bowl, combine garlic powder, onion powder, paprika, salt, and pepper. Season the trimmed chicken thighs with the spice mixture and rub the spices into the meat to ensure an even coating.
Remove the lid from the Instant Pot, push the sauté button and heat the olive oil for about 2 minutes until it shimmers in the bottom of the pot. Sauté the onion slices for about 5 minutes until softened.
Next add the garlic and tomato paste and cook for 1 minute longer to allow it to caramelize. Cancel the sauté function, add the broth and scrape the bottom of the pot well to prevent burning.
Add the seasoned chicken thighs on top of the onion then pour 1 cup of bbq sauce over the chicken.
Secure the instant pot lid and lock the steam valve. Cook on manual high pressure for 20 minutes
When the pot has finished its timer, wait 10 minutes to allow the steam to naturally release.
Using two forks carefully shred the chicken thighs and add extra BBQ sauce if desired.
Serve the Chicken in lettuce cups topped with the pickled onions, bleu cheese and bacon crumbles or serve on Hawaiian slider rolls alongside sweet potato fries or tater tots! This chicken is meant to be versatile for all types of occasions!
ENJOY!!!