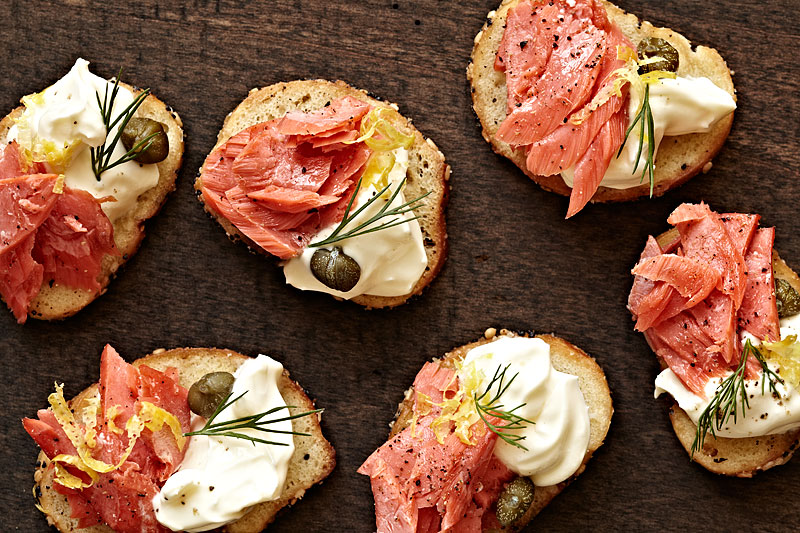 Sometimes simplicity is the mother of all invention. The symbiotic balance of natural flavors can be so much tastier than the over-sauced foods you sometimes get at restaurants. I love food, not just prepared food but the individual ingredients. While it's fun to taste the latest trend in fine dining, essence of this and foam of that, I prefer the clean flavor of foods in their natural state. This is a lucky preference because it enables me to enjoy a healthier diet (for the most part) and be fairly lazy in the kitchen:D
This appetizer recipe is delightful, easy, and perfect for warm weather. I like using everything bagel chips here because they provide a nice crunch and are smaller than baguette crostinis which makes for a better bread to creme fraiche/salmon ratio. I hate having these delicious toppings but mostly just getting a mouthful of bread with each bite. The smaller size also allows for these little nuggets to be a one bite wonder, much less messy that way if you're anything like me.
Alaskan sockeye salmon is one of the best sustainable wild fish options available, not to mention it's chock full of healthy fats. It's a bit "steak-ier" than regular salmon which works very well here.
Oh, did I mention this is super quick. Yup, super quick!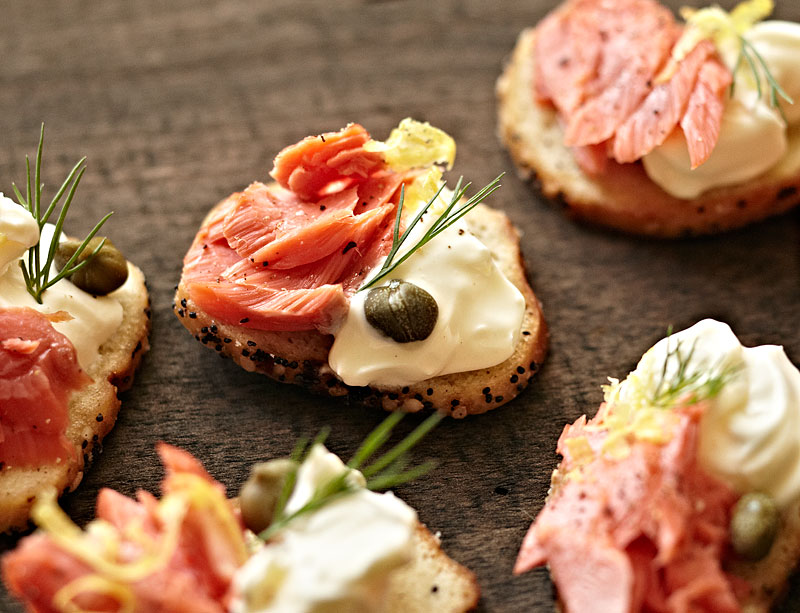 Broiled Salmon Bagel Chip Bites
A crazy quick and delicious go-to party appetizer!
Recipe type:
Appetizer, Snacks
Ingredients
1 fillet Alaskan sockeye salmon
freshly ground pepper
1 large shallot, sliced into think cross-sections ring separated
¼ cup coconut oil
sea salt
1 Tablespoon or so drained capers
¼ cup creme fraiche
zest of 1 lemon
juice of half of a small lemon
bag of everything bagel chips
fresh dill sprigs
Instructions
Preheat broiler and raise oven rack to 5-6" below flame.
Sprinkle filet with freshly ground pepper and broil on foil lined baking sheet for 6-9 minutes depending on thickness. Cool for a few minutes then flake fillet with fork.
Heat coconut oil in a small saucepan and fry shallot in oil until golden brown, about 3 minutes. Keep an eye on them as they burn quickly. Transfer with slotted spoon to paper towel on a plate. Reserve shallot infused oil for another use. Let cool then sprinkle with sea salt.
Whisk together creme fraiche and lemon juice in a bowl. (You can also dice the capers and add them as well as the crispy shallots and lemon zest to simplify the recipe if you prefer)
Top each bagel chip with salmon flakes, creme fraiche mixture, one caper, lemon zest and a sprig of dill.
ENJOY!!!
food photographer, food photography, los angeles, crystal cartier