Yes, I realize that title of this post is a mouthful (pun most definitely intended) but I couldn't help but accurately describe the utter splendor of this dish! Wowza! You owe it to yourself to try this! It all started when my dear friends bought a house in a new neighborhood and we went out to dinner in their 'hood to celebrate. I got a version of this recipe from the lovely farm to table restaurant we checked out and the memory of these flavors has haunted my tastebuds ever since. I even bought a waffle maker just to figure out this recipe!! Yep, it's that brilliant. It's a healthier, more gourmet spin on fried chicken and waffles.
YUMMMMM!!! Are these not the craziest cabernet purple mushrooms? I've made this with a different cabernet and didn't get this super intense hue. Too fun!
*and now that I'm not pregnant I get to have it with a scotch. Mmmmmm:)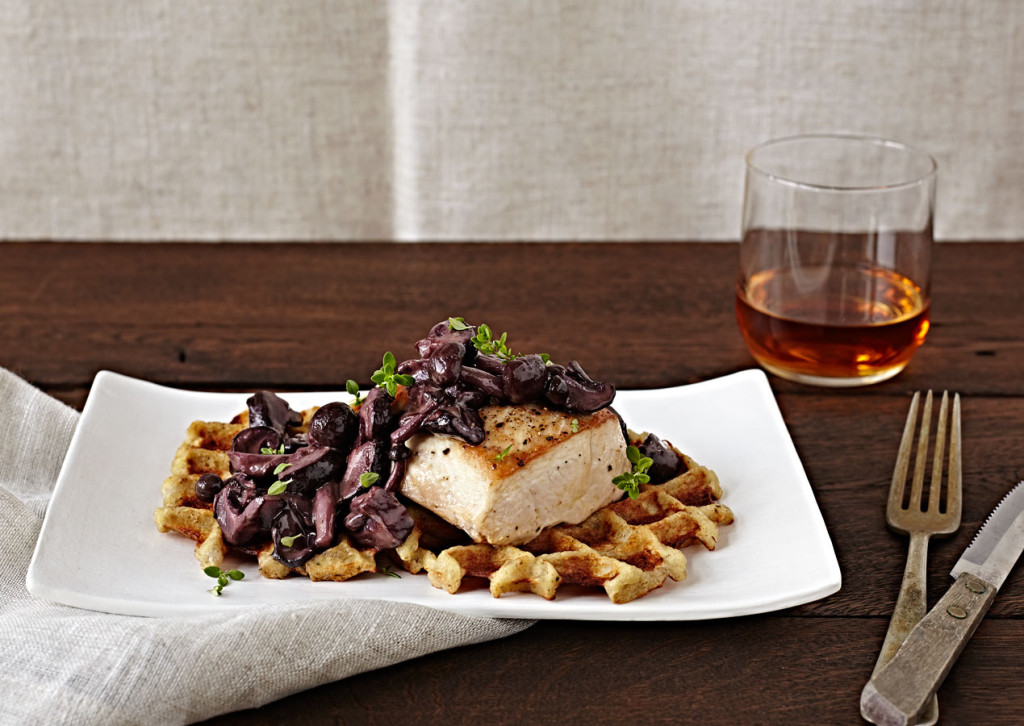 and for the love of a close-up…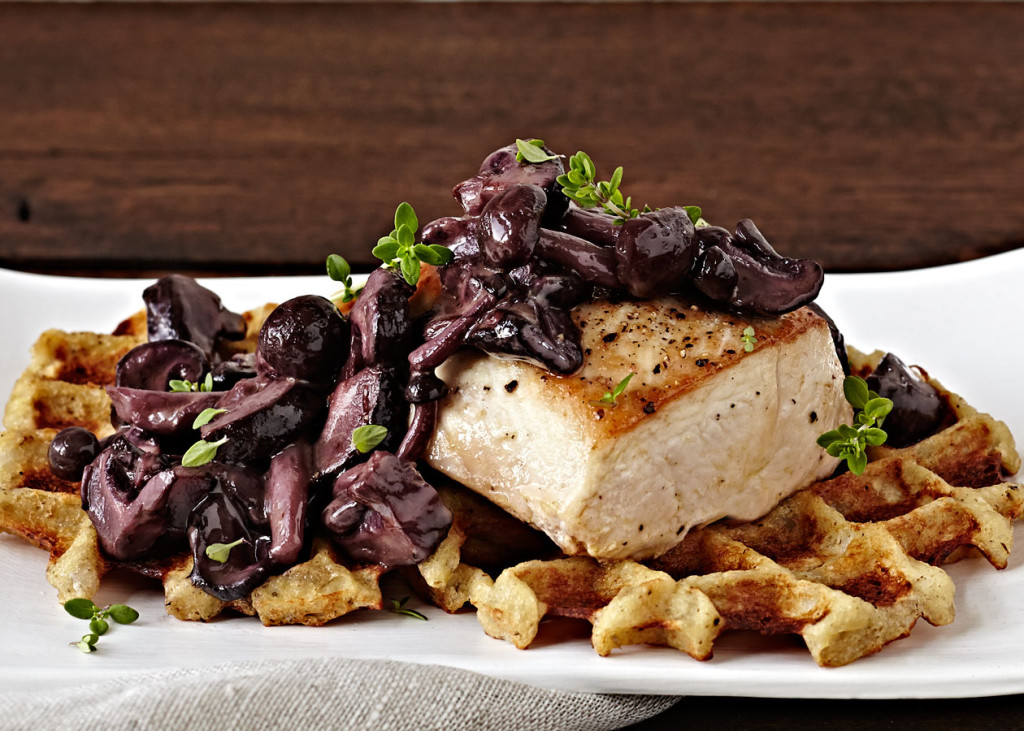 Pan Roasted Chicken with Savory Potato Waffles and Cabernet Wild Mushroom Sauce
An impressive gluten-free dinner that's secretly so easy!
Ingredients
WAFFLES
4 Tablespoon butter, browned
2 eggs, beaten
¼ cup sour cream
¼ cup 2% milk
¼ cup parmesan cheese, grated
2 packed cups mashed potatoes
½ teaspoon baking powder
¼ teaspoon baking soda
½ teaspoon salt
½ teaspoon pepper
¼ teaspoon garlic powder
CHICKEN and MUSHROOMS
2 boneless chickens breasts, cut in half (across the width, not butterflied)
olive oil
1 pound wild mushrooms (I used shitake and beech)
small bunch fresh thyme
½ cup bold cabernet wine
¼ cup water
2 Tablespoon butter
salt and pepper
Instructions
WAFFLES
Cook the butter over medium low heat until it starts to brown and smell nutty and sweet. Transfer to a medium bowl.
In a small bowl, whisk together baking powder, baking soda, salt, pepper, and garlic powder.
Add eggs, sour cream, milk and cheese to the brown butter and whisk together. Add the dry ingredients to the wet and whisk together. Add the mashed potatoes and gently stir to combine. Do NOT over mix.
Heat a waffle iron to manufacturer recommended heat, this is level 3 ½ on my iron.
Plop about ¼ of batter in the center of each waffle area. Cook until golden on each side, this is 5 minutes with my waffle iron but may be different with different irons.
Pull waffles from iron and set on wire rack to prevent them from getting soggy.
Assemble roasted chicken and mushroom sauce on top OR eat them a la carte by topping with sour cream and chives.
CHICKEN and MUSHROOMS
Preheat oven to 425 degrees
Season chicken with salt and pepper
Heat cast iron pan coated with olive oil
Sear chicken on each side until lifts easily off the pan (2-3 minutes per side at medium-high heat) then finish cooking in oven for 15 minutes. Remove chicken from pan and set aside
Return pan to stovetop, add mushrooms to same pan with chicken juices. Add the water and sauté for a minute or so then add thyme and wine and simmer until liquid is reduced by half.
Salt and pepper to taste
Turn off heat, add butter and stir until melted
On each plate, place two potato waffles and top with chicken and mushroom sauce.
ENJOY!!!