Hey there rhubarb…! It's that brief but exciting time of year when that bright red, chard/celery-looking wonder of rhubarb starts gracing the shelves of farmers' markets and grocery stores across the land. Yum! It's also starting to warm up everywhere, finally, so why not make a cool, creamy sweet/tart treat with those lovely red stems?
My daughter is OBSESSED with this yogurt panna cotta. The flavor of the yogurt shines through beautifully and parallels the slight tartness of the rhubarb syrup. Honestly, it's just a super easy, killer recipe that should be in your entertaining rotation. It's crazy beautiful in a fancy glass, but firm enough to hold it's form if you want to serve to without a glass. Simply dip the glass briefly in warm water to loosen the panna cotta from the sides of the glass. Flip upside-down on a dish to release the panna cotta and drizzle the rhubarb syrup on top. Personally, I prefer serving it in glasses. It's super pretty and makes fewer dishes;)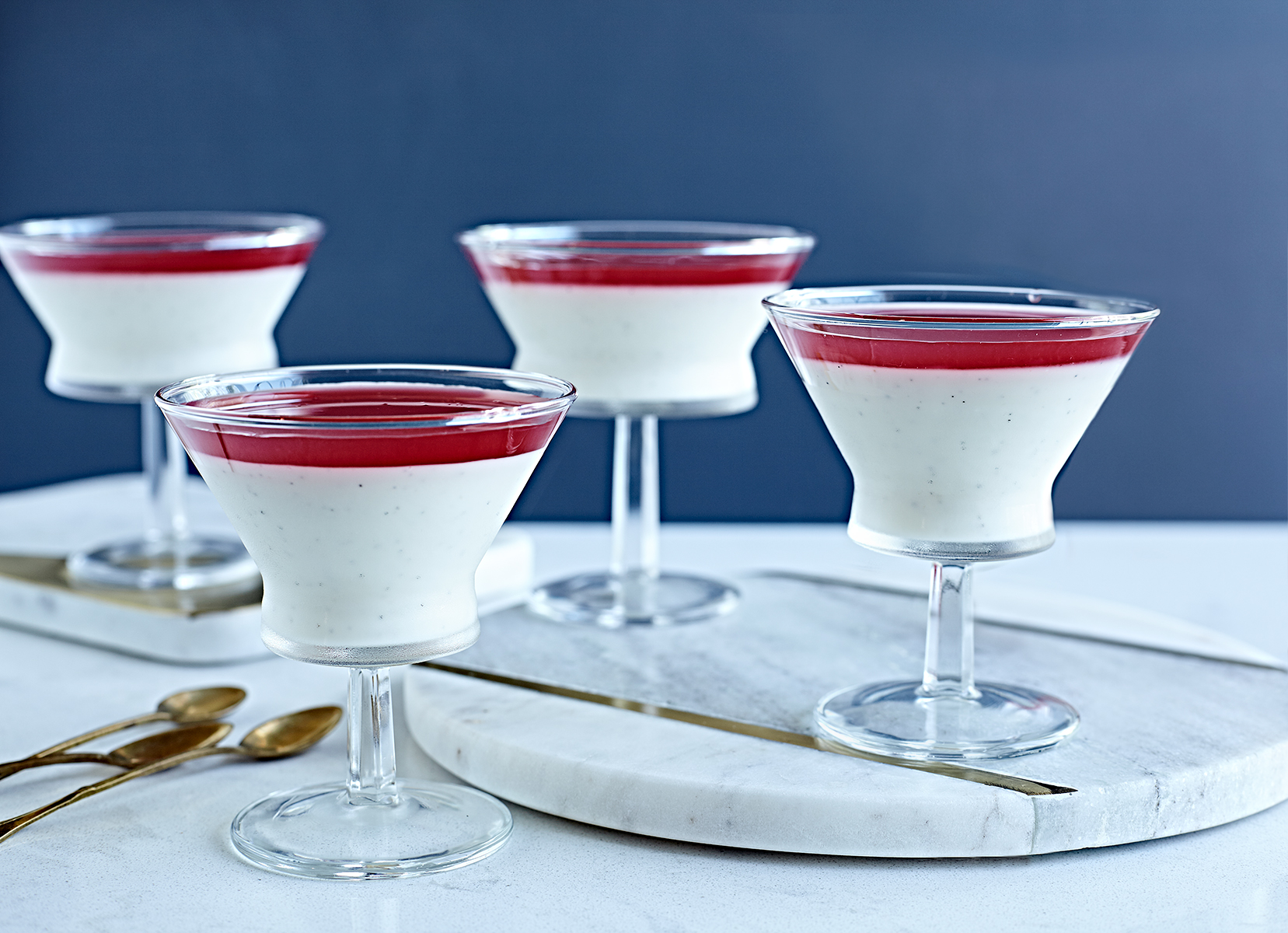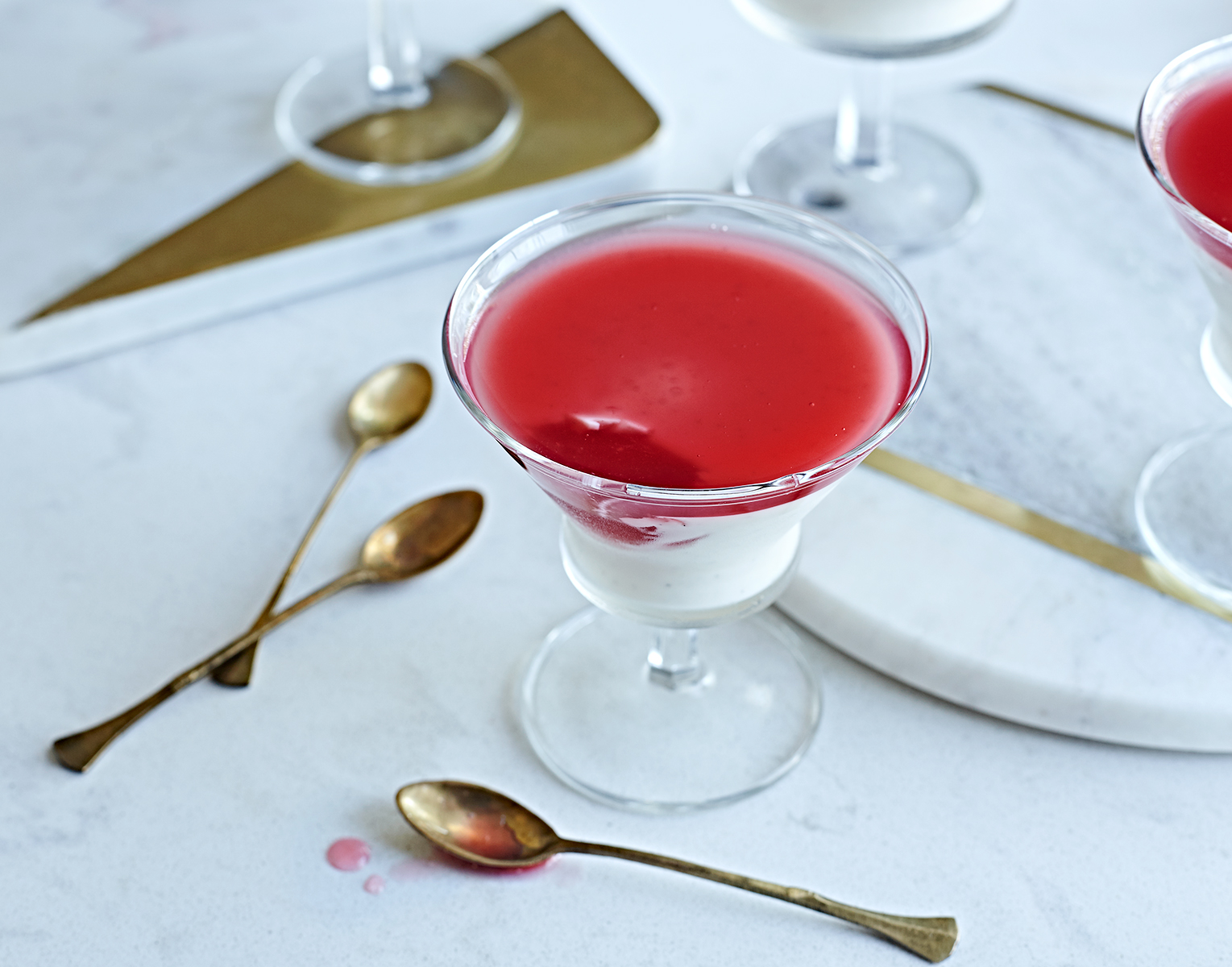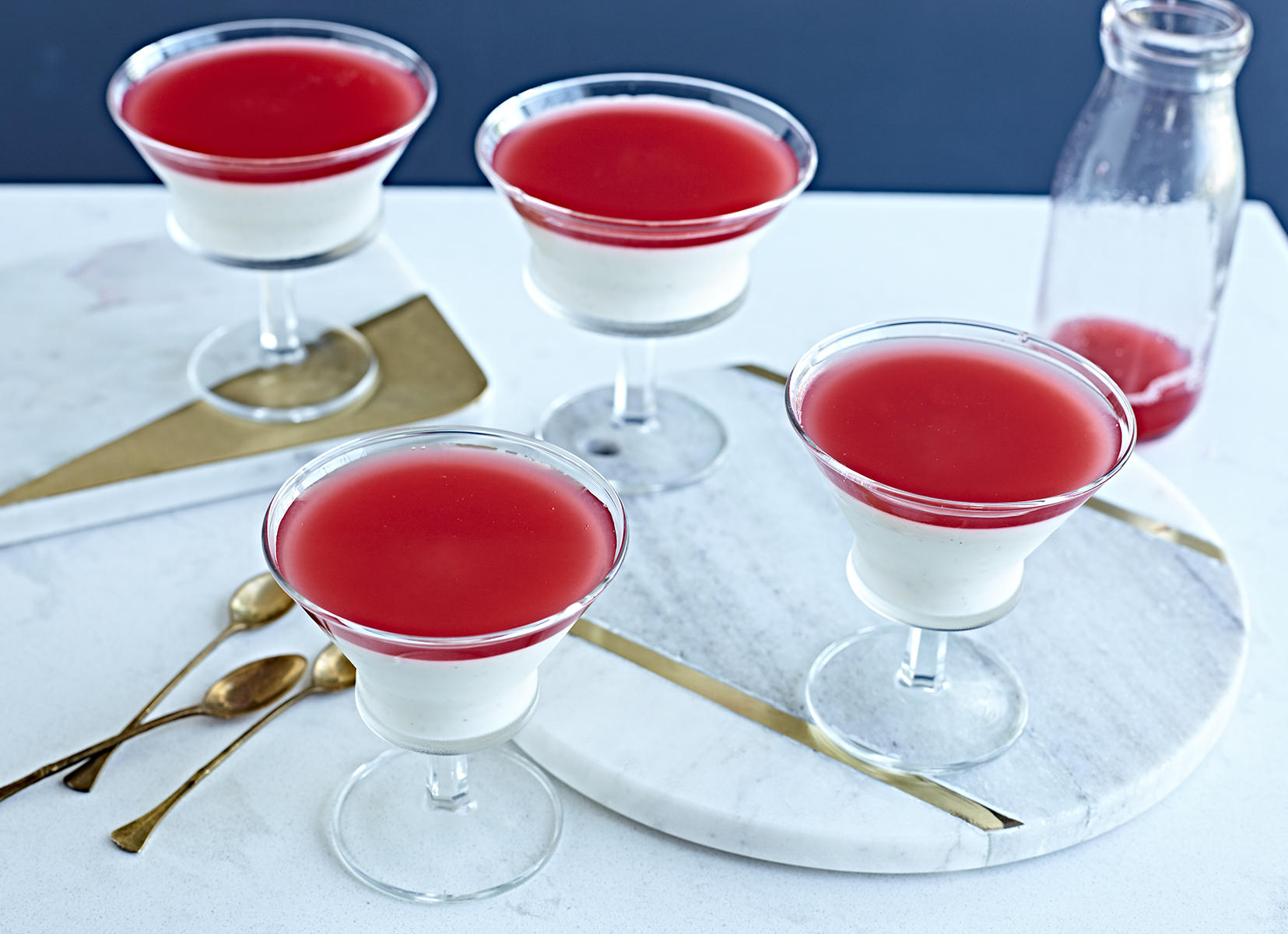 Yogurt Panna Cotta with Rhubarb Syrup
You can't beat this super easy and simple yogurt panna cotta recipe on a warm day! It's simple to make and the flavor of the yogurt really shines through. The rhubarb syrup is the perfect tartly sweet topping to compliment the creamy richness of the panna cotta.
Cuisine:
gluten-free, vegetarian
Ingredients
Rhubarb Syrup
1 pound rhubarb, cleaned and chopped
2 cups water
¾ cup sugar
Yogurt Panna Cotta
Instructions
Rhubarb Syrup
Combine rhubarb and water in a medium saucepan.
Bring to a boil and reduce to a simmer. Let simmer for 20 minutes or so. The liquid should be bright pink and the rhubarb will turn to mush and lose its color.
Strain liquid through a fine mesh strainer and pour back into a saucepan. Add sugar and simmer for a few minutes until the sugar is completely dissolved. Let cool then refrigerate in glass jars.
Yogurt Panna Cotta
In a medium bowl, sprinkle the gelatin over ½ cup of the milk. Let bloom for about 10 minutes.
Pour the remaining 1 cup milk into a small pan and scrape the seeds from the vanilla bean into the milk, then throw in the pod. Add the sugar and set the pan over medium heat to a simmer while stirring to dissolve the sugar. Remove from the heat.
Place fine mesh strainer over the milk and gelatin bowl and strain the hot milk mixture into into the bowl. Whisk together into fully incorporated for a couple of minutes then and let cool for 10 minutes. Whisk in the yogurt until well blended.
Divide the yogurt mixture among six ¾-cup glasses. Points for fanciness;) Cover each with plastic wrap and refrigerate for at least 4 hours or until fully set.
To serves, pour a bit of rhubarb syrup over the panna cotta.
ENJOY!!!