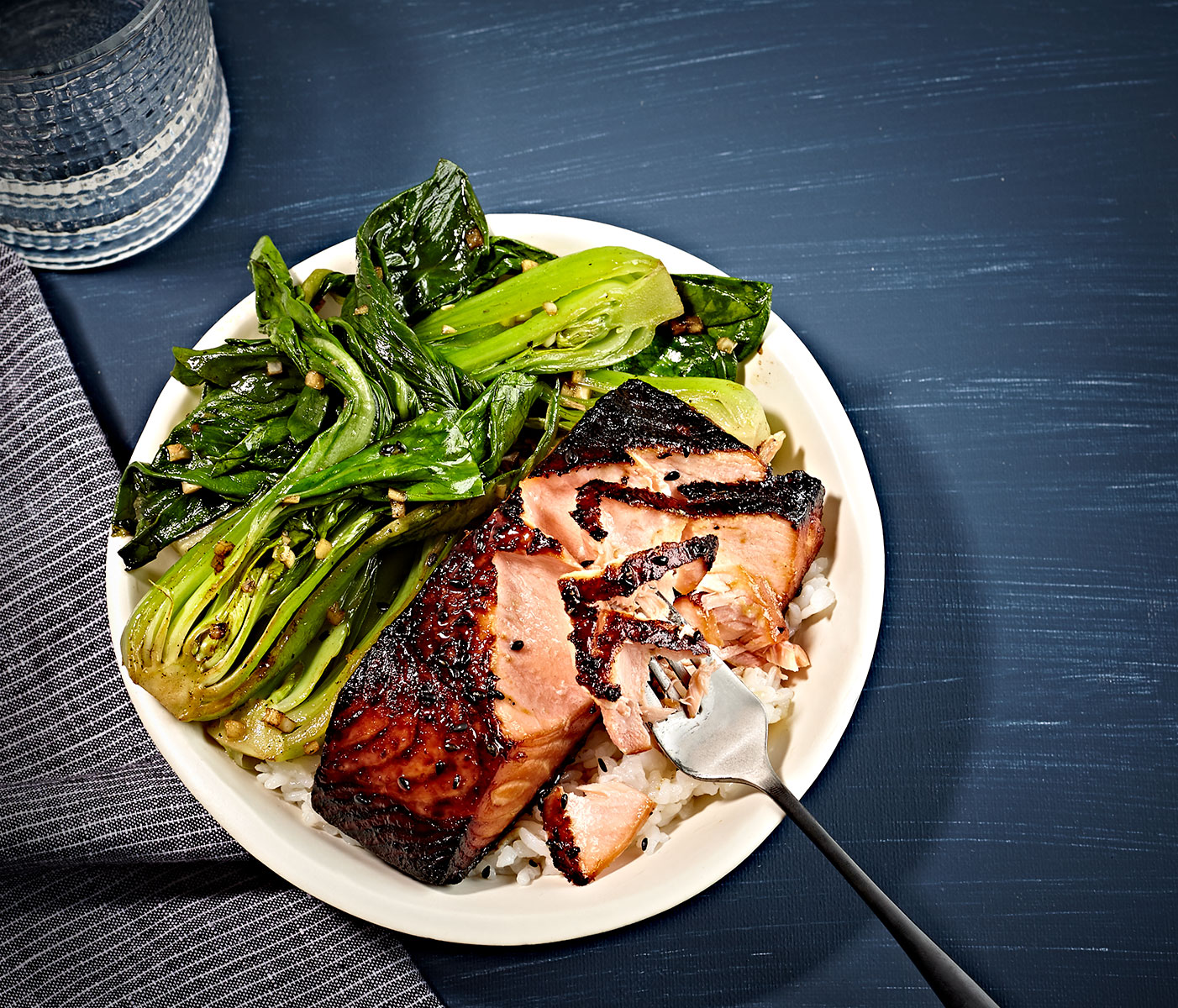 Looks at that beautiful, flakey salmon filet. It's seared to perfection with the rich, umami flavor of miso. Totally mouth-watering! Honestly, I couldn't love it more. This salmon is a collaboration with Skylar The Food Artist, and we spent our whole shoot day stealing bites of this salmon every chance we could! I'll be putting this recipe in the weeknight rotation for sure. Give it a try and let me know what you think.

Seared Miso Glazed Salmon with Garlic Bok Choy
Get your dose of delicious omega goodness with this flavorful Miso Glazed Salmon. It's easy, quick, and oh-so good for you!
Author:
Skylar Edberg for The Eclectic Kitchen
Recipe type:
Dinner, Entree, Fish, Seafood
Cuisine:
Gluten-Free, Dairy-Free
Ingredients
Salmon
¼ cup low-sodium soy sauce
¼ cup maple syrup
2 garlic cloves, grated
1 tablespoon miso paste
1 teaspoon freshly grated ginger
2, 8-ounce salmon fillets, skin removed
2 tablespoons vegetable oil
Bok Choy
1 pound baby bok choy, rinsed
1 tablespoon vegetable oil
2 garlic cloves minced
Scallions for garnish
Instructions
In a small bowl, whisk together soy sauce, maple syrup, garlic, miso paste and ginger until well combined.
Add salmon to a gallon size ziploc bag and pour the marinade over the top. Refrigerate for at least 30 minutes or overnight.
Preheat oven to 400 degrees.
Preheat a large cast-iron or ovenproof skillet over medium-high heat and drizzle with vegetable oil. Sear the salmon skin side down for about 2 minutes. Transfer the skillet to the preheated oven. Bake for 15 to 20 minutes and finish by broiling for 2-3 minutes until crispy and golden.
Make sure to reserve any leftover marinade.
Pour remaining reserved marinade into a large skillet over medium-high heat. Add the bok choy, oil and garlic and sauté for about 4 minutes until the bok choy is wilted and cooked through.
Serve salmon over rice,with garlic bok choy and drizzle with reduced sauce. Garnish with sliced scallions.