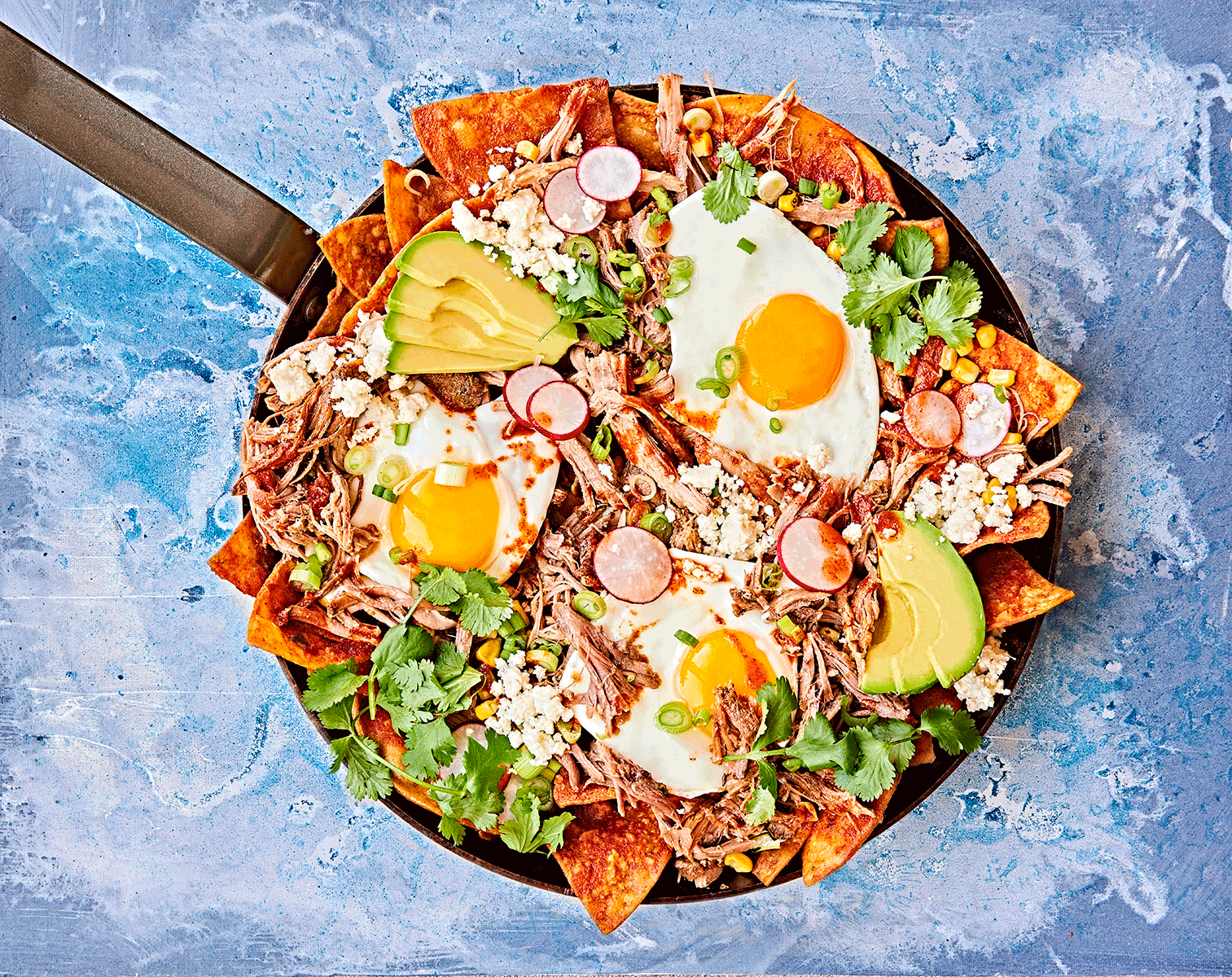 I LOOOOOOVE chilaquiles! It's essentially nachos for breakfast and that is how you know you're living your best life! I've posted my slow cooker carnitas recipe before, which is so freaking good and you set it over night. Then you have carnitas for breakfast in the morning! Today I'll share my Instant Pot version of my juicy and flavorful carnitas recipe so you don't always have to plan ahead so far.
These Instant Pot carnitas are ready in 3.5 hours and are so tender they just fall apart. I make a giant batch and freeze some flat in ziplock bags. That way I can make chilaquiles, nachos, or just have some carnitas with my eggs any old day of the week.
Check out this succulent, juicy pork. It basically shreds itself. A giant batch of carnitas is a greta way to feed a crowd. Whenever I throw a big party, I usually do a carnitas nacho or taco bar. Can't beat it!
Food styling by The Food Artist.
Breakfast Chilaquiles with Instant Pot Carnitas
Chilaquiles may be the real breakfast of champions. Chilaquiles with Instant Pot juicy carnitas is definitely a winning breakfast, no question!
Author:
Crystal Cartier of The Eclectic Kitchen
Recipe type:
Dinner, Entree, Lunch, Breakfast
Cuisine:
Mexican, Gluten-Free
Ingredients
CARNITAS
5 pounds pork shoulder/butt (chopped up "rib" cuts work too if large chunks of fat are removed before cooking)
1½- 2 Tablespoons sea salt
2 teaspoons pepper
1-2 jalapeños, seeded and diced
1 white onion, chopped
½ cup orange juice
2 teaspoons smashed garlic
1 Tablespoons olive oil
2 teaspoons cumin
1 Tablespoon dried oregano
CHILAQUILES
Sauce
2 cups hot water
4 dried Ancho chiles, stemmed and seeded
1 small sweet onion, chopped
1 15- ounce can fire-roasted tomatoes
4 garlic cloves
3 teaspoon sea salt
Assembly
Oil of your choice for frying eggs
3 large eggs
1½ cups enchilada sauce, recipe above or your chosen canned enchilada sauce
4 cups tortilla chips (around 36 chips)
½ cup Instant Pot Carnitas, recipe above
Handful fresh cilantro, chopped
2-3 radishes thinly sliced
¼ cup frozen fire roasted corn
1 avocado, sliced
1 green onion, sliced
queso fresco, crumbled
1 lime cut into wedges
Instructions
CARNITAS
Rub pork with salt and pepper.
Combine last four ingredients and rub well into the meat.
Put pork into Instant Pot with the fat cap facing up and cover with jalapeños, onion and orange juice. Cut the piece of pork to fit in your pot if necessary.
Cook on high pressure for 3.5 hours.
Manual pressure release.
Remove pork and shred.
Strain juices into fat separator (reserving onions to add back to juices) and discard fat layer. Simmer to reduce to about 2 cups liquid, if necessary. Add onions back to juices.
If freezing portions, add some juices to each frozen bag. If serving immediately, you can optionally brown carnitas in a bit of oil on high heat in a cast iron skillet until it forms a nice crust.
Pour juices over meat and serve immediately.
CHILAQUILES
Sauce
In a high powered blender, submerge the chilis in the hot water. Let soften for 10 minutes. Add remaining sauce ingredients and blend until smooth. Set aside.
Assembly
Heat a small skillet over medium heat. Once hot, add oil. Crack the eggs in the skillet and reduce the heat. Spoon the hot oil over the white around the yolk to set the whites.
When eggs are done to your liking, remove pan from heat.
Heat large skillet over medium heat. Add enchilada sauce and heat through. Add tortilla chips and toss to coat. Cook for 2 minutes to slightly soften the chips.
Top chips with carnitas, fried eggs, cilantro, radishes, corn, avocado, onion, and cheese. Squeeze lime juice over the whole dish and serve it to the table in skillet.
ENJOY!!!