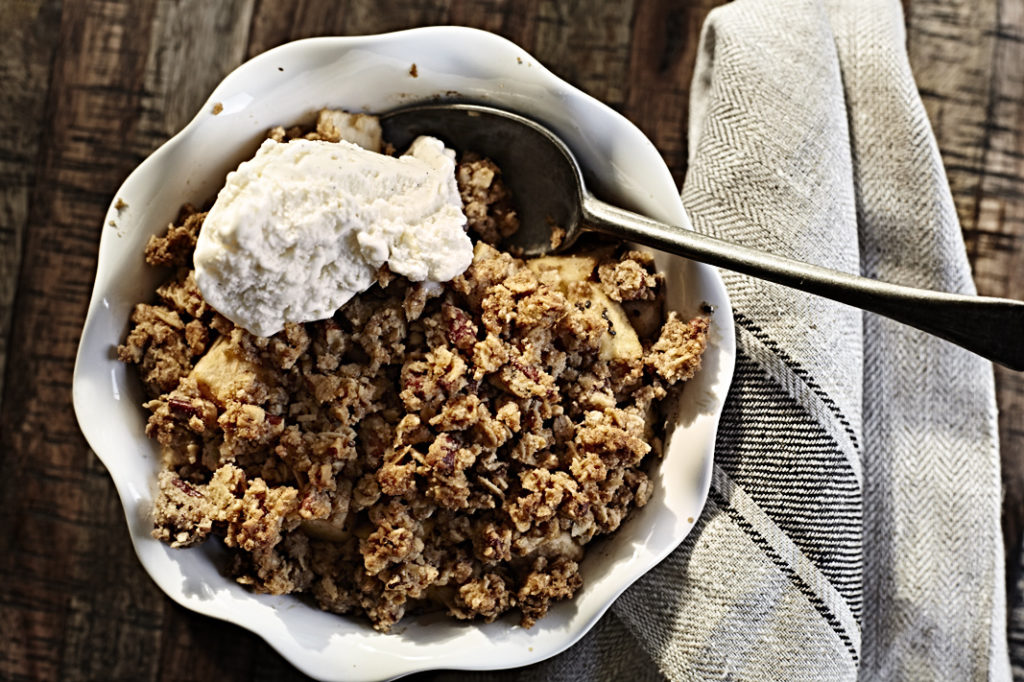 I rarely make apple crisp, but when I do I want it to be packed with perfectly caramelized apples and topped with lightly sweetened crunchy oats. I find the pecans in the crisp topping to be totally necessary to get the texture I crave, but feel free to substitute walnuts etc. ENJOY!

Gluten-Free Bourbon Apple Crisp
Ingredients
FILLING
8 medium apples, cored and chopped or sliced (~ 6 cups)
Freshly squeezed juice of 1 small lemon (~1½ Tablespoons)
⅓ cup maple syrup
1 teaspoon cinnamon
½ teaspoon pumpkin pie spice
2 Tablespoons butter (or coconut oil if vegan), melted
1 vanilla bean, split lengthwise and seeded OR ⅛ teaspoon ground vanilla bean
2 Tablespoons bourbon
2 Tablespoons apple juice or water
2 teaspoons arrowroot powder or similar starch (like cornstarch)
CRISP
⅓ cup brown sugar
½ cup almond flour
1 cup rolled oats
1 teaspoon cinnamon
generous pinch salt
½ cup chopped pecans
¼ cup butter, melted OR liquid coconut oil to make vegan
¼ cup plain yogurt
Instructions
Preheat 350. Generously grease 8x8 baking dish or similarly sized individual dishes.
Mix all filling ingredients in bowl until thoroughly mixed.
Throw apples straight into your pie pan as you chop them.
Toss apples with filling mixture in your greased baking dish. Bake 20 minutes.
In the meantime, mix all dry crisp ingredients until incorporated. Then mix in melted butter/oil and yogurt and spoon evenly over your par-baked apple filling.Bake for another 30 minutes or so until bubbly. If using individual dishes adjust time and check earlier.
Let cool on a baking rack for 10 minutes. Serve warm with vanilla, maple, or salted caramel ice cream!