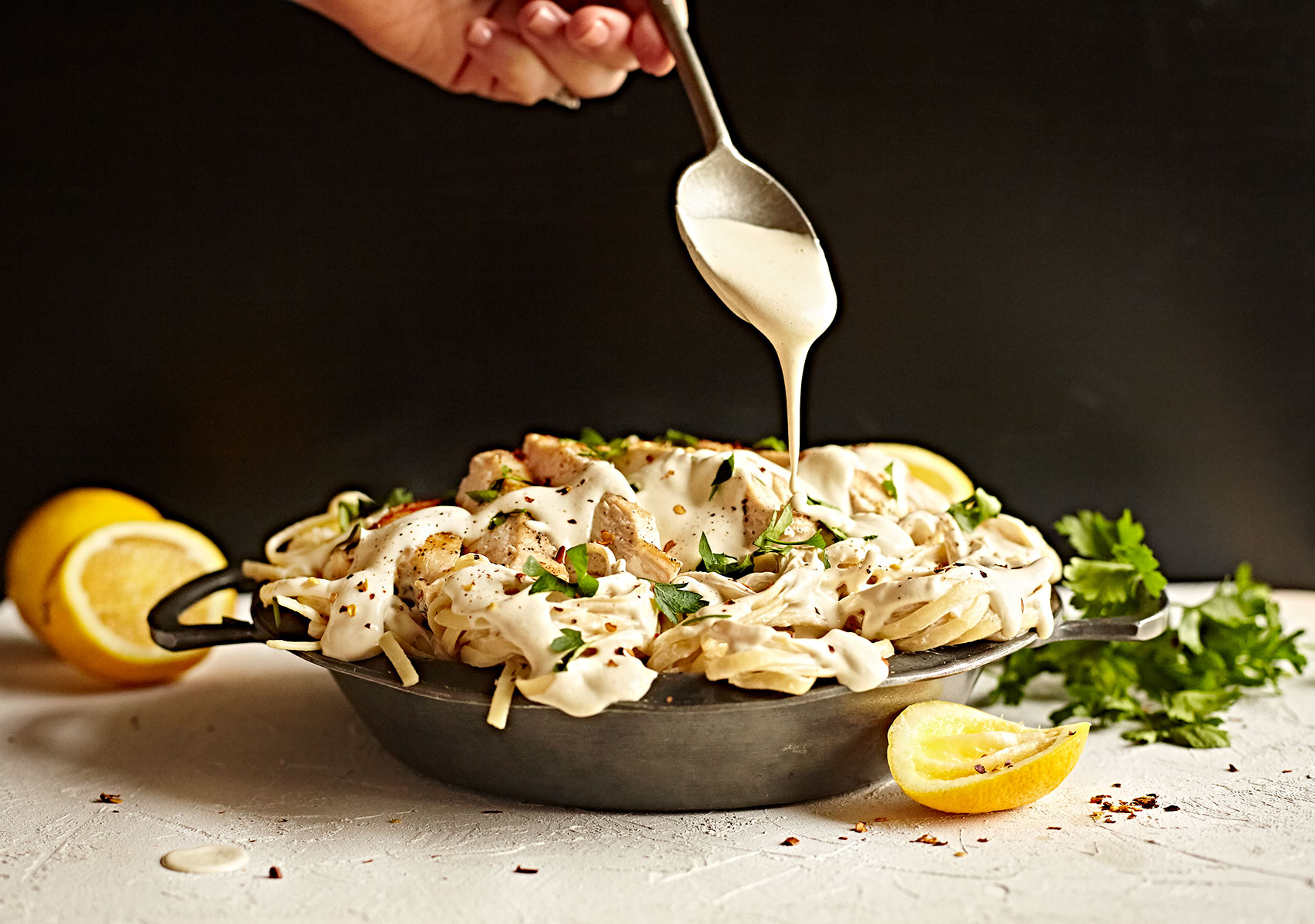 Ahhhh would you look at that classic, creamy, italian-inspired alfredo cascading from the spoon. It's chock full of rich, "cheesy", vegan deliciousness! Thanks to a collaboration with the food artist, I present you with this whole30 compliant alfredo sauce!
I've started putting it on errrrrrthang! Eggs, gluten-free pasta, chicken, pork, really anything goes great with this alfredo. You can feel great about eating it too so go ahead and indulge. It's a truly brilliant condiment for sure:)
Give it a try and let us know what you think!

Dairy-Free "Cheesey" Alfredo Sauce -(Gluten-Free, Vegan, Keto, Whole30)
Our vegan "cheesey" alfredo is a healthy sauce full of nutritious fats and crazy rich flavor. Try it on everything!
Author:
Skylar Edberg for The Eclectic Kitchen
Recipe type:
Entree, Side, Condiment
Cuisine:
Gluten-Free, Vegan, Whole30, Keto
Ingredients
2 cups raw cashews, soaked overnight or "power soaked" in boiled water for at least 3 hours
1 cup cashew milk or unsweetened almond milk
1 garlic clove chopped
2 teaspoons lemon zest
2 tablespoons lemon juice
⅛ teaspoon freshly grated nutmeg
¼ cup finely diced yellow onion
2 tablespoons nutritional yeast
1 tablespoon kosher salt
1 teaspoon freshly ground black pepper
Instructions
Add soaked cashews, nut milk, garlic, lemon zest, lemon juice, onion, nutritional yeast, salt and oregano to a high powered blender on full speed for about 3 minutes until completely smooth and steaming. (If your blender is not a high speed blender, most are, blend the ingredients until smooth and simmer over medium low heat for about 10 minutes)
Serve sauce warm with my favorite gluten-free pasta topped with chicken and parsley.