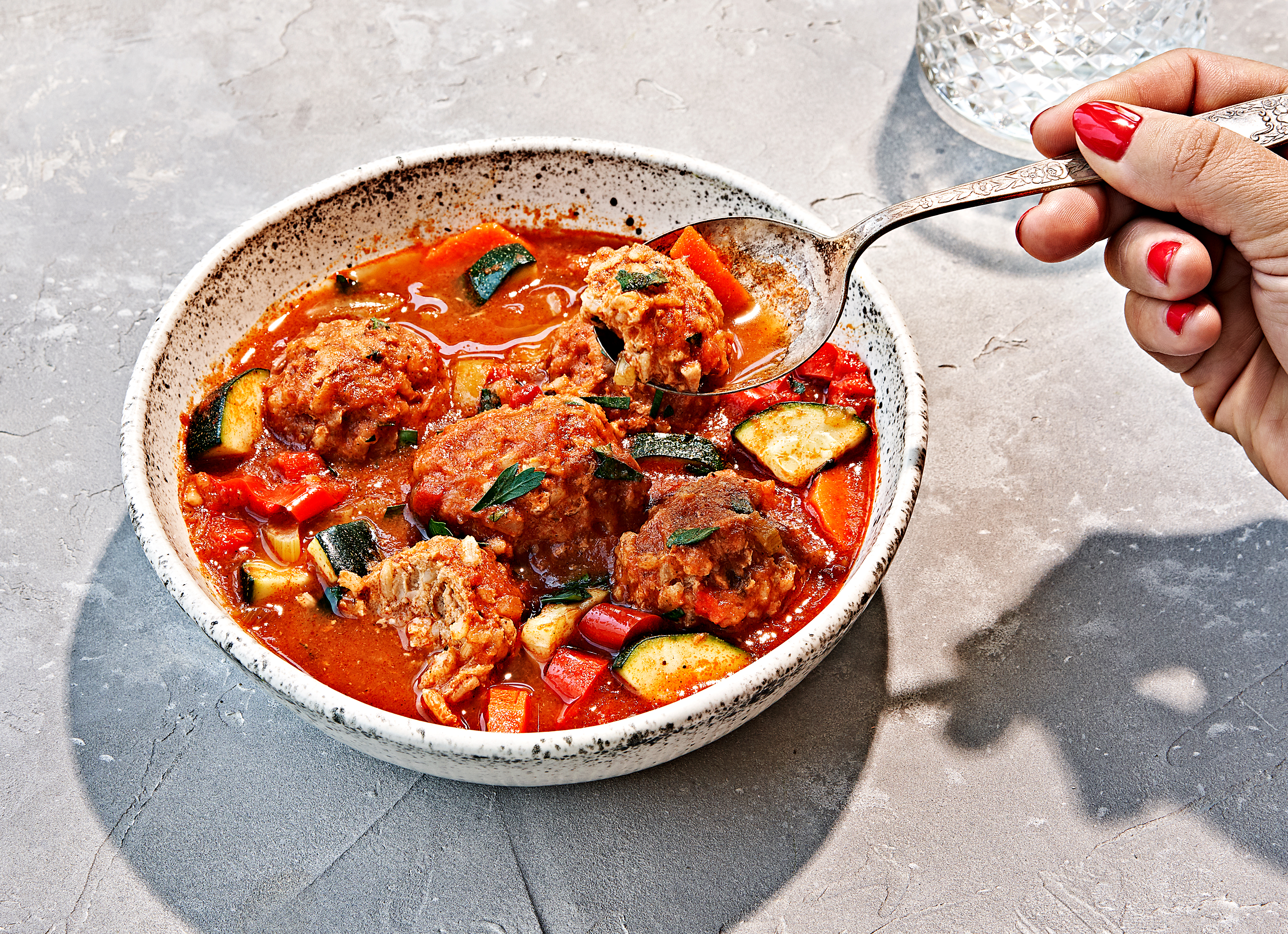 Get out your Instant Pot because the cool weather is here! Do you want a killer pressure cooker recipe chock full of veggies and healthy nutrients that the whole family will love? Yup, we're always game for one of those too! Skylar and I LOVE this albondigas soup and so do our families! Albondigas soup is a traditional Mexican soup brimming with flavor. Can't beat it.
Albondigas soup is somehow hearty and filling but also fresh and bright. It's the best of everything! You can use any veggies you want and rotate them seasonally to suit your tastes. Albondigas mean meatballs in Spanish and it's super cute to hear your kid as for "albondigas" soup. Way cute. Just sayin'!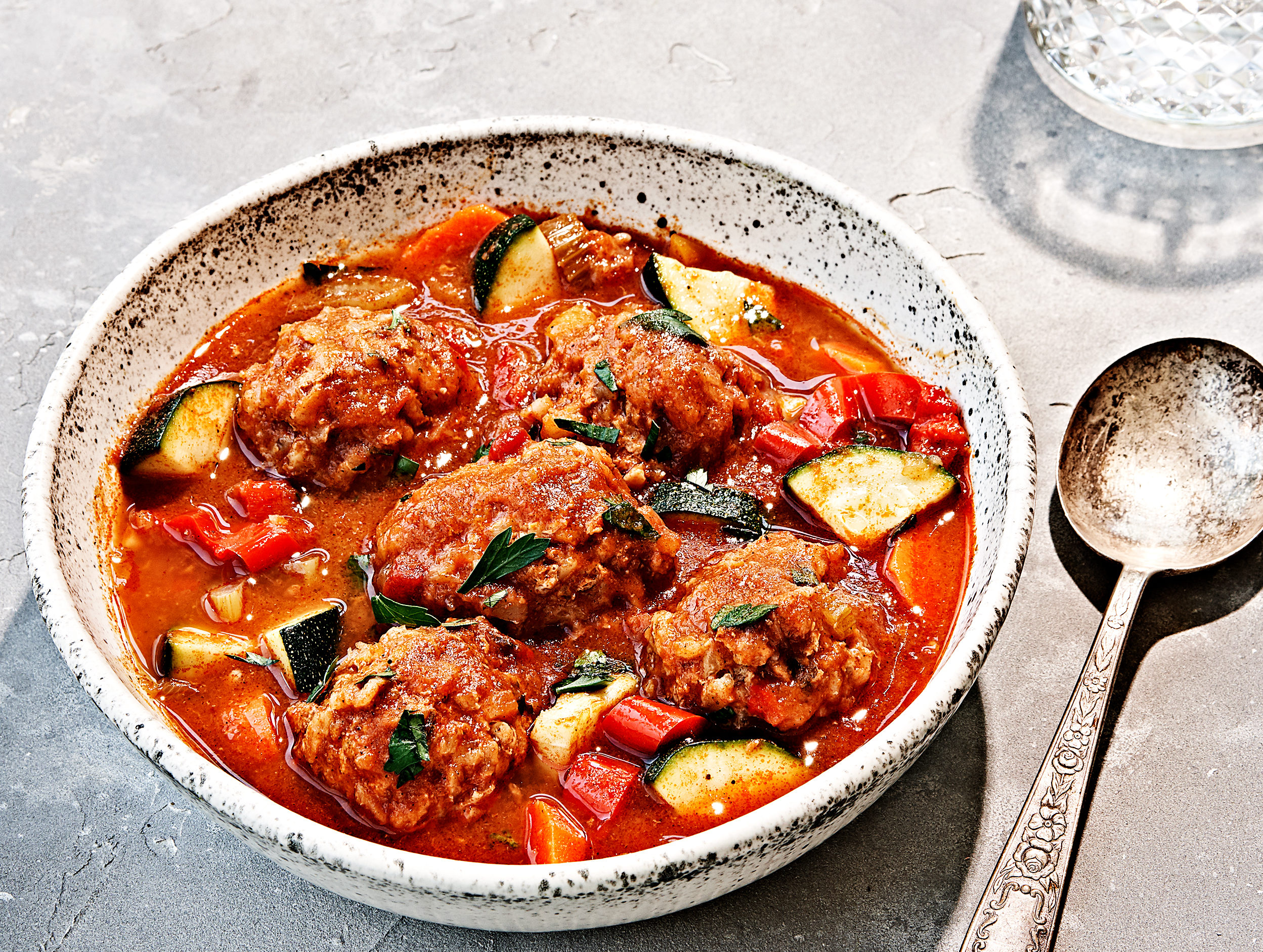 Instant Pot Healthy Albondigas Soup
Easy Instant Pot albondigas soup is somehow hearty and filling but also fresh and bright. It's the best of everything!
Author:
Skylar Edberg with The Eclectic Kitchen
Recipe type:
Dinner, Soup, Appetizer, Instant Pot
Cuisine:
Gluten-Free, Mexican
Ingredients
3 tablespoons olive oil
1 yellow onion, sliced
4 celery stalks, sliced
3 carrots, peeled and sliced
1 red bell pepper, seeded and sliced
2 zucchini squash, halved and sliced
3 garlic cloves, minced
1 ½ tablespoons kosher salt, plus 2 teaspoons for meatballs
2 teaspoons black pepper, plus 1 teaspoon for meatballs
2 teaspoons ground cumin
2 teaspoons chili powder
1 large can crushed tomatoes
4 cups low sodium chicken broth
1 pound ground turkey or beef
1 egg lightly beaten
¾ cups uncooked brown rice
2 tablespoons finely chopped parsley
2 tablespoons finely chopped mint leaves
1 teaspoon lemon zest
1 teaspoon lemon juice
1 bay leaf
Instructions
Set your instant pot to sauté and heat 3 tablespoons olive oil for about one minute until shimmering. Once the oil is hot, add the onion, celery, carrots, salt and pepper and sauté for about 4 minutes until onions are translucent. Next add bell peppers, zucchini, garlic, cumin, chili powder, tomatoes and 3 cups of chicken broth and continue to sauté while you prep the meatball mixture.
In a large bowl combine the turkey meat, egg, brown rice, lemon zest, lemon juice, mint, parsley, 2 teaspoons salt and 1 teaspoon pepper. Using a mini ice cream scoop or spoon, create 1 tablespoon sized meatballs and drop them into the warm soup mixture. Repeat until all meatballs are in the water. Add the bay leaf and additional chicken broth to the fill line and close the lid. Cook on the soup setting for 20 minutes and use natural release for 20 minutes. Once the pressure has fully released, carefully remove the top and serve!