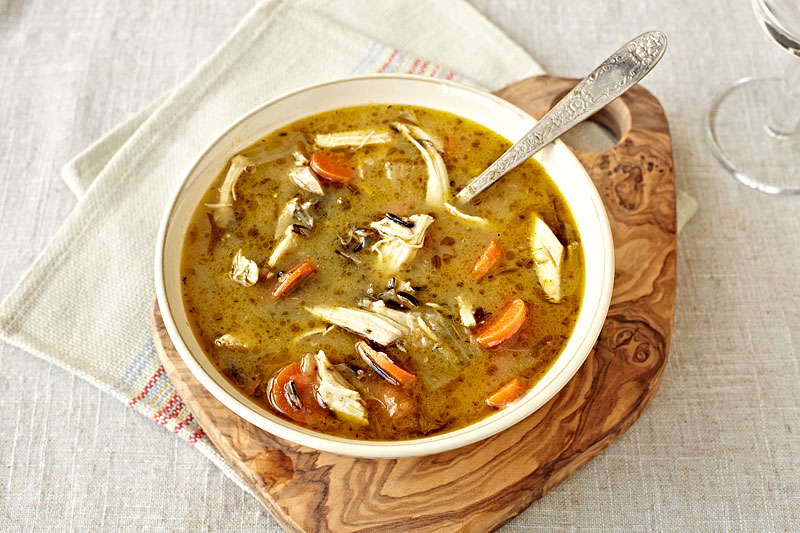 I went to Trader Joe's to pick up some chicken broth only to find that their entire stock was wiped out and on back order from the producer. Whoa, there are a lot of sick people out there this winter! This recipe is a warming, salty, savory delight in the cold weather and especially when the sniffles are in play. Instead of cooking down a carcass overnight to make a stock, this stock comes from the leftover drippings and wine jus from this brined thyme roast chicken recipe. It's a simple, flavorful alternative when you don't have any bone broth on hand to impart that richness, not to mention how delicious it is! If you haven't already, check out that recipe and return here when you've got your lovely leftovers.
EDIT: I recently was out of wild rice when making this and instead substituted 1/2lb+ each enoki and fresh shitake mushrooms. TO DIE FOR!!!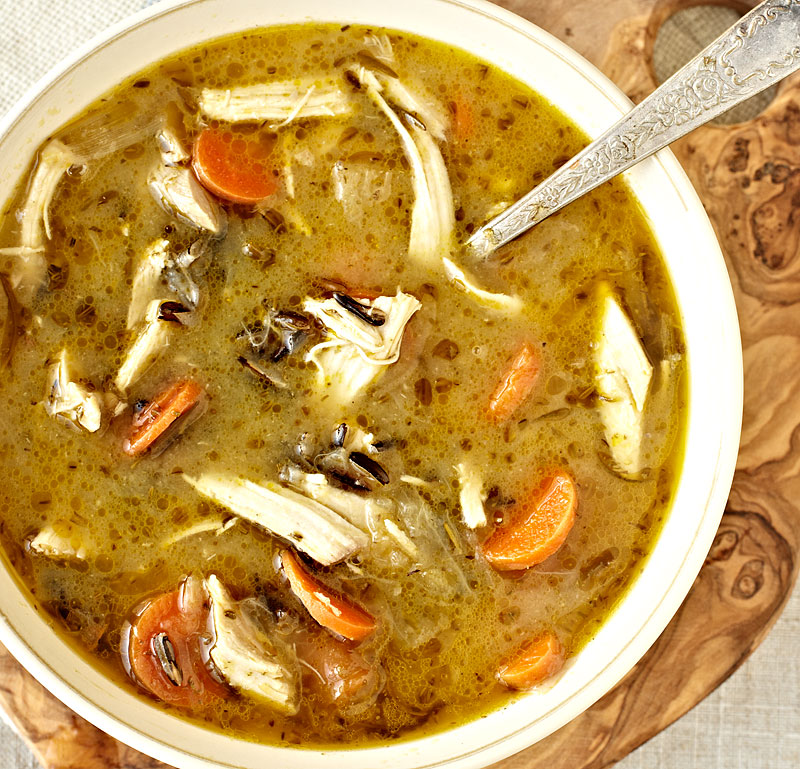 Roasted Chicken and Wild Rice Soup
A killer soup made with leftovers and juices from a roasted chicken! A great use of all the parts of the chicken. Leftovers have never tasted so good!
Recipe type:
Entrée, Side, Appetizer
Ingredients
leftover chicken, veggies and wine jus from brined thyme roast chicken
1 quart chicken stock
2 carrots, coined
1 shallot, thinly sliced
1 Tablespoon butter
1 Tablespoon dried thyme
1 teaspoon ground dried lavender
2 bay leaves
1 cup wild rice, par cooked OR ½lb each of sliced fresh shitake and enoki mushrooms
salt and pepper to taste
Instructions
Melt butter in large stock pot and saute shallot, and mushrooms, if using, for a few minutes. Add carrots and cook a few minutes longer.
"Melt" leftover jus/veggie/chicken mixture over the mushrooms. Add stock, bay leaves, thyme, and lavender and simmer until carrots are tender.
Shred or dice chicken if not already done and add back to pot.
Add wild rice if not using mushrooms and season with salt and pepper to taste.
Add extra water or chicken broth if necessary.
ENJOY!!!