It's been HOT HOT HOT! I know this summer has been unusually brutal for most of the country, and here is Los Angeles we are no exception. It seems like the entire area has been burning since May. The smoke and heat blowing in are oppressive.
Now that I've made you think about all that sweaty misery, let's talk about soup! Ha! No but seriously, this is a late summer soup because the corn is best fresh off the cob. It's super crisp and bursting with flavor. I love chowder hot but this version tastes simply amazing cold. Dollop of sour cream on chilled sweet potato corn chowder is just the nutrient boost your sweaty booty needed! You can customize the degree of thickness by pureeing more or less of the soup. Keep it broth-y and skip blending altogether.
This is a great, flavorful and healthy soup that's easy for toddlers to eat too because it's thick and sticks to the spoon a bit;)
Ps: We already went through this pot of soup and I'll be making another today. Cool, healthy, delicious food doesn't get better than this!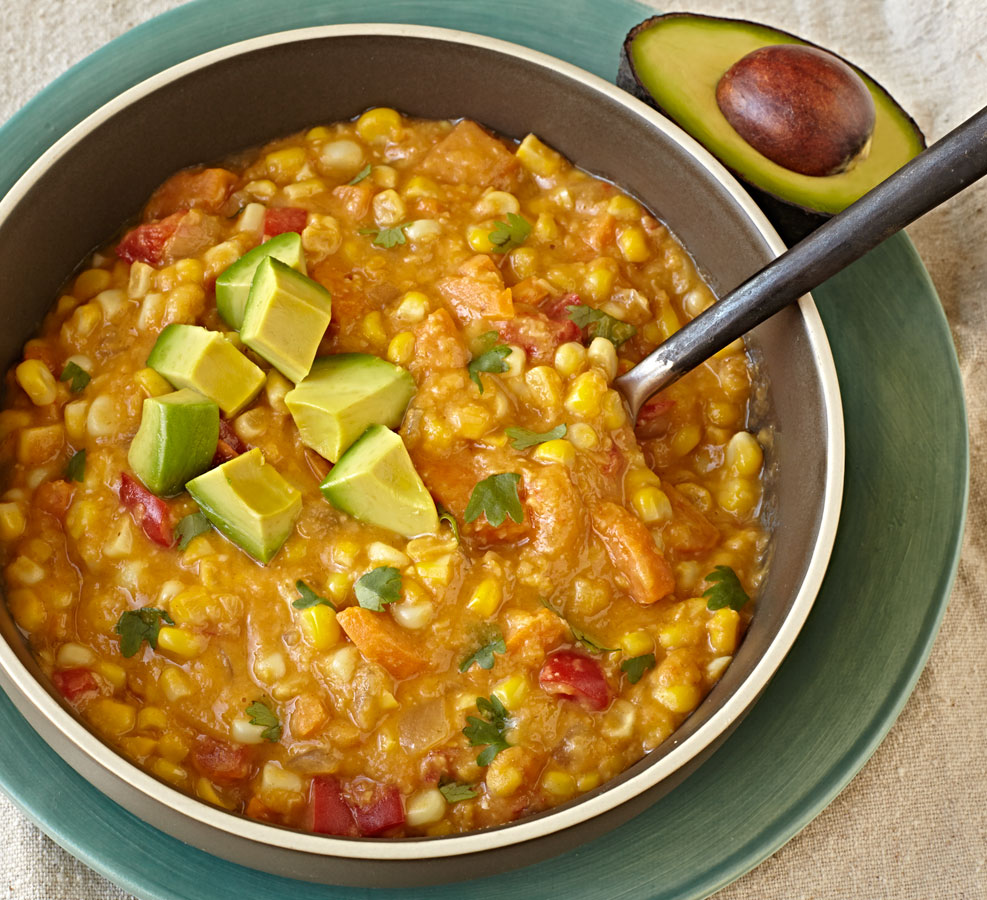 Hearty Vegan Chilled Corn Chowder with Sweet Potato
A warming and hearty chowder that feels sinful but is truly healthy!
Recipe type:
Entrée, Side
Cuisine:
Gluten-Free, Vegan
Ingredients
olive oil
2 cloves smashed garlic
1 onion, finely chopped
3 teaspoons cumin
2 large sweet potatoes, peeled and diced
1 quart vegetable (or chicken if not vegan/vegetarian) stock
1 red bell pepper, diced
7 ears of corn, kernels cut from cob
avocado, diced
cilantro, chopped (optional)
sour cream (optional but lovely if serving chilled - omit for vegan)
salt and pepper
Instructions
In a stock pot, heat oil and sauté onion and garlic for 5 minutes until fragrant and onion becomes translucent.
Add cumin, salt and pepper and stir to coat.
Add sweet potatoes and stir to coat. Sauté for 5 minutes.
Add stock, bring to bowl, reduce to and simmer for 20 minutes or so until the sweet potatoes become fork tender.
Add corn and bell pepper, cover and simmer for 10 minutes.
Turn off heat, let cool a bit then ladle ⅓ of the soup into a blender. Blitz until pureed. Stir puree back into soup. Salt and pepper to taste.
Ladle corn chowder into bowls and top with avocado and cilantro. If serving chilled, you can add a dollop of sour cream.
ENJOY!!!