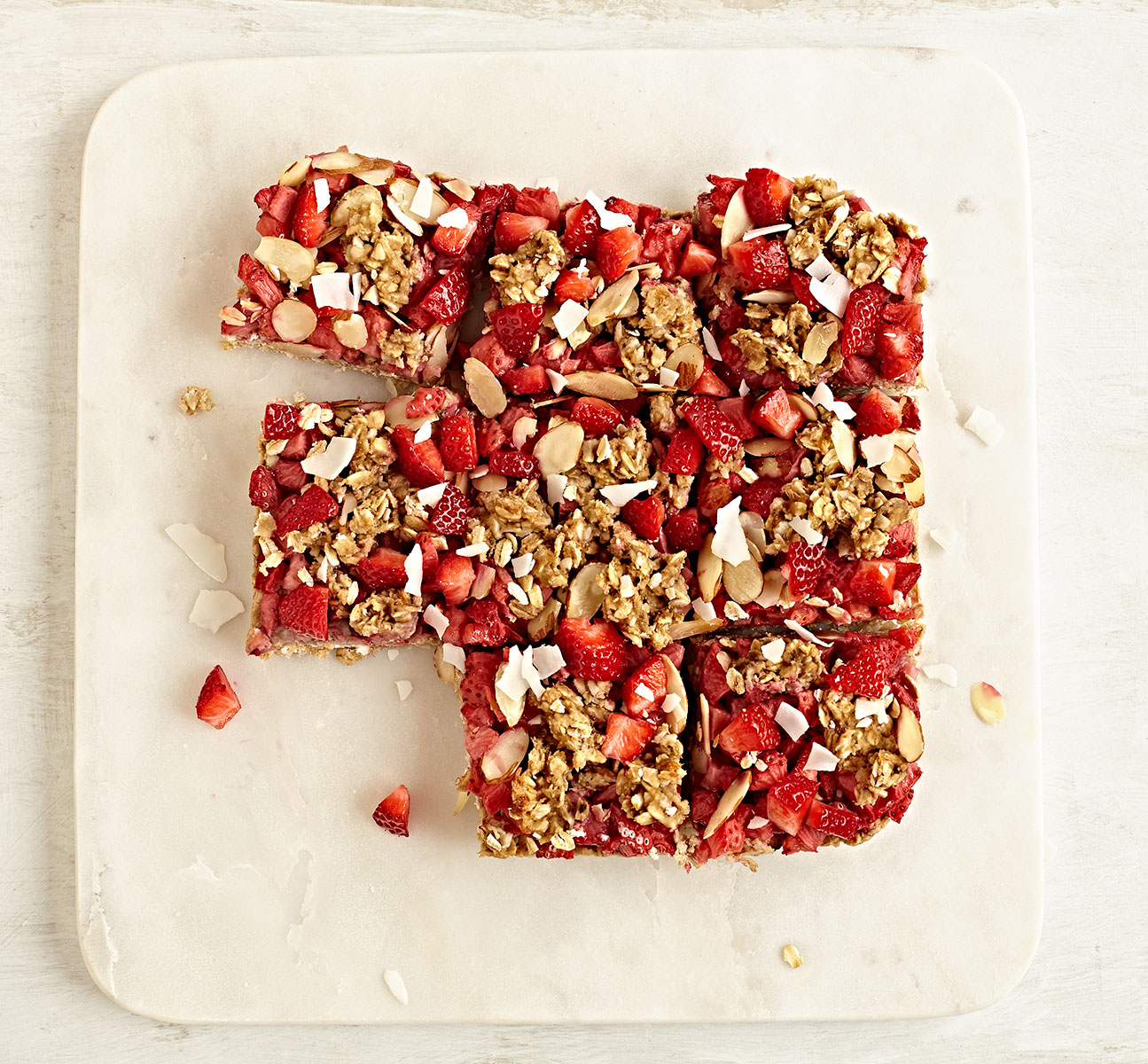 I don't know about you, but I'm an actual disaster in the morning. I've never met anyone who wakes up slower than I do. Probably because I'm a morning mess, I naturally have the most chipper, dare I say hyper, morning child on the planet. Who wakes up that happy and energetic?! It's like crime against nature.
Anyway, both P and I wake up hungry like the wolf as well so I like to have a quick, pre-made breakfast ready to go first thing. May I introduce this pretty little number, the sunrise strawberry bar! Chock full of flavor and texture, these bars satisfy that immediate morning hunger like no other. They have just the right amount of chew and store beautifully in the refrigerator. I actually think they get better over time! The sliced almonds take on a sprouting texture in the fridge. SO good!
Minimal effort, maximum flavor, immediate breakfast for the whole family. It's a beautiful thing!
What kinds of recipes would you like to see more of on The Eclectic Kitchen? Leave me a comment or get in touch directly:)

Strawberry Sunrise Breakfast Bars
Brighten up your morning or liven up your snacking with these easy and delicious Strawberry Sunrise Bars. So yummy you'll never want to be without them!
Author:
Skylar Edberg for The Eclectic Kitchen
Recipe type:
Breakfast, Snack, Dessert
Cuisine:
Vegan, Gluten-Free, Vegetarian
Ingredients
1 cups rolled oats, plus 2 tablespoons for topping
½ cup oat flour*
⅛ teaspoon kosher salt
½ cup unsweetened coconut flakes, finely chopped
1 teaspoon baking powder
1 cup mashed banana, about 2 medium
⅛ cup maple syrup, plus 2 tablespoons for filling
1 teaspoon vanilla extract
1 teaspoon orange zest
2 cups diced strawberries
1 ½ teaspoons cornstarch or arrowroot
1 tablespoon fresh orange juice
2 tablespoons sliced almonds
Instructions
Preheat oven to 350 degrees and grease an 8x8 baking dish with non-stick cooking spray and line with parchment paper.
In a large mixing bowl combine rolled oats, reserving 2 tablespoons for topping, oat flour, salt, coconut and baking powder
Using a rubber spatula, stir in the mashed banana, maple syrup, vanilla extract and orange zest. Mix until combined and a sticky dough is formed.
Transfer ½ of the mixture into the prepared baking pan and use your fingers to press the dough into the bottom. Bake for 10 minutes while you prepare the filling.
In a small bowl combine the strawberries, cornstarch, orange juice and 2 tablespoons maple syrup. Sprinkle the strawberries on the surface of the dough and top with remaining oat mixture, reserved rolled oats and slivered almonds.
Bake for 20 minutes until the top becomes light golden brown. Remove bars from the oven and cool completely in pan.
Cut the cooled bars into 16 squares and store at room temperature or refrigerator for up to one week. Freeze up to one month.
*If you don't have oat flour, process 1 cup rolled oats in a food processor on high for about 1 minute until a fine flour forms