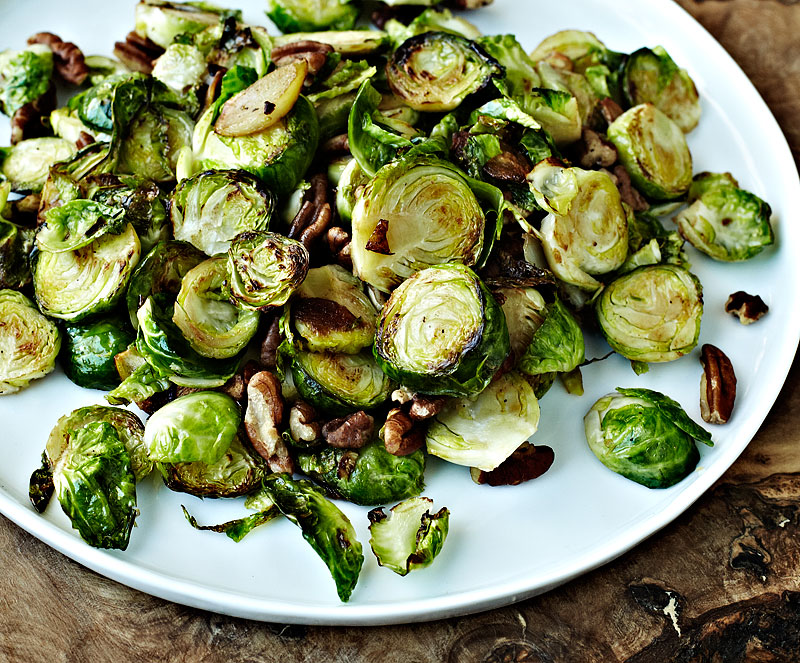 We loooooooove brussel sprouts!!! It's no secret, we're a big brussel loving family here. My pups cry with more urgency for a treat of brussel sprouts than they do for red meat (yes, they're veggie loving weirdies). This time around I came home from the market with a huge stalk of beautiful brussel sprouts, plop the bag on the floor and look away only to look back and see my youngest pup gnawing happily on the end of the stalk. Even I think that must taste pretty gross, ha! Anyway, I think most people hate these tiny cabbages because of the way they're traditionally cooked. Why you would ever steam the life and crunchiness out of a brussel sprout to make a mealy, tasteless ball of "blah" is beyond me but, rest assured, that is not how we roll here. A quick saute in the pan is all these guys need to shine, though slow roasting is also a big hit;)
There's no excuse not to eat your crunchy, delicious veggies when it's this quick and easy to get a dose of the good stuff! Sometimes simple and easy really is best:)
I like using raw pecans and cooking them with the brussel sprouts because it's gives them a fresh texture that pops a bit in your mouth. I think this will be one of this year's lighter Thanksgiving dishes. I hope you find it a winner too!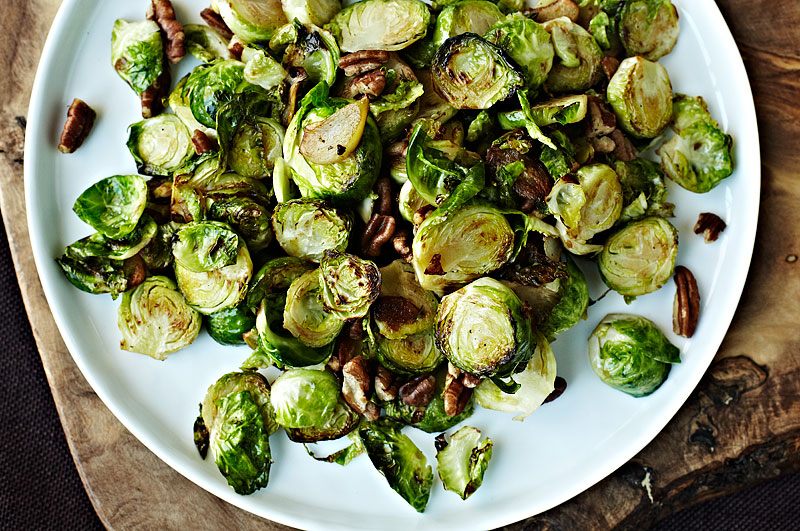 Shaved Brussel Sprouts with Toasted Pecans
A delightful, crunchy and fresh brussel sprout recipe that is the perfect side to any entrée!
Cuisine:
Gluten-Free, Vegetarian
Ingredients
1 stalk or a few dozen brussel sprouts, thinly sliced (halved and halved again)
1 shallot, finely diced
¼ cup or more chicken broth
3 garlic cloves, sliced thin
handful coarsely chopped raw pecans (or pine nuts)
olive oil
salt and pepper
shaved parmesan or hard aged goat cheese (optional)
Instructions
Heat large skillet and toast raw pecans over low heat until fragrant. Remove pecans from heat and set aside. In same large skillet, heat olive oil and saute garlic and shallot until lightly browned. Add brussel sprouts and toasted pecans and saute for a couple minutes.
Add broth and cook for a few more minutes, stirring occasionally, until the broth evaporates and the edges of the brussel sprouts begin to crisp. Salt, pepper and serve.
Top with parmesan or hard goat cheese if desired.
ENJOY!!!