All things hasselback are super on trend these days. I saw a bunch of insta photos of hasselback butternut squash and figured I'd take a crack at my own version with frizzled sage in brown butter and just a touch of maple sweetness. Winter squash with brown butter and sage is one of my absolute favorite flavor profiles, and this version does not disappoint. While the hasselback method is really beautiful, you could also use this recipe with chopped squash and simply adjust the cooking time accordingly. It's an easy, nutrient rich weekday recipe:)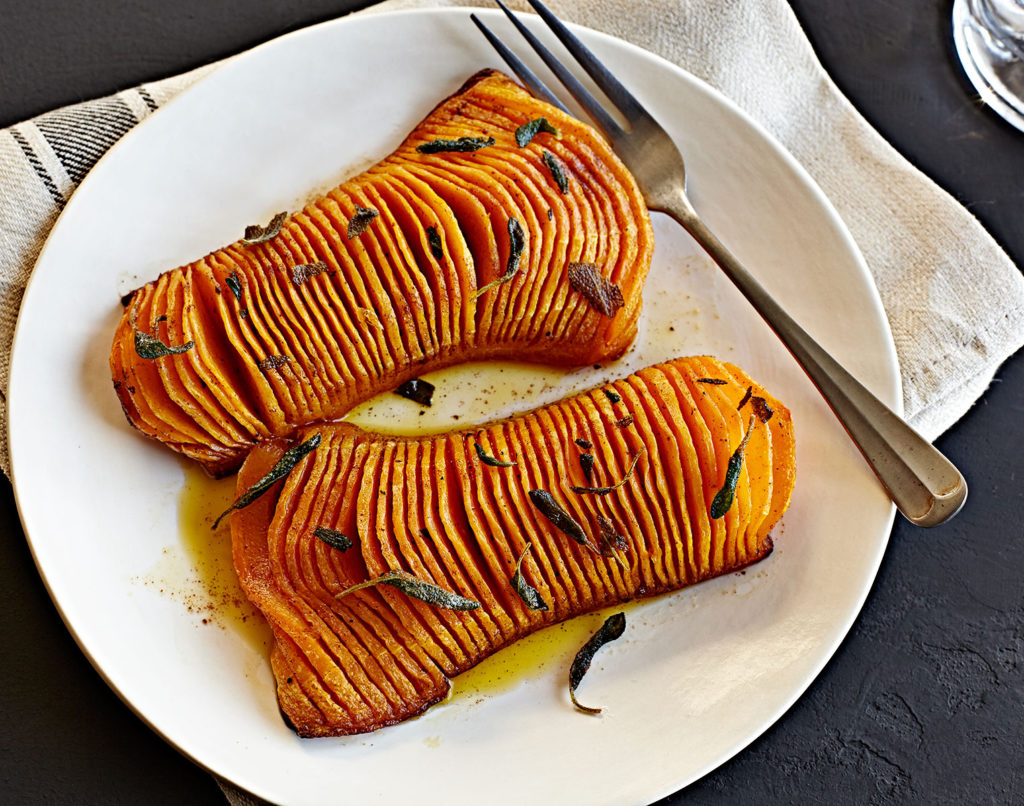 Hasselback Brown Butter Sage and Maple Butternut Squash
A classic butternut squash treatment with a new hasselback look.
Cuisine:
Vegetarian, Appetizer
Ingredients
1 small butternut squash (about 8-inches in length)
melted butter, for brushing
5 Tablespoons butter
2 Tablespoons maple syrup
Handful fresh sage leaves
pinch Maldon sea salt
Instructions
Preheat oven to 425 degrees with rack in the top third.
Cut squash in half lengthwise and scoop out and discard seeds. Peel skin and place cut side down on a baking dish. Brush with melted butter and bake in preheated oven for 25 minutes to soften. Let cool for 10 minutes.
Place squash cut side down on a cutting board and place a chopstick on each length side of squash to prevent cutting all the way through. Cut ¼ inch slits into the squash stopping at the chopsticks. Return to baking sheet.
In a pot, heat the 5 Tablespoons butter over medium heat until it foams. Swirl pan periodically until foaming subsides and butter begins to brown. Add maple syrup and sage leaves and remove from heat. Stir well to combine.
Brush squash with brown butter mixture and sprinkle with salt and pepper. Return squash to 425 degree oven for 15-20 minutes. Baste squash with butter mixture, getting in those slits, and return for another 15-20 minutes.
Remove from oven, baste again and sprinkle with maldon.
ENJOY!!!