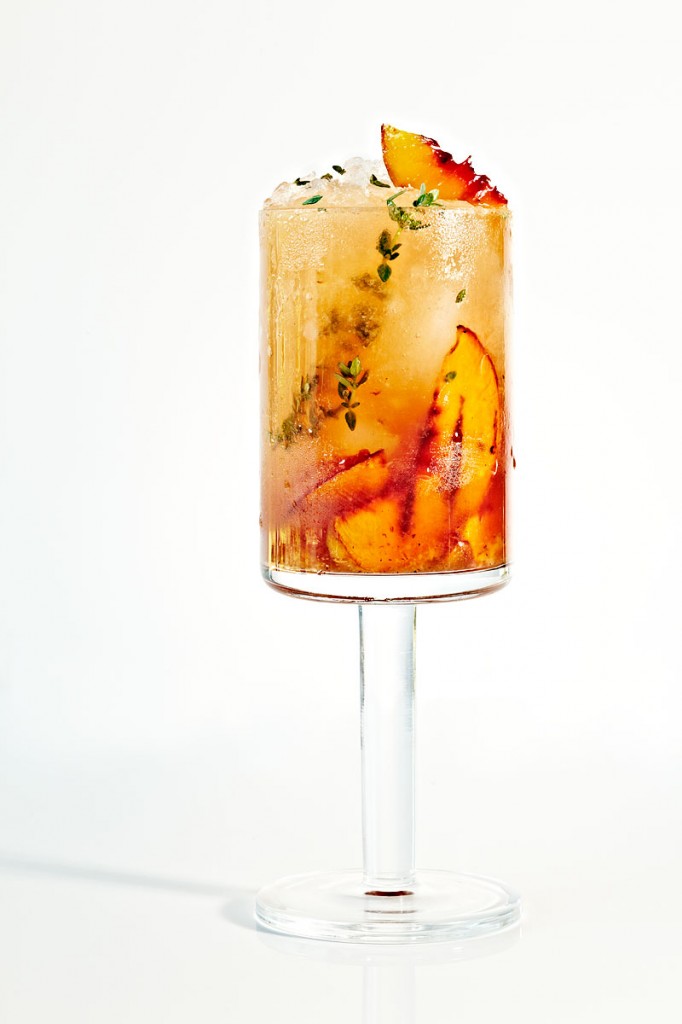 Today I have a truly phenomenal use for those farmers' market peaches (or nectarines!). It takes a tiny bit more work than some of the other cocktails I've featured but it's worth it. Grilling the peaches for this drink causes the sweet syrupy sugars of the stone fruits to caramelize, a taste that pairs beautiful with the rich smokiness of good whiskey. If you've never had peaches grilled with thyme it is high time you do! Trust me, you won't regret the effort;)
Thyme Grilled Peach Whiskey Cocktail
It's herbaceous and sweet with caramelized sugars and full peach flavors, this thyme grilled peach cocktail can't be beat!
Cuisine:
Gluten-Free, Vegan
Ingredients
1 peach cut into wedges
olive oil or butter
2 teaspoons thyme simple syrup
sprigs fresh thyme
3 dashes of cocktail bitters
2 teaspoons lemon juice
2 ounces whiskey
Instructions
Lightly coat peach wedges with olive oil or butter (I prefer butter if it doesn't need to be vegan) and grill on both sides until lightly charred and the natural sugars begin to caramelize.
Muddle a couple peach wedges, fresh time sprigs, bitter, thyme simple syrup and whiskey in a cocktail shaker. Add ice and shake shake shake.
Pour over ice and garnish with grilled peach wedge and a sprig of thyme.
thyme simple syrup:
Use a 1:1 ratio of sugar to water accounting for the number of cocktails you plan to make. Add several thyme sprigs.
Heat in a pan to a rolling boil until sugar fully dissolves. Steep for 3 hours and store in the fridge.
ENJOY!!
food photographer, food photography, los angeles, crystal cartier