This strawberry pie was a delightful afterthought. I had extra flaky gluten-free from a batch of quiche and I sure as hell didn't want to waste it! I grabbed a bunch of frozen strawberries from last season and whipped up something tasty to fill mini pots. Perfect!
We loved these topped with straight sour cream and a sprinkle of brown sugar! In the 100+ temps we've been having, a cool strawberry pie is a welcome treat!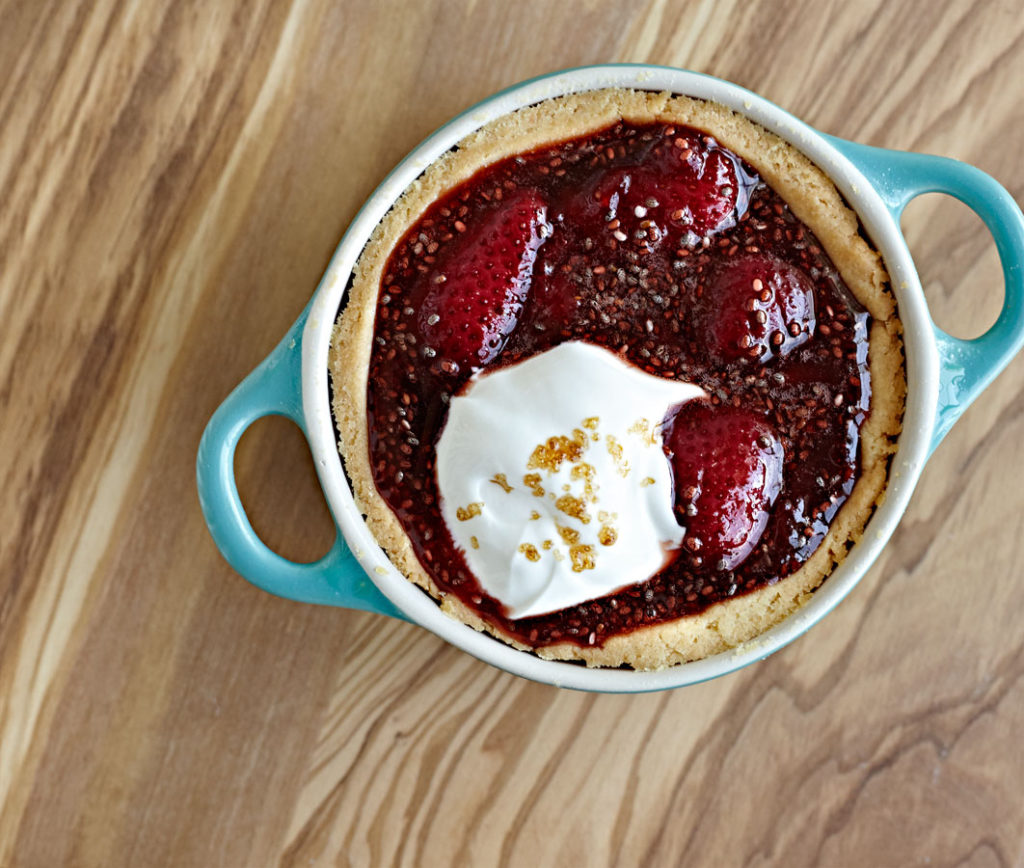 Flaky Gluten-Free Crust
Enjoy this incredibly flakey gluten-free with all your favorite pies!
Cuisine:
Gluten-Free, Vegetarian
Ingredients
1½ cups all purpose gluten-free flour (again I use Bob's Red Mill)
¼ teaspoon baking soda
½ teaspoon sea salt
6 Tablespoon butter, chopped and chilled
½ cup full-fat sour cream
Ice water by small spoonfuls only if necessary
Instructions
Mix flour, baking soda, and sea salt in a large bowl. Add chilled butter and coat chunks with flour. Flatten chunks of butter between your thumb and fingers. Mix in sour cream then knead dough until it starts to come together, adding tiny spoonfuls of ice water if needed until the dough holds together. Shape into a disc and wrap in plastic wrap. Refrigerate for 30 minutes.
Placed chilled dough on a floured sheet of parchment. Place a second sheet of parchment over the dough and roll it out into a thick rectangular. Then fold the dough over onto itself in thirds like a letter. Do this twice more then roll it out into a round large enough to use in your particular pie dish.
Some people drape the rolled out crust over a rolling pin and then drape it into the pie dish. I have little luck with that so I use on of the sheets of parchment to support the dough, drape it over the dish, then carefully peel off the parchment and gently work the dough into the corners. Tuck the extra dough at the rim under itself and crimp the entire edge with your thumb and finger.
Cover crust with plastic wrap and refrigerate for at least and hour and up to several days.
Sweet and Tart Strawberry Pie with Gluten-Free Crust
If you're looking for a sweet, tangy, fresh tasting strawberry pie you've come to the right place!
Cuisine:
Gluten-Free, Vegetarian
Ingredients
2 cups whole frozen strawberries, divided
½ cup brown sugar
1 ounce/ 2 Tablespoons fresh lemon juice
2+ Tablespoons chia seeds
Sour cream, to top
Instructions
Combine 1 cup of the frozen strawberries with lemon juice and sugar in a pot over low heat until the strawberries thaw.
Smash the strawberries with the back of a wooden spoon to add thickness and texture to the mixture then add remaining 1 cup strawberries.
Once the last strawberries thaw, turn up the heat to medium and lightly simmer until liquid reduces and thickens a bit.
Add chia seeds. Let cool then refrigerate. If your filling is more liquid than preferred, you can always add more chia seeds to soak up the juices. The water content of frozen strawberries can vary so adjust the chia accordingly.
Spoon chilled filling into ramekins of baked pie crusts. This recipe made 4 mini pies for me.
Top with a dollop sour cream (and a sprinkle of brown sugar if desired).
ENJOY!!!