When Molly was up for showing me how she makes homemade lasagna noodles rolled entirely by hand I was pumped. I can't eat them but, man was I happy to shoot her making these beauties (and housing all the layers between noodles)! This lasagna was a BIG hit in our houses. It's chock full of flavorful vegetables and the perfect satisfying dish for any meatless Monday (or wednesday, or thursday…). I actually think I like it better than it's meaty cousin. GASP! Shhhh don't tell, snitches get stitches!
Molly's artisanal noodle making was so very beautiful to shoot that I've included more images than usual to take ya'll on the "maker's" journey with us. Kick back and enjoy because there's plenty of work to come when you make and roll your own lasagna noodles the old-fashioned way;) You can do it! Let's see those muscles!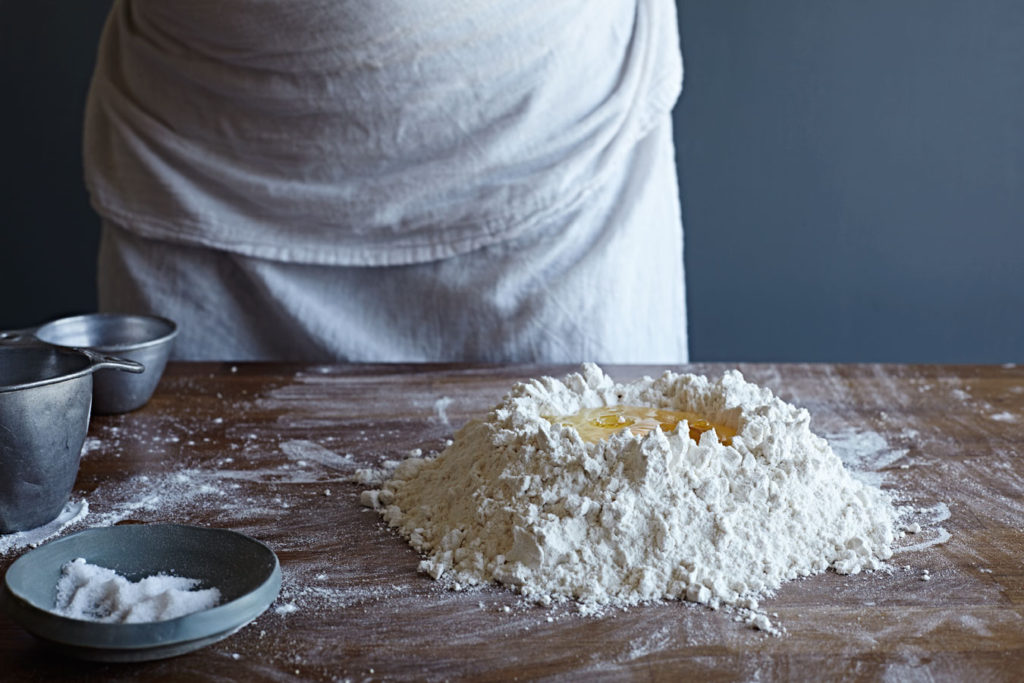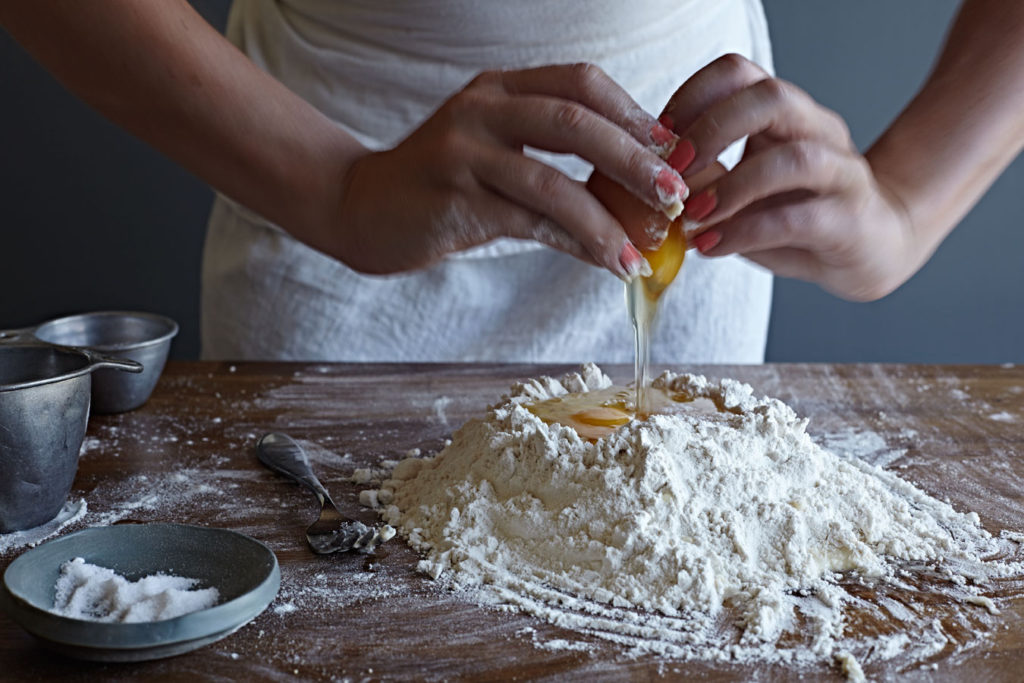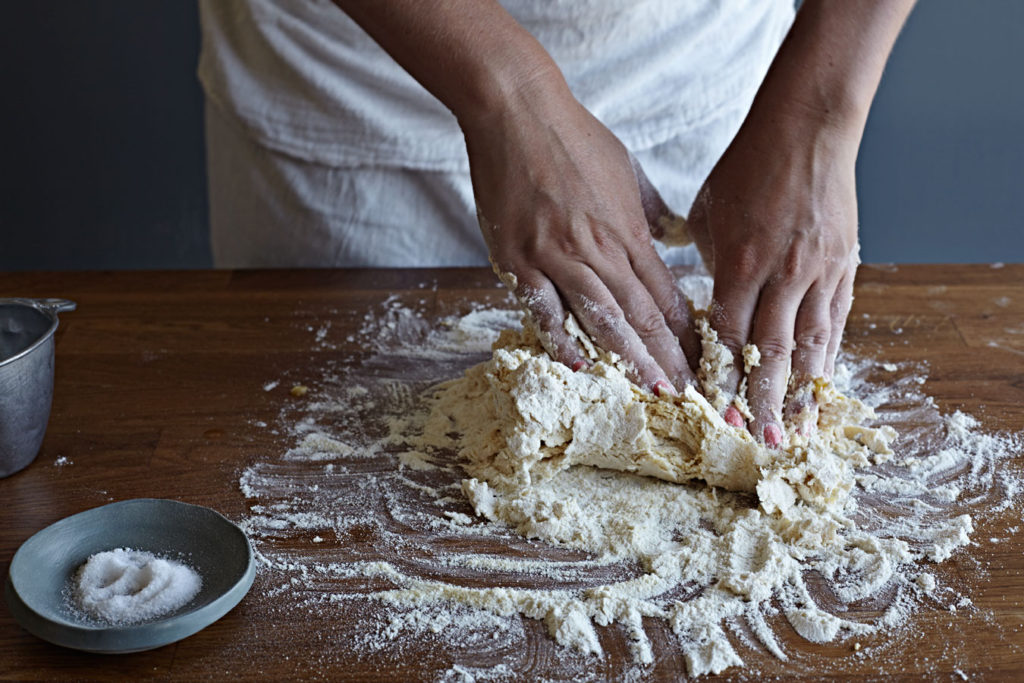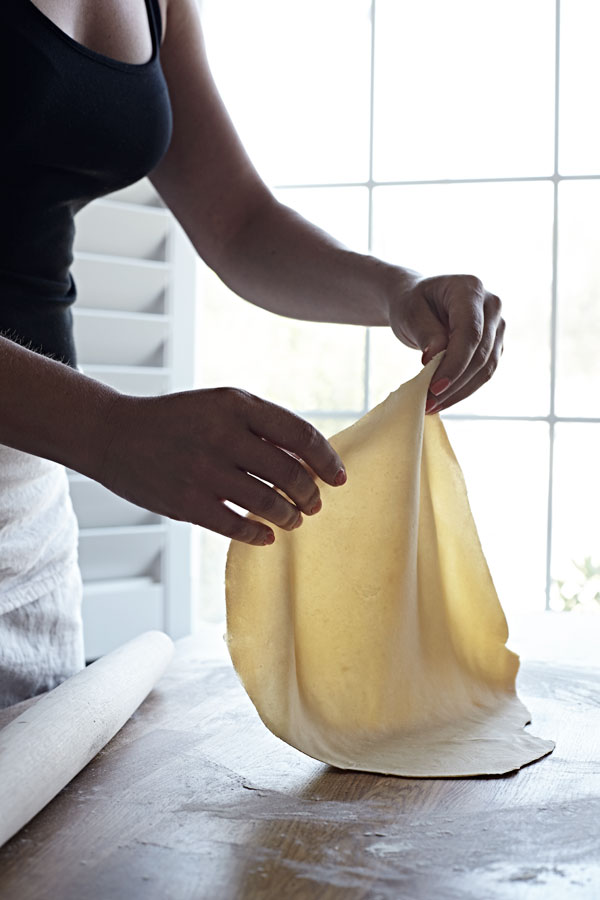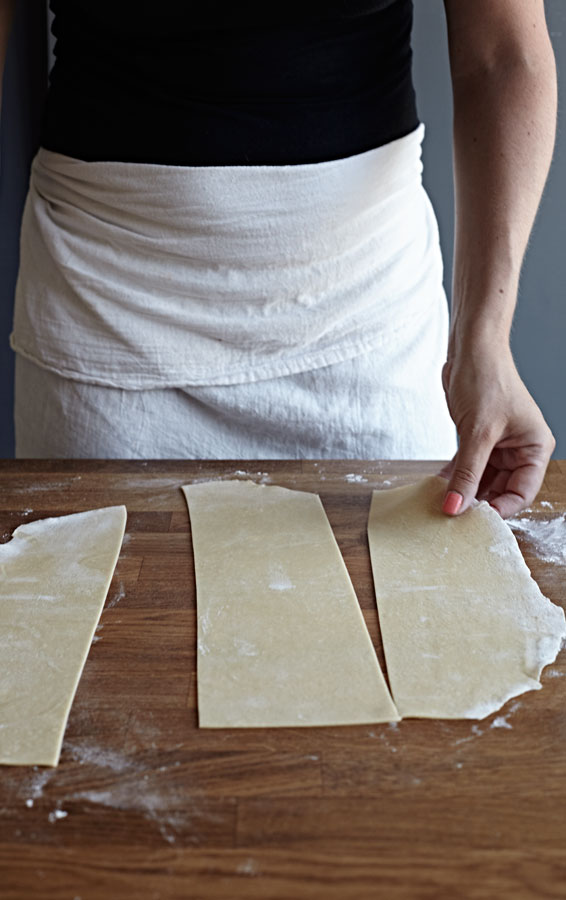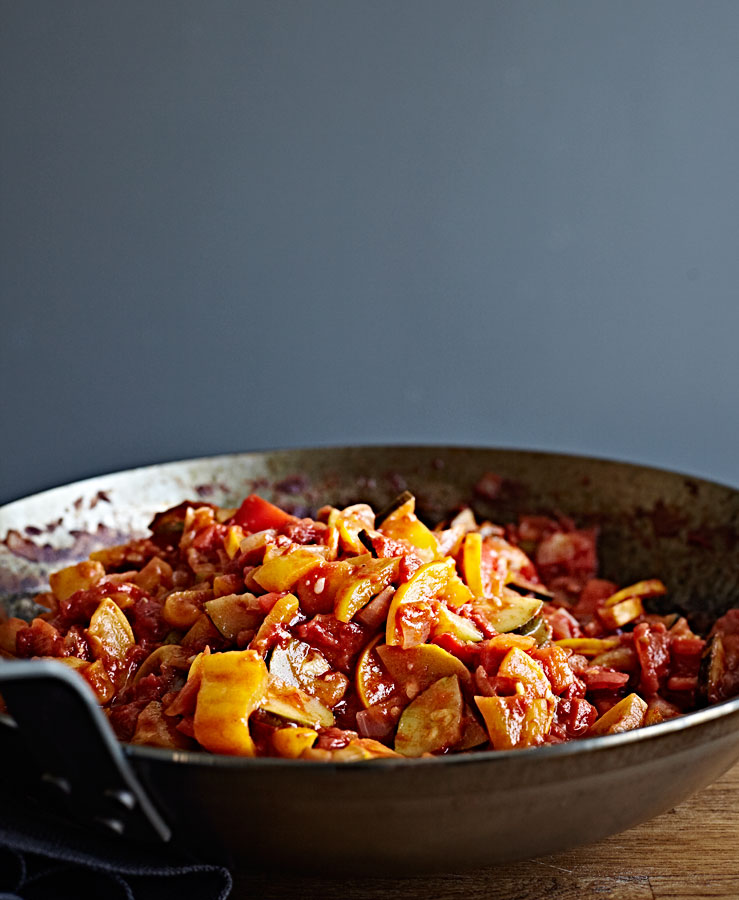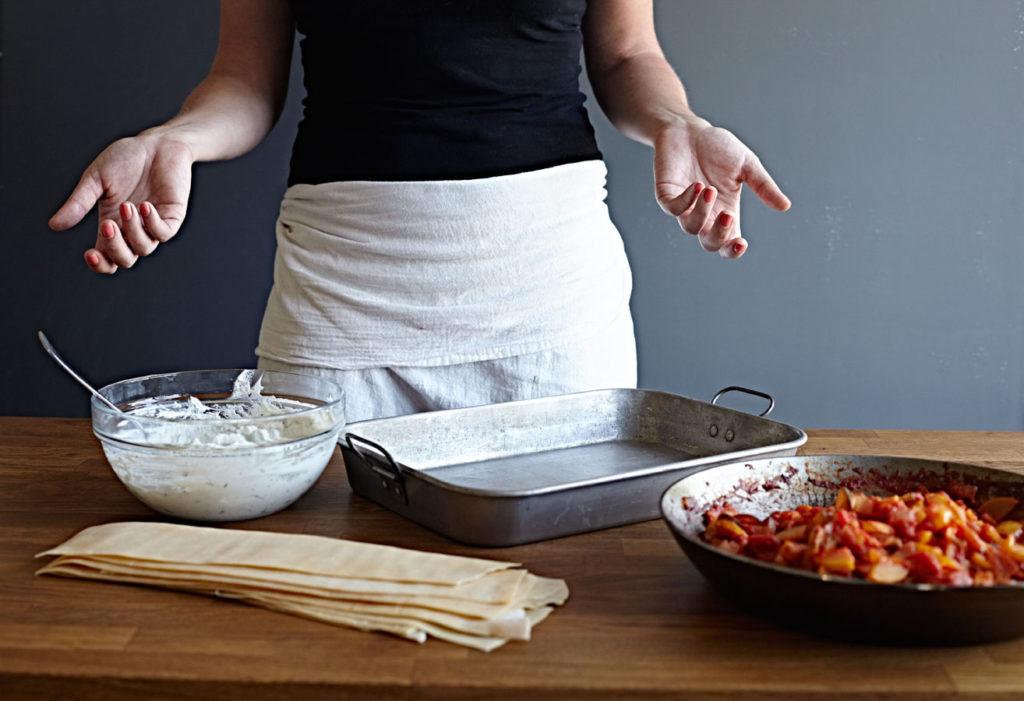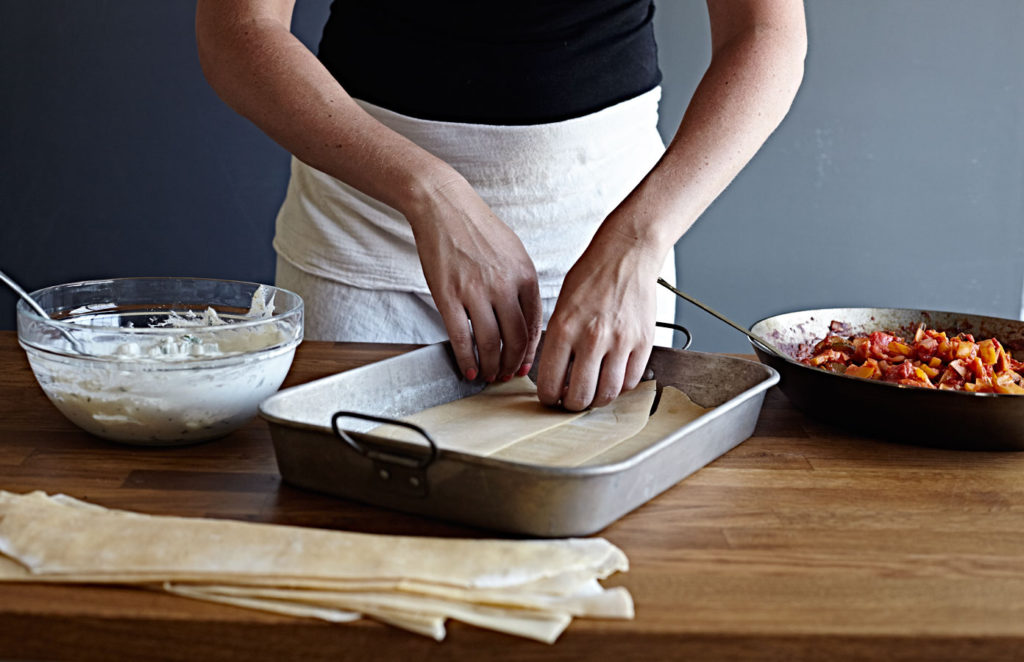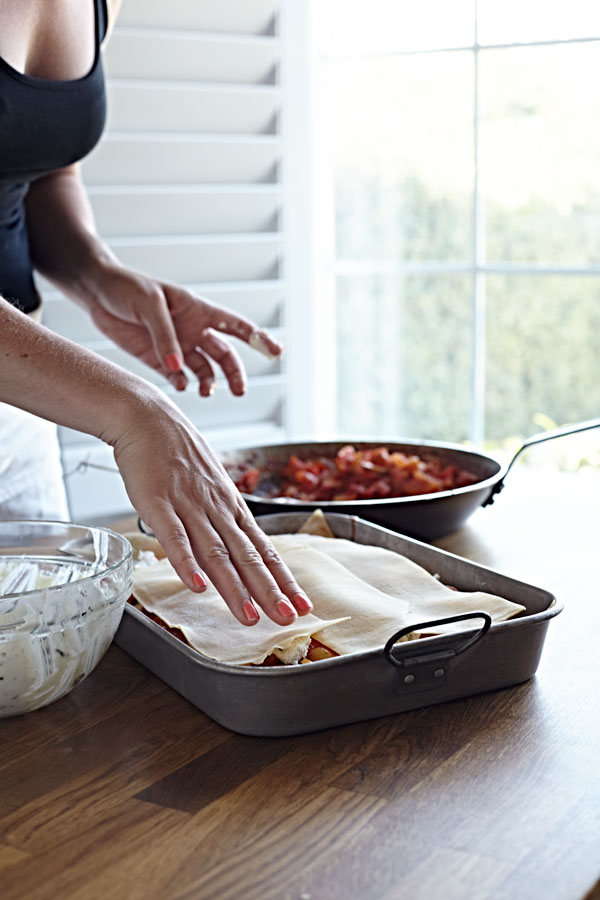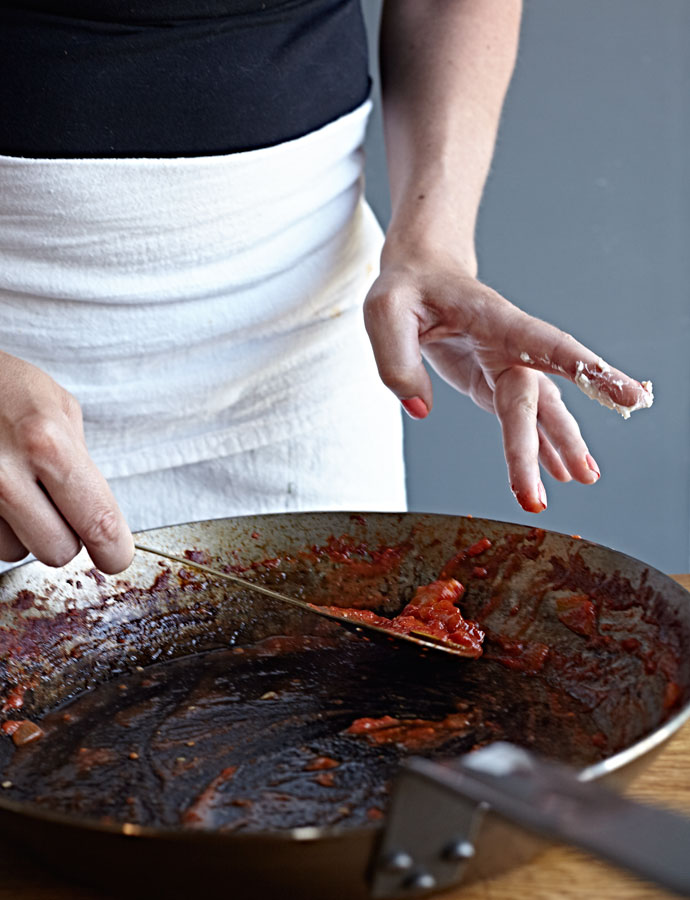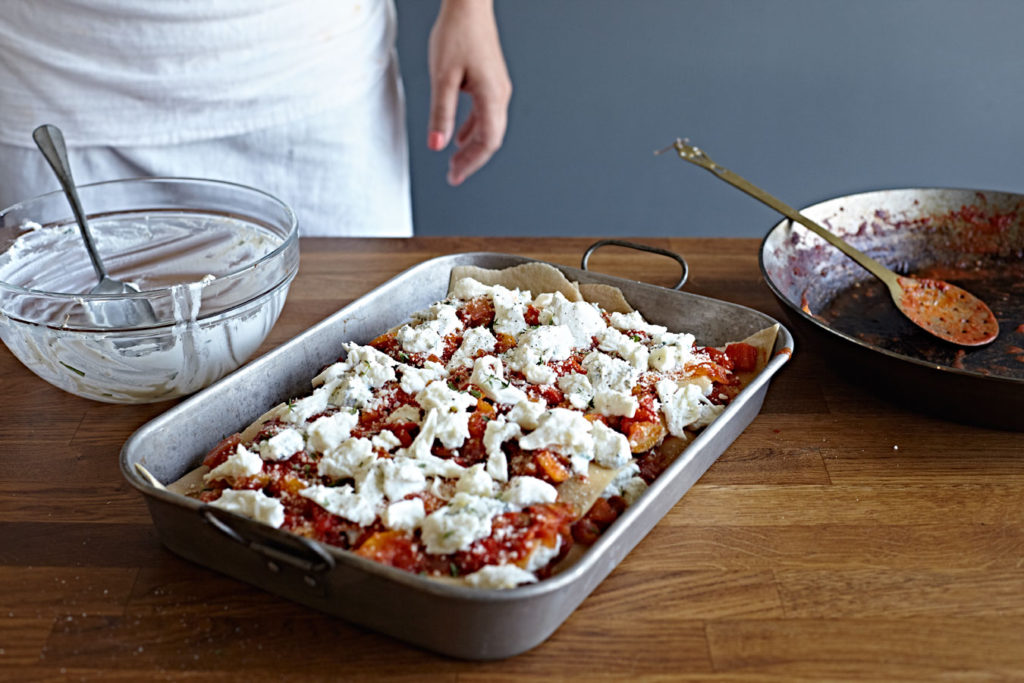 Molly's Farmers' Market Lasagna with Homemade Noodles
Cuisine:
Italian, Vegetarian
Ingredients
PASTA
3 c.+ All purpose flour
4 Eggs
Pinch of Salt
1 tbsp of warm water
VEGGIE RAGU
1 28oz can whole peeled tomatoes
1 14 oz can crushed tomatoes
1 Yellow Squash
1 Green Zucchini
1 Red Bell Pepper
1 Yellow Bell Pepper
1 Large Yellow Onion
¼ c. chopped fresh herbs (we used Basil, Thyme, and Rosemary)
¼ c. light dry red wine (we used Pinot Noir)
¼ c. grated parmesan cheese
2 tsp. minced garlic
Salt and Pepper to taste
HERBED CHEESE FILLING
1 container whole milk ricotta cheese
¼ c. Parmesan cheese
¼ c. chopped fresh herbs (we used Basil, Thyme, and Rosemary)
Fresh ground pepper
Combine all ingredients and stir well add more pepper and herbs to your liking.
Instructions
PASTA
Form a volcano shape with the flour and sprinkle with a pinch of salt.
Crack eggs into the well of the flour.
Using a fork begin to beat the eggs and slowly draw in the flour the combine. As the dough starts to come together, use your hands to knead. Add warm water or more flour to get a tacky, yet firm consistency.
Let the dough rest for 1 hour. Divide dough into 4 equal parts. Using a rolling pin roll (or a pasta maker if you have one!) out each ball like your life depends on! Roll the dough to approximately ⅛ of an inch or thinner.
Use a paring knife to cut each sheet into 3-4 inch strips. Each sheet will yield 3-4 strips. Lay the strips out flat to dry while make the ragu and herbed cheese fillings.
VEGGI RAGU
Chop all of the fresh veggies into bite size pieces. For the squash and zucchini quarter then slice.
Heat olive oil to a large skillet at medium heat. combine squash, zucchini, peppers, and onion to skillet. Saute for 5-7 minutes until all of the veggies begin to soften.
Add garlic and cook for another 2 minutes.
Add in tomatoes and red wine. Let the mixture cook down stirring occasionally to break up whole tomatoes. Season with parmesan cheese and salt and pepper to taste. Allow the mixture to simmer for approximately 30 minutes. Turn off the heat and let stand for another 30 minutes.
Layering and baking:
Preheat oven to 400 degrees.
Use an 11X13 baking dish to layer the lasagna in. Coat the bottom of the pan with the veggie mixture and then lay down the first layer of pasta. Add a thicker layer of the veggie mixture on top of the pasta and then dot with tsp. size spoonfuls of the HERBED cheese mixture. Layer again with pasta and repeat. You should have enough pasta and filling for four layers.
After the last layer of pasta, add the last of the veggies and cheese plus shredded bits of mozzarella cheese, more herbs, and pepper. Bake for 35-45 minutes until the cheese is bubbly and lightly golden! Let it cool for 10-15 minutes for serving. Voila : )
ENJOY!!