My toddler daughter and I were recently invited to an authentic Sri Lankan dinner party. We had a blast and the food and company were so delightful! I've teamed up with my friend Yasara who hosted us to bring you a delicious and super nutritious Sri Lankan dish. Not to mention this Sri Lankan beet curry looks like little ruby jewels of goodness. Thanks Yasara for a beautiful day of food and fun!
Also, Sri Lankans eat with their hands to blend the food and flavors which is just about a dream come true to me. It really brings a new experience to food adding the tactile experience with your hands. I think it makes for a deeper level of appreciation for flavor and nourishment.
As a bonus, the powdered coconut milk used in this recipe also makes a delicious and creamy dairy-free coffee creamer that you can easily take on the go!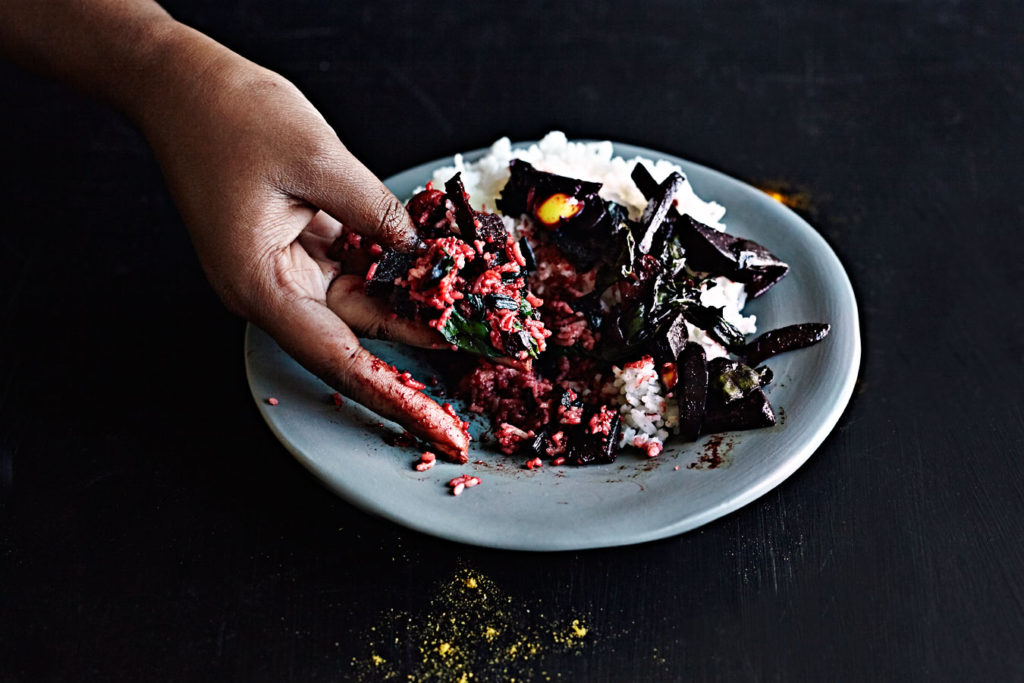 Sri Lankan Beet Curry
A nutritious, delicious, and simply gorgeous authentic Sri Lankan beet dish. Dig in!
Recipe type:
Entrée, Side
Cuisine:
Vegan, Sri Lankan
Ingredients
2-3 red beets with tops, peeled and sliced beets into slim chunks - chop leaves
½ onion, sliced thin
3 cloves garlic, chopped
2 teaspoons coconut milk powder
½+ teaspoon turmeric
½+ teaspoon un-roasted curry powder
salt
pepper
3-4 fresh curry leaves
coconut oil to sauté
Instructions
Heat coconut oil on medium heat in a skillet.
Add the onions and garlic and sauté until lightly browned.
Add beets and stir.
Stir in coconut milk powder, turmeric and curry powder.
Add curry leaves then salt and pepper to taste. Stir thoroughly.
Lower heat, cover and cook for 10-15 minutes. Taste and adjust seasoning ti your preference.
Once the beets become a bit soft, add the beet leaves and cook them down a bit.
Turn off the heat and let sit for 5 minutes or so before giving them a final stir and serving! ENJOY!!!