Ooooooo we fancy today! This gluten-free cheesecake has a ginger spiked crust and these totally gorgeous candied rhubarb ribbons. I shared this cheesecake with a friend who never cares much for sweets. He had seconds. BIG seconds! I also serve it with the leftover syrup or even with some rhubarb jam. Keep in mind when planning, you make the cheesecake part a day before you want to serve it as it needs to be refrigerated overnight.
Take millennial pink to the next level with this impressive beauty! I can't think of a prettier way to celebrate the season;)
What do you like to make with rhubarb? Please share!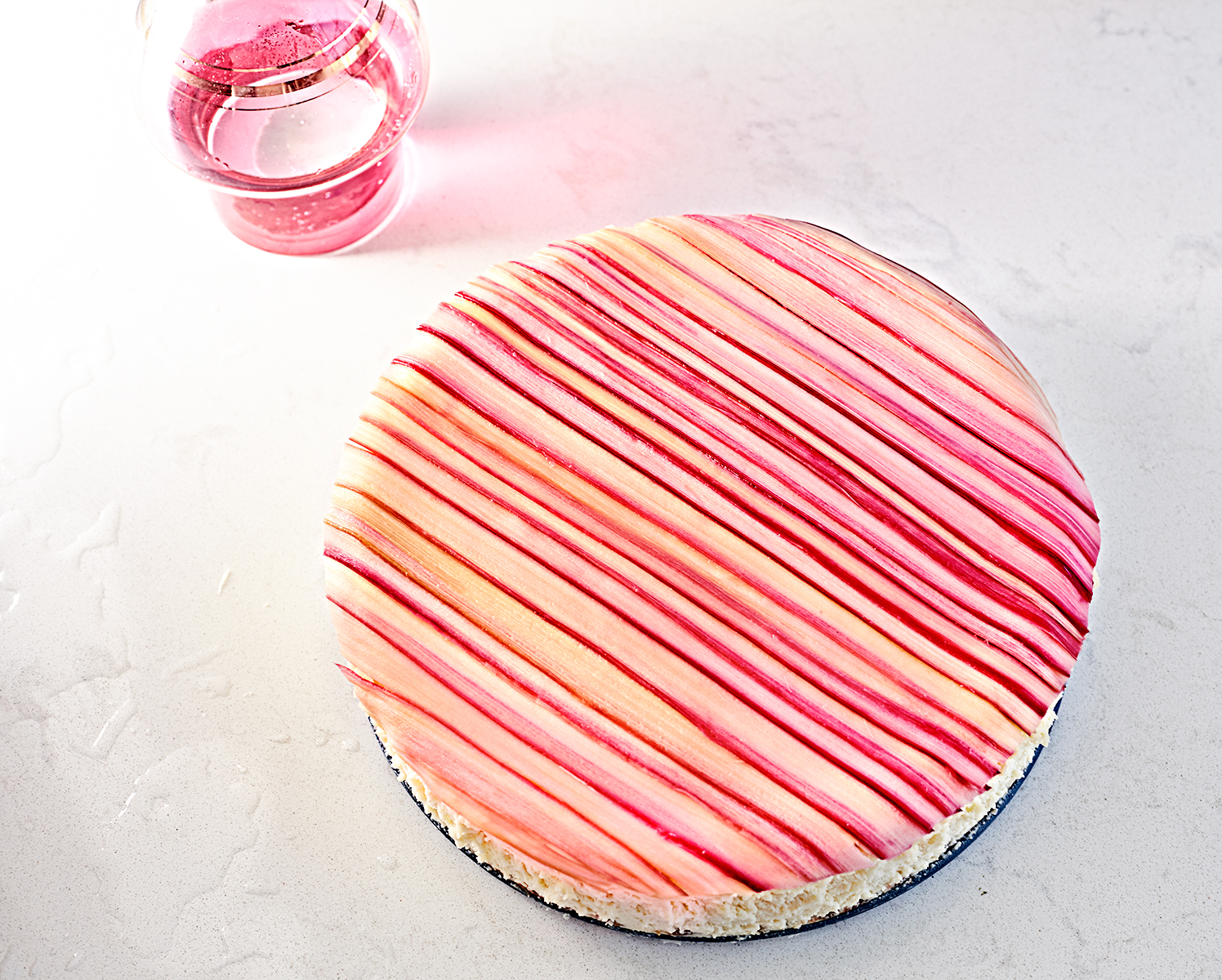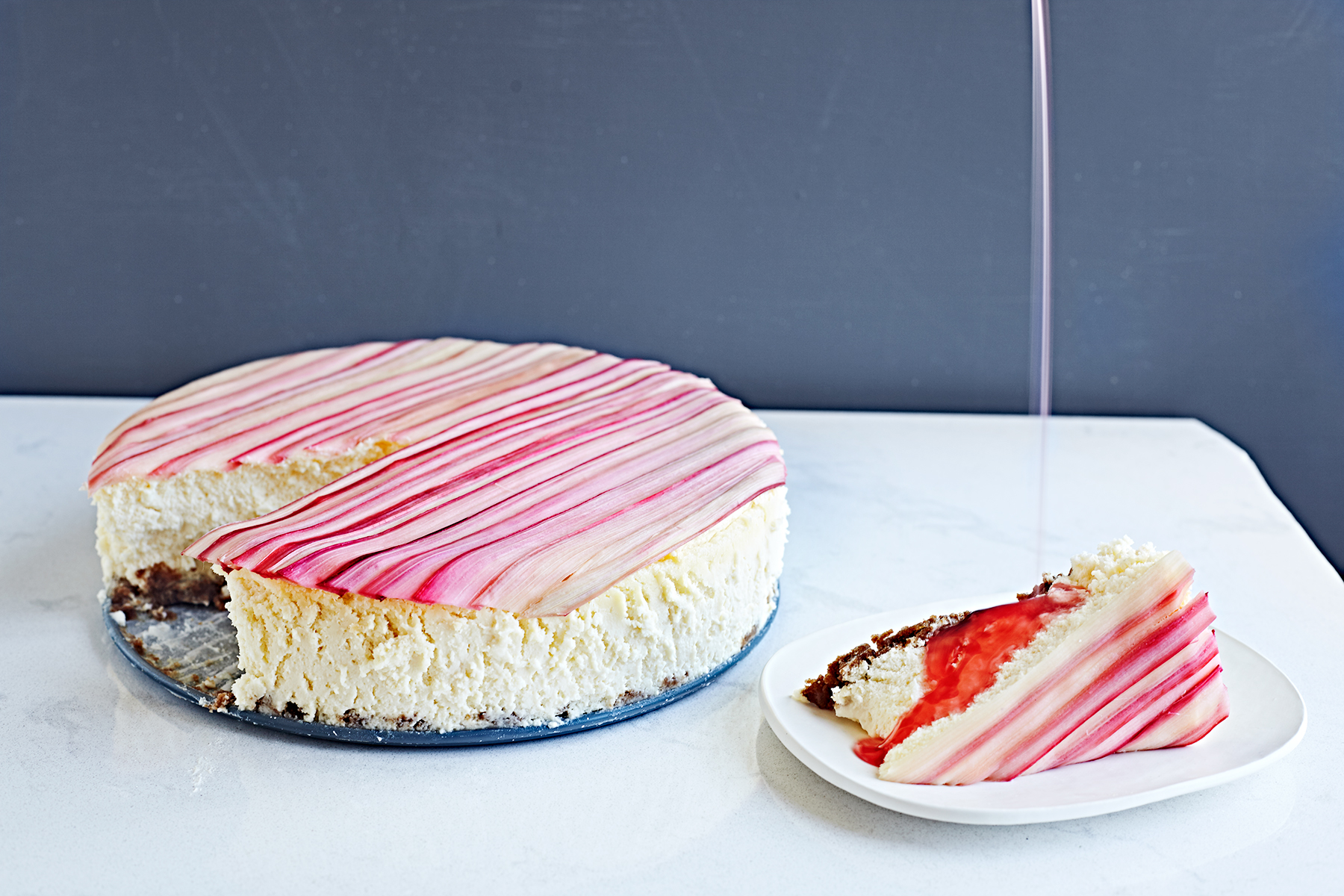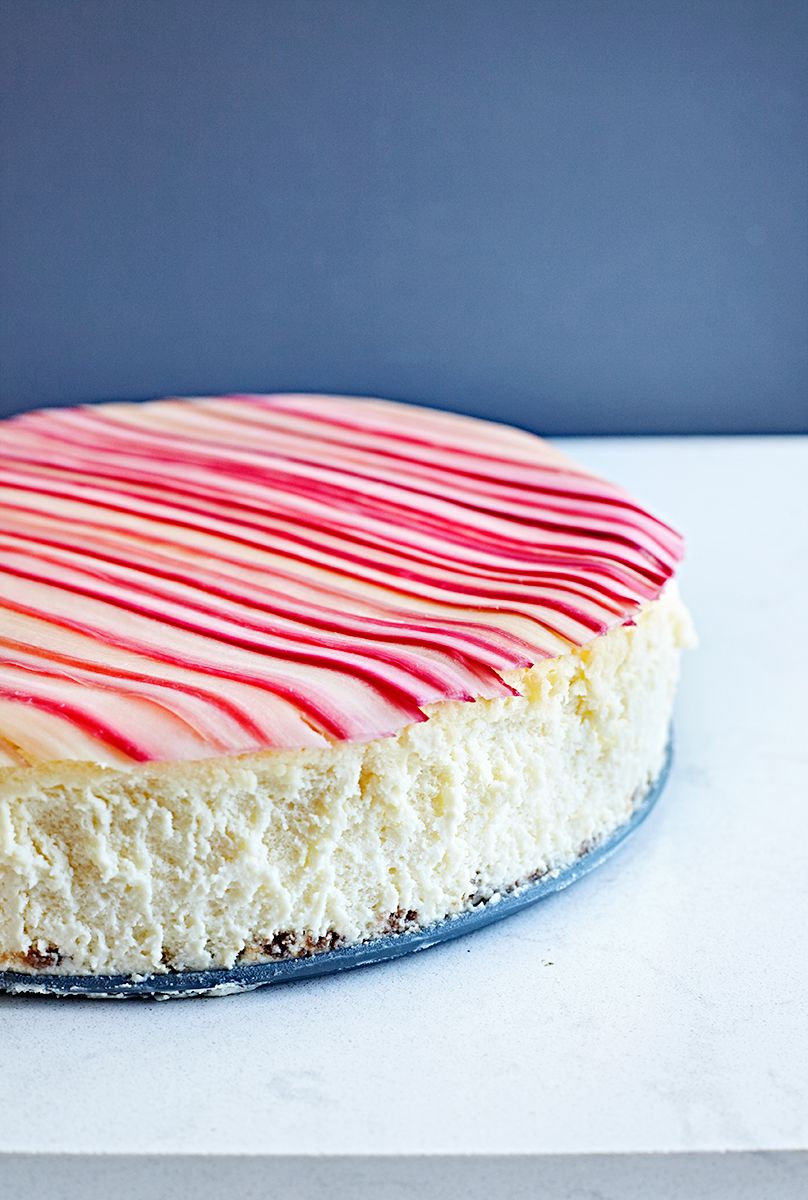 The Best Gluten-Free Cheesecake with Ginger Crumb Crust and Candied Rhubarb Ribbons
This yummy New York style cheesecake is gluten-free and sure to impressed when decorated with candied rhubarb ribbons. it's a little something special and extra pretty to celebrate spring!
Cuisine:
Gluten-Free, Vegetarian
Ingredients
Gluten-Free Cheesecake with Ginger Crumb Crust
2 cups (~8 ounces) crushed gluten-free ginger chunk cookies (like Trader Joes) + extra chopped candied ginger if desired
5 tablespoons melted butter
40 ounces cream cheese, slightly softened
1½ cups sugar
16 ounces (usually 1 tub) sour cream
2 large eggs
½ teaspoon salt
2 Tablespoons fresh lemon juice
2 teaspoons vanilla extract
Candied Rhubarb Ribbons
1 cup water
½ cup sugar
8-10 long stalks of fresh rhubarb
Instructions
Gluten-Free Cheesecake with Ginger Crumb Crust
Preheat oven to 375 degrees.
Combine crushed ginger cookies and melted butter in a bowl and mix well.
Line a large springform pan with a circle of parchment in the bottom. To make this easy, place the parchment over the inside bottom of the pan, then fit the rim and lock it in place. Simply trim the excess parchment around the edge. Bada-bing bada-boom!
Evenly press cookie mixture into the bottom of the pan then refrigerate while you make the filling.
Beat cream cheese and sugar in a stand mixer until smooth. Add sour cream, then eggs one at a time. Then add the salt, lemon juice and vanilla.
Mix on medium for a few minutes until very smooth, taking care to scrape down the sides of the bowl occasionally to prevent clumps.
Place the springform pan on a dish towel (because you're going to tamp the S out of that sucker) and pour the batter into the pan.
With your hands around the sides of the pan, lift a couple inches then drop down evenly a few times until you stop seeing air bubbles rise to the surface.
Set the pan into a large, rimmed baking sheet and pour around an inch of water into the baking sheet. This is a hot water bath to prevent cracking.
Bake at 375 for 30 minutes, then reduce heat to 250 (DO NOT open oven door) and bake for another 2 hours until an instant read thermometer reaches 150 degrees when inserted into the middle of the cheesecake.
Cool cheesecake on a baking rack for an hour or so, DO NOT unlock the springform pan.
Run a knife between the edge of the cheesecake and the pan, leave the pan locked and refrigerate overnight.
Unlock and remove the side of the pan! Perfect!
Candied Rhubarb Ribbons
Bring water and sugar to a boil in a saucepan and stir until sugar is dissolved. Reduce heat to a low simmer.
Lay out sheets of parchment paper.
With a vegetable peeler, shave the rhubarb stalks into thin strips. Submerge 4-5 rhubarb strips in the simmering mixture at a time and let them cook for about 30 seconds until slightly softened. Lay the cooked rhubarb strips flat on parchment paper. Repeat with rest of the rhubarb strips.
The remaining sugar syrup will be bright pink. Let the syrup cool and then refrigerate to pour over cheesecake or make cocktails!
To decorate the cheesecake: overlap the strips on top of the cheesecake until the surface is completely covered. Trim away the excess around the edge with kitchen scissors.
Brush the top lightly with a little of the reserved sugar syrup for extra adhesion and to enhance the pop of color.
Cover with plastic wrap and refrigerate cheesecake.
**When ready to cut, use an EXTREMELY sharp knife as the rhubarb can be a bit fibrous even when cooked.
Serve with a drizzle of the reserved syrup!